Knife crimes being prosecuted less despite rise in offences, new figures show
London knife crime rose 34 per cent over one year to June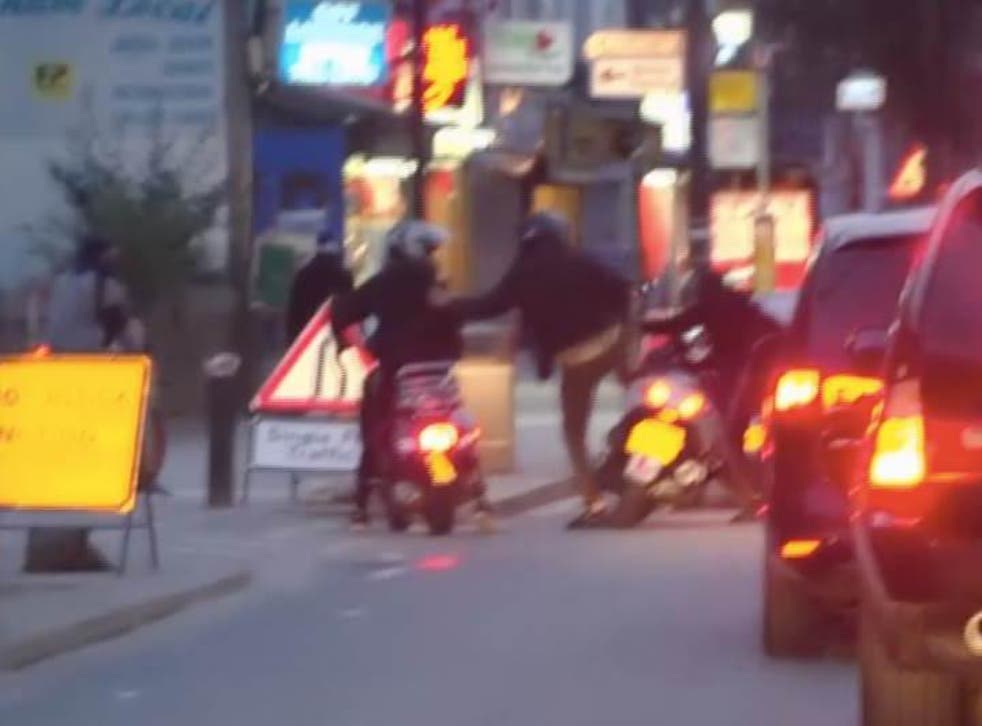 Knife crimes are rising across the country – but police forces are prosecuting fewer cases, according to new data.
Freedom of Information responses from 30 out of 43 police forces across England and Wales, obtained by BBC News, found that the number of knife crimes that led to perpetrators being charged or taken to court has fallen by 8 per cent from 2015 to 2016.
Last year there was a knife crime every 14 minutes.
London's knife crime accounts for over a third of all such cases in England and Wales, with over 13,000 offences. Over one year to June 2017, London-based knife crime grew by 34 per cent.
The news comes after several investigations into increasing moped crime in the capital. Police say the average age of moped criminals is just 15 years old.
BBC News filmed a moped attack in Tottenham last July, where a delivery river on a moped was filmed being surrounded by five other motorbikes when he stopped at traffic lights, with three of them on the pavement. He was pushed off his bike and threatened with a knife.
UK news in pictures

Show all 50
The victim, Abla, said: "My money has gone, my bike has gone, my job, everything. I don't know what I'm going to do."
Youths have said they feel "safer" carrying weapons in case they are attacked.
One such person, Paul McKenzie, was stabbed in the hand with a machete when he was 15. He was sent to a young offender's institute for carrying a knife. He then became an anti-violence campaigner.
Police release video of moped attack using 'liquid' in Knightsbridge
"A lot of the knife crimes are not reported because nobody wants to be involved with the police," he said.
Cressida Dick, the Metropolitan Police Commissioner, has said that tackling violence is her "priority".
Police have started using a special invisible spray to "tag" criminals on mopeds, as well as using "stinger" devices to remotely puncture moped tyres. They are also using new, lightweight mopeds designed to move easily though narrow streets and alleys.
In one year to September, there were more than 19,000 moped-related crimes in the capital – an average of 53 a day – including recent burglaries on House of Fraser on Oxford Street and a Michael Kors shop in Chelsea.
Register for free to continue reading
Registration is a free and easy way to support our truly independent journalism
By registering, you will also enjoy limited access to Premium articles, exclusive newsletters, commenting, and virtual events with our leading journalists
Already have an account? sign in