Labour antisemitism debate may have driven increase in anti-Jewish incidents in UK, report finds
Antisemitic incidents reach new record high in UK amid warning antisemites are feeling 'emboldened'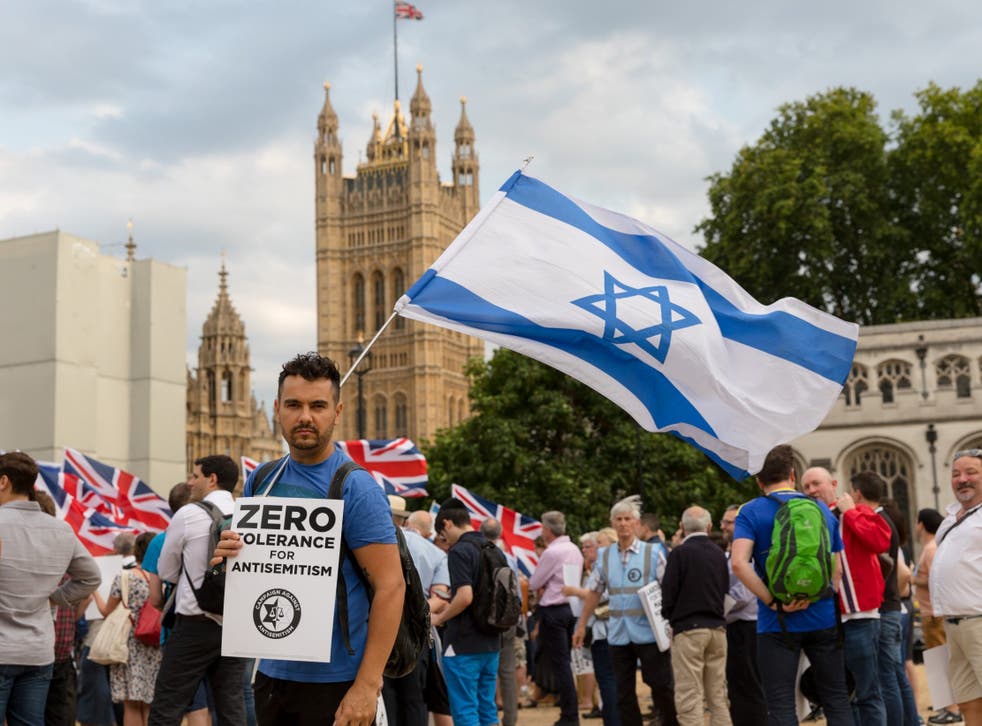 Debates over alleged antisemitism in the Labour Party may have sparked an increase in hate incidents against Jews in the UK, a report has found.
The Community Security Trust (CST) recorded a record high of 1,652 incidents in 2018, an increase of 16 per cent on the previous year.
The monitoring group said around one in 10 incidents were "examples of, or related to arguments over, alleged antisemitism in the Labour Party", and that reports surged in two periods of controversy.
The CST said antisemitic attacks increased during focus on Jeremy Corbyn's past support for a graffiti artist accused of painting an allegedly antisemitic mural. They spiked again amid debate over whether Labour would adopt the International Holocaust Remembrance Association definition of antisemitism.
"These periods saw an increased number of incidents directly related to those debates, while the increased attention paid to the issue of antisemitism is likely to have emboldened offenders and encouraged victims to report more incidents," its annual report said.
"This does not mean that all Labour Party members, or supporters of Mr Corbyn, are antisemitic … an atmosphere of heightened public discussion of antisemitism, racism, hate crime and related issues can excite activity amongst those people who are already predisposed to carry out hate crimes."
Protests against Labour antisemitism

Show all 14
Many of the Labour-linked incidents took place on social media, the CST said, and prominent Jewish parliamentarians or those who had spoken out on the issue received targeted threats and hate mail.
A letter was delivered to the office of Luciana Berger MP in September calling her "Jew scum" for remarks on Mr Corbyn, and another letter abused a Labour peer for "daring to criticise the Labour leader" and told them to "piss off to Israel".
Andrew Gwynne, Labour's shadow communities secretary, said: "These statistics make for hard reading, and show that much more needs to be done to heal the deepening divides within our society and to challenge the growing confidence of those who preach hate, holocaust denial and inversion, and antisemitism.
"There is no place in British society, and in British politics, left or right, for antisemitic views."
Labour says it has implemented recommendations from the 2016 Chakrabarti Inquiry into anti-Jewish hatred and adopted the IHRA definition of antisemitism, amid other measures.
The CST warned that prevalence of antisemitism in public debate can cause belief that "that the taboo against expressing hostility towards Jews is weakening" adding: "The more people hear and read antisemitic comments and views, the more likely they are to have the confidence to express such views if they hold similar attitudes themselves."
Monitors said minor surges last April and May were also influenced by violence on the border between Israel and Gaza, which has been linked to previous increases.
CST recorded over 100 antisemitic incidents in every month of 2018 and said the rise "suggests an enduring situation in which people appear to be more confident to express their views", while more victims report incidents.
Of incidents where linked motivations were known, 173 were anti-Israel, 84 far-right, and 13 Islamist.
The most common type category was "abusive behaviour" – mainly verbal abuse directed at Jewish people in public – followed by assault, threats, damage and desecration, literature and extreme violence.
Incidents included a knife attack on two visibly Jewish men in Gateshead, physical attacks on schoolchildren, vandalism and the spraying of swastikas and Nazi graffiti.
CST chief executive David Delew said: "Three years of rising antisemitic incidents shows the scale of the problem facing the Jewish community. This is happening across society and across the country and it reflects deepening divides in our country and our politics. Jewish people are on the receiving end of this hatred but it must not be left to us to tackle alone."
Archbishop of Canterbury Justin Welby praises Labour MPs for adopting IHRA definition of antisemitism
The home secretary, Sajid Javid, called the incidents "utterly despicable" and said a meeting on antisemitism had been scheduled as part of a wider hate crime action plan.
"The Jewish community should not have to tolerate these attacks and we are doing all we can to rid society of these poisonous views," he added.
Assistant Chief Constable Mark Hamilton, the national police lead for hate crime, called on victims to report abuse to police.
"There are still far too many people who act illegally, fuelled by global events, divisions in our society or historical bigotries," he said. "The Jewish community must not be left to tackle antisemitism alone, this is a burden we all share and one that the police are committed to."
Join our new commenting forum
Join thought-provoking conversations, follow other Independent readers and see their replies