Labour launches clever tool to find out your NHS baby number and harvests thousands of emails in the process
Online widget draws from census data to tell users what rough number baby they were on the National Health Service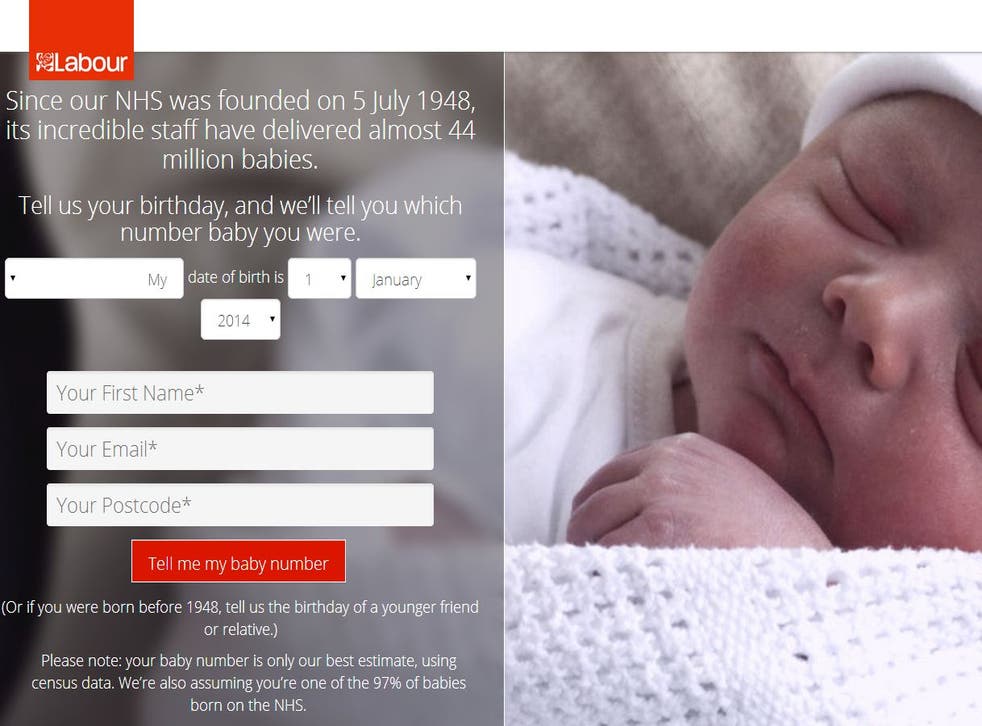 A social media whizz in the Labour party has created a smart, light-hearted online tool which tells users their individual NHS baby number.
Marking the anniversary of the founding of the NHS, which turned 66-years-old on 5 July, the party collated census data and provides its "best estimate" of a person's number when matched against their birth date.
Those born on 20 August 1986, for example, will be somewhere around the 26,140,023rd mark according to the fun, viral widget.
A rough estimate though it may be – the site admits that it has to assume each person is "one of the 97 per cent of babies born on the NHS" – it has become unsurprisingly popular with thousands of users posting their 'unique' number on Facebook and Twitter after its launch on Friday, and urging their friends to do the same.
Understandably, from a canvassing perspective, the baby number is not displayed until a name, email address and postcode - thus constituency - is entered.
Once completed, a confirmation email is sent from Labour's General Secretary Iain McNicol thanking the user for finding out where they fit in the "NHS story," before encouraging the result to be promoted on social media.
The Conservatives did a similar one earlier this year asking people to check how much money they'd save under the Coalition: http://incometaxcut.conservatives.com.
With the General Election a mere 305 days away, the Labour party appears to have made a shrewd manoeuvre in creating a highly shareable game-of-sorts that not only reinforces one of their key policies – to keep the NHS public – but also collects countless email addresses for their database.
Its privacy policy, which each user agrees to, states: "We may also use [your information] to alert you of campaigns you may be interested in and events happening in your area."
The tool also goes on to tell its users how many years prior to their birth certain services such as IVF became available, as well as how many prescriptions have been given out in the x-number of minutes that they've been present on the site.
Its final page asks for a donation to help the party "beat the Tories in 10 months' time."
There is an option to unsubscribe from the emails, which is clearly visible, though there's no opt-in/out box at the initial stage.
A Labour Party spokesperson told The Independent: "The NHS is Labour's proudest achievement, and to mark its 66th anniversary, we wanted to give people a fun way of seeing where they personally fit in.
"Everyone knows the incredible work of our NHS staff, but this was a chance for people to see how they are part of this amazing story. It's being shared a lot online because it is fun, because people love the NHS, and because they're worried about what is happening to it under the Tories.
"It's a good way to remind people about what is at stake in the next election."
Countless people have taken to Twitter to share their place in the NHS's timeline...
But some where not as amused as others...
Join our new commenting forum
Join thought-provoking conversations, follow other Independent readers and see their replies