Labour joins backlash against rape clause being rolled out in Northern Ireland
Calls for parliamentary scrutiny of policy that forces women to reveal they have been raped to get tax credits for third child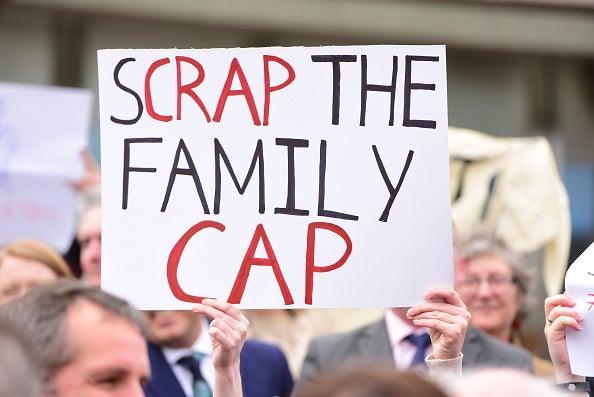 Labour has called out Government plans to introduce the so-called rape clause to Northern Ireland, forcing women seeking tax credits for a third child to prove they have been sexually assaulted.
The Democratic Unionist party is likely to oppose the move, just weeks after it agreed on a £1.5 billion deal to prop up a minority Tory Government.
The DUP already signed up to an early day motion calling on the Tories to annul the policy.
Owen Smith, the shadow Northern Ireland secretary, is demanding a debate and vote in the House of Commons. If the procedure is granted, Theresa May could lose, given the amount of opposition to the family cap.
"The so-called 'rape clause' risks criminalising women in Northern Ireland. It cannot pass unchallenged," Mr Smith wrote on Twitter.
Mr Smith said Labour believes the policy will punish low-income families. The cap has added weight in Northern Ireland where there is a lack of a functioning executive and people can be put in prison for up to two years for failing to report a crime such as rape.
He wrote in a letter, along with shadow welfare secretary Debbie Abraham, to Northern Ireland secretary James Brokenshire that the policy being introduced "through the back door" was "completely at odds with principles of the devolution settlement as agreed under the Good Friday agreement and subsequent agreements, including Fresh Start", as reported by The Guardian.
The Fresh Start agreement means that welfare reform for Northern Ireland is set by Westminster, but Northern Ireland can mitigate certain policies such as it did with the bedroom tax.
Alison Thewliss, the SNP MP that spearheaded the campaign against the clause, wrote on Twitter after Mr Smith's comments: "I have been saying this for *quite* some time now. Glad @UKLabour are finally catching on."
The Government issued its response to the policy consultation on the day Donald Trump was inaugurated and the new policy was rolled out in April.
Theresa May says rape clause forcing victims to prove they were attacked is about 'fairness'
The Government has previously ignored calls for a debate, including a motion signed in Holyrood by Scottish MSPs, many of whom called the policy "shameful" and "disgraceful".
When questioned in Parliament, Ms May said the "sensitive issue" had been "consulted on carefully" and that "underpinning this policy is a principle of fairness".
"We believe that people in work have to make the same decisions as those people who are out of work," she said. "So that people who are on benefits should have to decide whether they can afford more children."
A House of Lords committee found this month that the rape clause "would be much more difficult to assess and DWP [Department for Work and Pensions] did not, at that stage, appear to have made adequate arrangements for doing so."
Women's Aid said the policy would "re-traumatise" victims of rape and force women to name their perpetrator on a form.
The clause would also potentially force all parties involved in the tax assessment to report any crimes to the police, even if the woman who suffered the abuse might be put at risk or be dragged through a criminal trial that she does not want, Women's Aid added.
"These requirements risk stigmatising children, pushing women and children into poverty, and placing women and children at risk of harm if they leave an abusive household without appropriate safety planning or risk assessment in place," the organisation warned.
Join our commenting forum
Join thought-provoking conversations, follow other Independent readers and see their replies