Lamborghini bought 20 minutes earlier written off in M1 smash
Luxury sports car worth an estimated £250,000 was being driven home from car showroom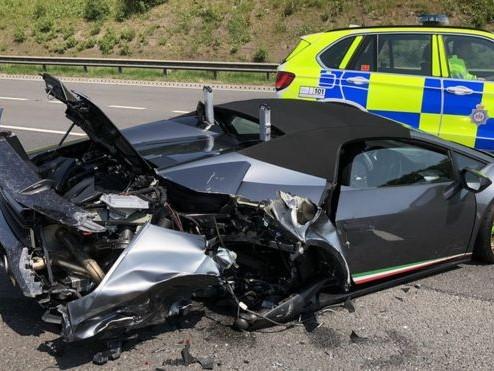 A Lamborghini bought brand new just 20 minutes earlier has been written off in a motorway crash.
The luxury sports car – understood to have been purchased for around £250,000 – was wrecked while being driven home from the car showroom along the M1 in West Yorkshire.
It had come screeching to a halt in the motorway's outside lane due to a mechanical failure when a van ploughed into the back of it, police say.
Neither driver was seriously hurt but the crash, at 1pm on Wednesday close to the town of Ossett, resulted in part of the southbound carriage way being closed for nearly two hours.
"It's only a car," noted West Yorkshire Police's roads unit in a tweet. "But on this occasion a 20 minute old brand new Lamborghini…#couldhavecried."
Social media users poked fun at the Lamborghini's unfortunate owner.
One tweeted: "Let's hope they took out insurance!"
The motorist has not been identified and it is not known where the Lamborghini Huracan Spyder was bought.
Join our commenting forum
Join thought-provoking conversations, follow other Independent readers and see their replies