Latitude festival accused of animal cruelty for dyeing sheep bright pink
'This attention-grabbing stunt put sheep at risk of getting dye in their eyes and swallowing the solution as they were dip-dyed'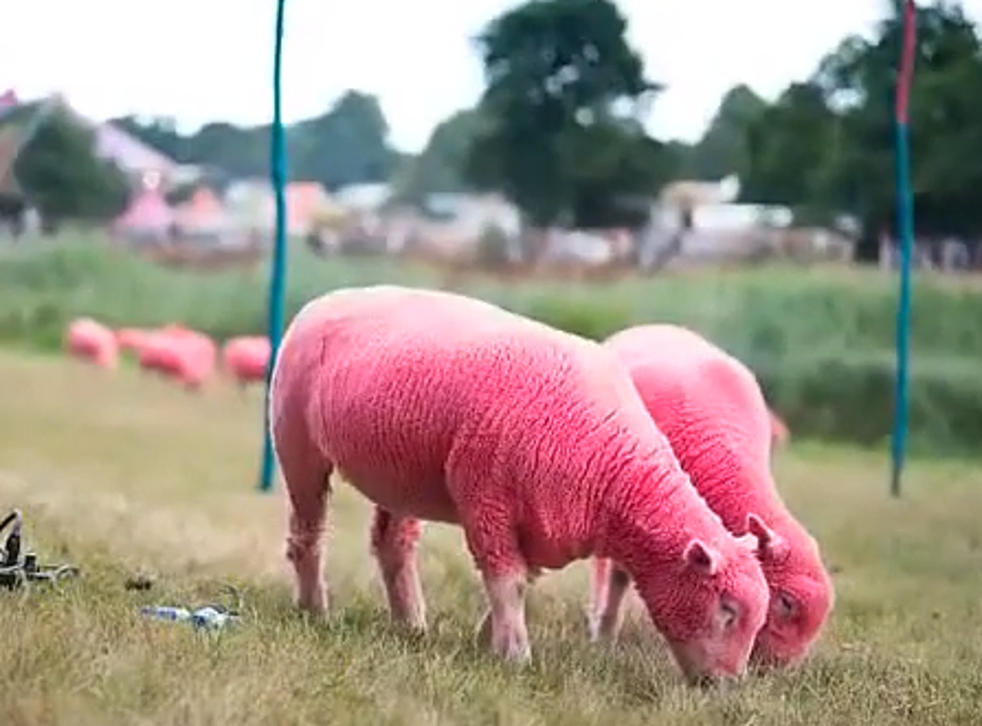 Organisers of this year's Latitude festival have been accused of staging a "cruel stunt" for dyeing a flock of sheep bright pink to publicise the event.
The fuchsia coloured animals were filmed running in the festival grounds to promote this year's music event.
But animal experts said the dyeing would have put the sheep at risk and that using them as "living toys and props" amounted to animal abuse.
"This attention-grabbing stunt put sheep at risk of getting dye in their eyes and swallowing the solution as they were dip-dyed, which involves being completely submerged/heads likely held down," tweeted Mimi Bekhechi, head of international programmes at animal-rights group Peta.
"Only ignorant or cruel people still use animals as living toys, props and photo ops."
Animals in entertainment

Show all 20
The organisation added: "The abuse didn't stop there. These gentle prey animals are easily stressed and would have been terrified of the loud music and rowdy, drunk festivalgoers."
The Health and Safety Executive advises that sheep should never be dyed for cosmetic purposes, she said.
Other social media users also condemned the advertising technique.
Some pledged to boycott Latitude, near Southwold in Suffolk, and many said they were protesting to the organisers.
Andrew Kelly, head of the Irish Society for the Protection of Animals, said "Why do people feel the need to do this kind of thing? What does it add to the festival exactly other than to display an odd attitude to animals?"
Others went further, saying the festival should be ashamed or should be prosecuted.
"Using animals is one thing. Using them as a gimmick is another. Using them around such an unhealthy and unnatural environment such as your event, showed your stupidity. Your PR should be fired," tweeted Paul Tully, a tourism marketing manager.
Latitude, which was best family festival at last year's UK Festival awards, defended the stunt, saying the animals had been "dip-dyed using natural, water-based dye which they are used to as part of their normal farm life for insecticides and parasites like itch-mite, blow-flies, ticks and lice".
But the RSPCA said it was also expressing its concerns to the festival organisers, adding the sight was "very sad to see" but that it was not illegal.
It's not the first time sheep have been dyed to publicise the event.
East Suffolk council said on behalf of Latitude that it had "no concerns about the sheep this year or in the 14 years that this activity has taken place".
"We are entirely happy that the water-based dye is completely safe and that the festival organisers have taken all appropriate steps to ensure the animals are content, safe and well looked after," the council added.
It said if it had felt that the sheep were suffering distress of any kind it would not permit them to be dyed.
Join our new commenting forum
Join thought-provoking conversations, follow other Independent readers and see their replies