Laughing gas to be outlawed as nitrous oxide categorised as class C drug
Nitrous oxide is the second most commonly used drug among 16 to 24-year-olds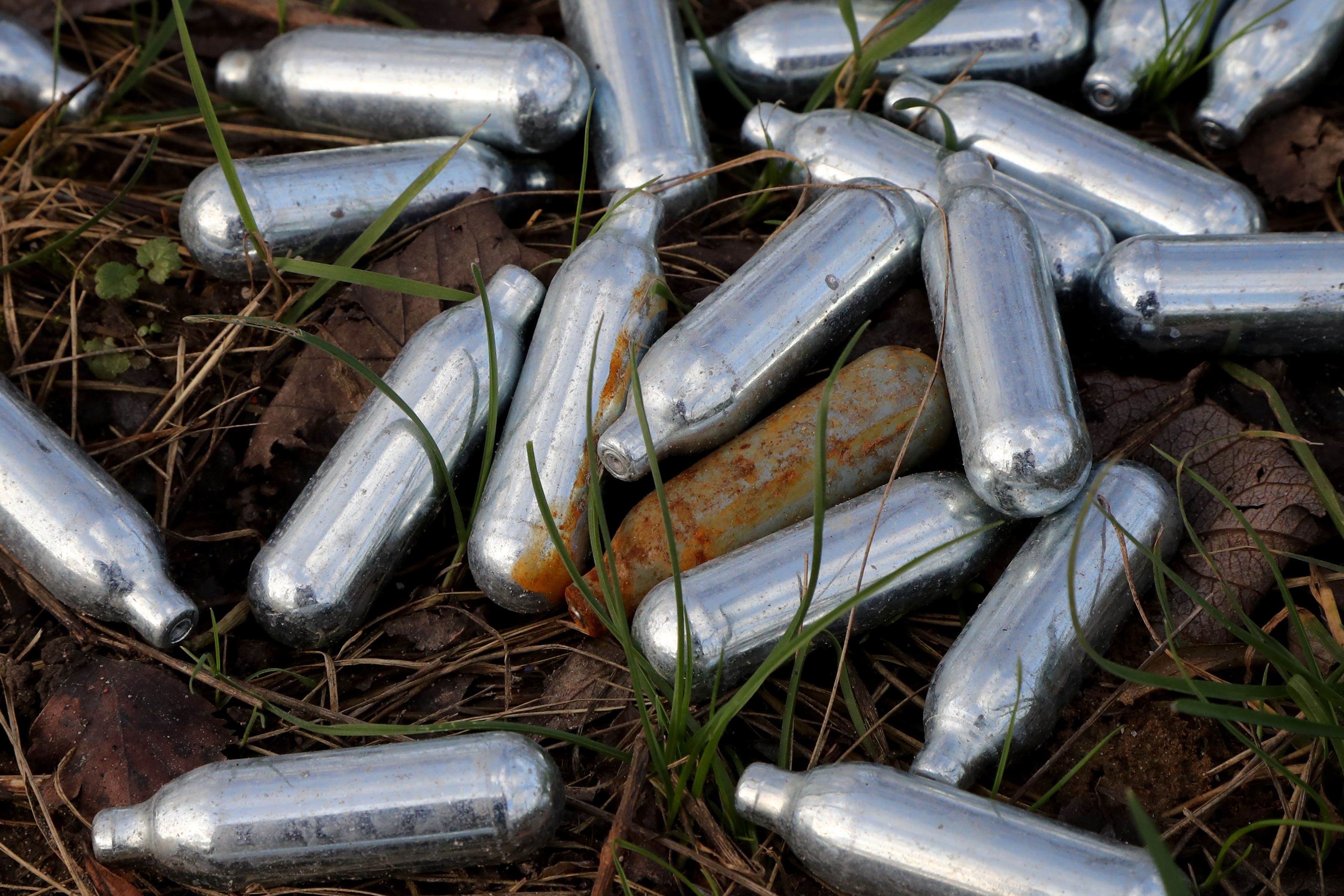 Nitrous oxide - better known as laughing gas - is to become an illegal Class C substance by the end of the year, the government has announced.
"We are cleaning up our streets and tackling anti-social behaviour," a Home Office spokesperson said. "Those in unlawful possession could face up to two years in prison or an unlimited fine."
Those caught selling or producing the drug could also face up to 14 years in prison under the new rules.
Supply of nitrous oxide for recreational use is currently banned - but possession is not.
The ban comes despite recommendations from the Advisory Council on the Misuse of Drugs, which advised against new laws to ban nitrous oxide, which they said would be disproportionate with the amount of harm linked to the gas.
It comes after levelling up secretary Michael Gove announced in March that laughing gas would be banned under plans to clamp down on anti-social behaviour.
Mr Gove said the use of laughing gas was "despoiling public spaces" but also that the drug "can have a psychological and neurological effect, and one that contributes to antisocial behaviour overall".
Nitrous oxide is the second most commonly used drug among 16 to 24-year-olds in England after cannabis.
The drug is typically released into balloons from small silver canisters and then inhaled.
In a statement, home secretary Suella Braverman said: "The British people are fed up with yobs abusing drugs in public spaces and leaving behind a disgraceful mess for others to clean up.
"Earlier this year the prime minister and I promised a zero-tolerance approach to anti-social behaviour and that is what we are delivering.
"If you are caught using 'laughing gas' as a drug, you could be hit with a hefty fine or face jail time."
Under the government's £160 million Anti-Social Behaviour Action Plan, areas of England and Wales deemed to have high amounts of low-level crime will have an increased police presence and drug testing of criminals will become more prevalent.
On-the-spot fines for graffiti and fly-tipping will also be increased and more money will be ploughed into youth centres as part of a bid to eradicate behaviours spoiling Britain's neighbourhoods.
Offenders will also be made to wear high-vis vests or jumpsuits and work under supervision while picking up litter, removing graffiti and washing police cars as punishment for their actions.
According to the Office for National Statistics, there were 36 deaths in Great Britain associated with nitrous oxide between 2001 and 2016.
Crime and policing minister Chris Philp said: "There is no question that abusing laughing gas is dangerous to people's health and it is paramount we take decisive action before the situation gets worse.
"Not only are we making possession an offence for the first time, we are also doubling the maximum sentence for supply to 14 years, so the dealers profiting off this trade have no place to hide."