Lavinia Woodward: Single mother who spent four years in prison condemns decision to spare Oxford student jail
'To think someone who's been silver-spooned all her life can get away with something that people who need help get sent to prison for is heartbreaking'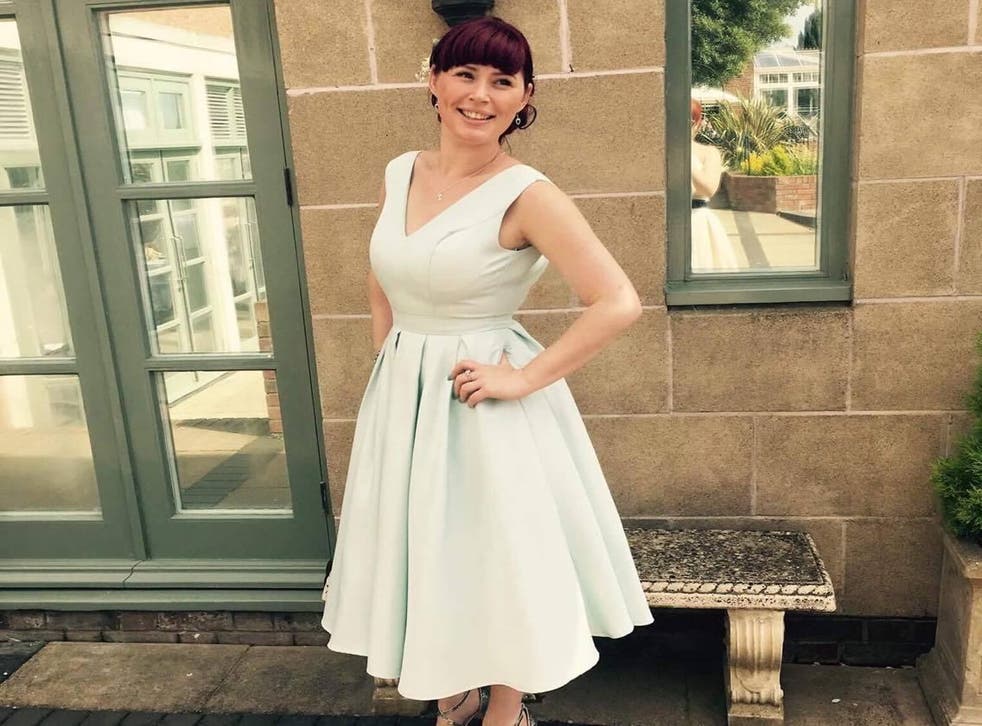 A single mother who was sentenced to prison for committing grievous bodily harm at the age of 19 has said it is a "massive smack in the face" to see an Oxford student spared jail after committing a violent offence simply because she "wants to have a career".
Michaela Booth, 27, was a single mother with no previous criminal record when she was sentenced to four years for kicking a woman during a drunken fight in a nightclub six years ago.
She left her victim with a fractured eye socket and a split eyelid and accepts the injuries she caused were serious, but is upset by the disparity in the outcomes of the two cases.
Oxford student Lavinia Woodward, 24, admitted to causing grievous bodily harm earlier this year after she stabbed her boyfriend in the leg. She has had a 10-month jail sentence suspended for 18 months and been told she may be spared jail completely because of her "extraordinary talent".
Ms Booth, who grew up on a council estate in Worcester with two heroin addicts as parents, and is now studying a criminology degree, had pleaded not guilty for causing grievous bodily harm with intent following the nightclub incident, saying she hadn't intended to hurt her victim.
She said she felt "hurt" by Ms Woodward's suspended sentence – saying it was a sign of an "unfair" and "unequal" justice system.
"I'm not often shocked by what happens in the justice system, but this one has really hit home," she told The Independent.
"My case and Lavinia's are similar. I was involved in a fight in a nightclub. I was out with my sisters as a teenager. I was walking through the bar and there was a fight already going on.
"My victim was a stranger to me – it was nothing premeditated. It was a stupid drunken mistake. I had a stiletto heel on and I kicked her, so my shoe was considered a weapon.
"I always admitted causing the injuries and harm. I pleaded not guilty as my charge was section 18 wounding with intent and I didn't intend to cause harm.
"I knew I had caused another person serious injury and for that I was sorry. It changed my life and made me so wary of social outings and going out.
"This lady picked up a knife and stabbed someone, yet her charge is one down from mine. Hers was causing GBH without intent, mine was with intent. Are you not intending to cause an injury when you pick up a knife and you stab someone?
"It shows the justice system is not fair and equal. It's a massive smack in the face to see someone privileged who's committed a violent offence get to walk out of prison because she's at Oxford and wants to have a career.
"What hurts me most is that, probably on the same day, women who are drug addicts and need proper help are being sent to prison for minor offences – yet this woman, because she wants a career and is rich, can get let off."
Ms Woodward, a medical student and aspiring heart surgeon, attacked her ex-boyfriend with a bread knife in a drug-fuelled rage at her university accommodation at Christ Church College, Oxford Crown Court heard.
At an earlier hearing, 24-year-old Woodward had pleaded guilty to unlawfully wounding her partner.
The offence would normally carry a custodial sentence, but Judge Ian Pringle QC previously suggested she could be spared jail because of her academic record – drawing criticism for being unduly lenient and demonstrating class bias.
Ms Booth said that growing up in a troubled household with parents suffering with drug addictions meant she had few role models in her life, and said her prison sentence only served to push her back further from achieving her dream of studying at university.
"Growing up wasn't great. We could never have friends over to the house. It was hard. How can you ever have a stable home life with two parents who were addicted to heroin?" she said.
"Nobody ever helped me to reach my full potential or instilled it in me to have goals and ambitions, and the prison sentence held me back further. Even when I applied for university, before my life experience and my qualities and attributed and what I could bring to the course was considered, my crime was considered.
"To think someone can come from a privileged background, who's been silver-spooned for all her life, can get away with something that people who actually need help and support get sent to prison for, is absolutely heartbreaking. It's not fair. People should be outraged about it."
During her sentencing, Ms Booth said the judge failed to take into account the fact she was the sole carer for her daughter.
"My legal representative told me that no matter what happened at the end of my trial, I'd be going home and getting a pre-sentence report, about my background and needs – such as the fact that I was the sole carer of a four-year-old child, and had never been to prison before," she said.
"This should've been considered and the judge made aware of it. But five minutes before the judge sentenced me, he found out I was a mother. I had no pre-sentencing report.
"Prison was absolutely awful. My mum had to look after my daughter. Prior to them arriving in the visits room, my little four-year-old girl would walk through security with her arms already out ready to be searched.
UK news in pictures

Show all 50
"We have a justice system to enable justice for victims and justice for society. This is a case where justice has not been served for anybody apart from the rich girl who's got a career ahead of her. And that is just terrible."
The judge's decision to spare Woodward from jail was also condemned by men's rights campaigners, who said it risked putting male victims of domestic abuse off coming forward.
The chairman of the ManKind Initiative, Mark Brooks, branded the sentence "unfair" and said she would have been expected to go to prison had she been a man, adding that there was already a problem with male victims not seeking justice because "they fear that society won't take them seriously".
Join our new commenting forum
Join thought-provoking conversations, follow other Independent readers and see their replies