Battle to stop Lawrence of Arabia's dagger and robes leaving Britain
Culture minister Ed Vaizey places temporary export bar on the last known of Lawrence's daggers in private hands
Nick Clark
Arts Correspondent
Tuesday 02 February 2016 23:19 Comments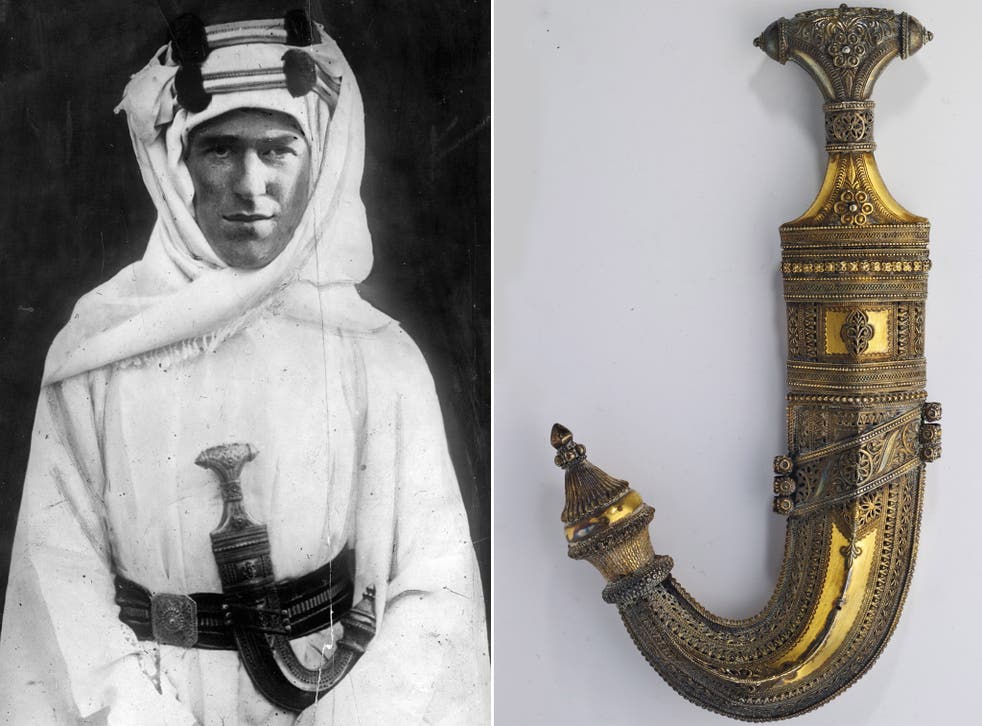 The dagger presented to TE Lawrence after the triumph at Aqaba in 1917, which cemented his reputation as Lawrence of Arabia, could be heading abroad, unless a buyer can be found to save it for the nation.
The Culture minister Ed Vaizey has placed a temporary export bar on the last known of Lawrence's daggers in private hands to allow time for a rival bid of £122,500, as well as £12,500 for his traditional Arab robes to keep them in Britain.
"TE Lawrence was one of the most extraordinary figures of the 20th century," Mr Vaizey said. "These robes and dagger are absolutely iconic and a key part of his enduring image. It is important that these classic objects remain in the UK."
Lawrence was one of the most recognisable figures of the First World War from his work in the Middle East and his involvement in the Arab Revolt. He regularly wore Arab dress and he can be seen in the white silk robes, made in Mecca or Medina, in the 1919 oil portrait by Augustus John.
Sherif Nasir presented Lawrence with the steel and silver dagger after the capture of Aqaba in 1917. The scene features in the Oscar-winning film Lawrence of Arabia, starring Peter O'Toole, with Omar Sharif's playing Sherif Ali, based on Nasir. Lawrence posed in the robes with the curved dagger, known as a jambiya, as he sat for sculptor Lady Kathleen Scott, the widow of Scott of the Antarctic, later Lady Kennet in 1921.
He left them with her so she could continue working after their final session as he sailed for Cairo and they remained in her family ever since until the sale at Christie's following the second Lady Kennet's death. Tuesday's decision to defer the export licenses followed a recommendation by the Reviewing Committee on the Export of Works of Art and Objects of Cultural Interest.
Sir Hayden Phillips, the body's chair, said that while the depiction of Lawrence leading a camel charge into Aqaba in the David Lean film was probably an exaggeration, the victory "was an extraordinary feat".
Register for free to continue reading
Registration is a free and easy way to support our truly independent journalism
By registering, you will also enjoy limited access to Premium articles, exclusive newsletters, commenting, and virtual events with our leading journalists
Already have an account? sign in
Join our new commenting forum
Join thought-provoking conversations, follow other Independent readers and see their replies