London's first alt-right art show since Trump's election to be met with protests
The gallery has been accused of providing a platform for fascist, neo-Nazi and Islamophobic speakers and individuals who promote white supremacy and eugenics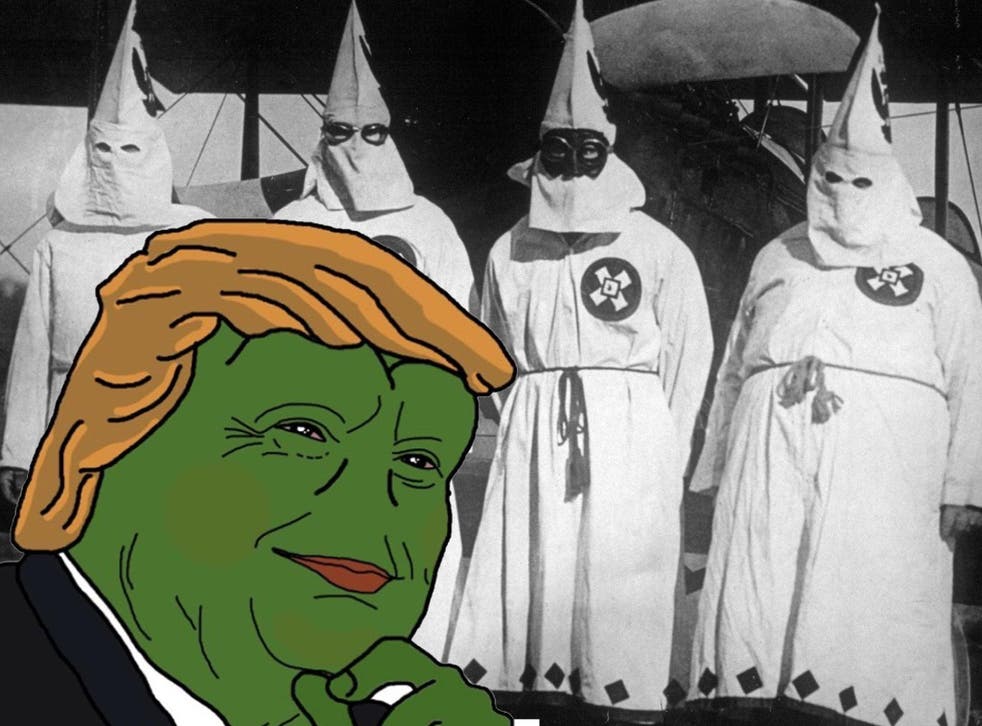 Anti-fascist protesters are calling for the closure of a London art gallery which has been accused of showcasing neo-Nazi artwork and hosting openly racist speakers.
LD50 Gallery recently hosted an exhibition about the so-called "alt-right" movement – which unashamedly supports Donald Trump and has been accused of racism, white supremacy, anti-Semitism, and misogyny. Other have claimed it shares an ideology with far-right parties like the French National Front.
The gallery in the trendy east London area of Dalston, has been accused of providing a platform for fascist, neo-Nazi and Islamophobic speakers and individuals who promote white supremacy and eugenics by the Shut Down LD50 campaign.
The campaign accuses LD50 of in the last year being "responsible for one of the most extensive neo-Nazi cultural programmes to appear in London in the last decade."
In the summer, it held a "Neo-reaction conference" which included a talk by Brett Stevens, a white supremacist who has lauded the "bravery" of Anders Breivik - the Norwegian white supremacist who killed 77 people in 2011.
Mr Stevens' writing was said to be an inspiration to Breivik.
After the attack, Mr Stevens, who edits a far-right website called Amerika, wrote: "I am honoured to be so mentioned by someone who is clearly far braver than I, no comment on his methods, but he chose to act where many of us write, think and dream."
The gallery has also hosted, Peter Brimelow, a high profile American anti-immigrant activist. He has been described as the "new David Duke" – the former Imperial Wizard of the Ku Klux Klan (KKK).
Mr Brimelow founded website VDare, which the Southern Poverty Law Centre describe as "a nonprofit that warns against the polluting of America by non-whites, Catholics, and Spanish-speaking immigrants."
The controversial orders Donald Trump has already issued

Show all 9
Local activists, artists and academics will be protesting against the gallery on Saturday and handing out around 2,000 leaflets in the area in an attempt to make local people aware of the gallery's affinities.
Andrew Osborne, who has played a key role in the campaign, told The Independent he was shocked to find out there was a hub of "alt-right" activity in one of the most ethnically diverse London neighbourhoods.
Mr Osborne, a fine art technician at the Royal College of Art, claimed the gallery has leaked the identity of artists who exposed its activities to the far-right neo-Nazi website, Amerika.
"It immediately seemed liked the leaking of details had malicious intent and was very intimidatory," he said. "We also feel like it was something out of the alt-right playbook."
But Lucia Diego, who runs the gallery, denied the allegation artist's details were leaked. "I made available a copy of a public thread on my website and many people copied or downloaded it including Amerika etc.," she told The Independent.
Mr Osborne said that "the gallery has had a hidden programme for a while which has only more recently been revealed", adding: "We think they were somewhat emboldened by Trump winning the presidency and they started to host these things more explicitly."
Ms Diego said there was nothing secret about the conference and claimed the gallery sent invitations to their gallery subscribers.
Nevertheless, this contradicts Mr Stevens comments on his blog, Amerika, where he says the "neoreaction conference" was hosted behind a "veil of secrecy to prevent the usual suspects (Leftists and other neurotics) from attacking".
Amerika, which is directly linked to on the gallery's main homepage, rejects the term "Nazi", saying the best way to "defeat leftists" is to reject their terms.
Mr Osborne suggests that while East London might seem like a bizarre place for such a gallery it plays into the trope of "alt-right hipsters".
"Dalston seems like the right place if you want to build a cool platform, which is exactly what the alt-right is trying to do by re-branding classic neo-Nazism."
He said quite a few artists he knew had exhibited there but always assumed the "alt-right" link was ironic. He voiced his concerns about the number of students who have looked around the gallery and said the "silence" in the "art world" had been "deafening".
The gallery's Twitter is private but Mr Osborne claims he has seen people responding to them who are on the "alt-right".
Gallery owner, Ms Diego, said in a statement published on the LD50 website that the programme was intended to create "a dialogue between two different and contrasting ideologies" and that the conference's audience was "very liberal".
Nevertheless, a recording of Mr Brimelow's talk reveals many of the audience members who contributed to the discussion were sympathetic to his views. One even expressed their support for Mr Duke, a holocaust denier.
Last week, Ms Diego described the left as "more like a fascist organisation than the real fascists" in a Facebook exchange with artist Sophie Jung which indicated her support for President Trump.
"I'm not even sure if I disagree with the Muslim ban. I see it also as a temporary measure in order for America to get sorted while they transition to another form of government," Ms Diego said in their private conversation.
UK news in pictures

Show all 50
Ms Jung took a screen-shot and shared the statement on her Facebook page.
"The Facebook thread in which artists discussed all these issues was made public by one of the artists in order to shame me publicly in front of everyone" Ms Deigo said.
In a lengthy statement, Ms Diego defended the gallery's programme.
She said: "We feel that the exceptionally aggressive, militant and hyperbolic reaction this has provoked vindicates our suspicion that at some point, as a society, we have drifted into a cultural echo chamber."
She added that the reaction of campaigners was evidence that those who disagreed with the left were "publicly vilified, delegitimated and intimidated with menaces".
She said: "Our position has always been that the role of art is to provide a vehicle for the free exploration of ideas, even and perhaps especially where these are challenging, controversial or indeed distasteful for some individuals to contemplate."
Mr Osborne said neighbours in the area had expressed their interest in the campaign event, which kicks off at 11 am in Dalston on Saturday. He said they had not contacted the police about the gallery because they were keen for it to be a "community campaign".
"We think actually it's a safety issue for the people of Dalston," he said.
Register for free to continue reading
Registration is a free and easy way to support our truly independent journalism
By registering, you will also enjoy limited access to Premium articles, exclusive newsletters, commenting, and virtual events with our leading journalists
Already have an account? sign in
Register for free to continue reading
Registration is a free and easy way to support our truly independent journalism
By registering, you will also enjoy limited access to Premium articles, exclusive newsletters, commenting, and virtual events with our leading journalists
Already have an account? sign in
Join our new commenting forum
Join thought-provoking conversations, follow other Independent readers and see their replies