The forgotten city? One hundred days on, Leicester remains in country's longest local lockdown
'People are wondering what we have to do to get out of this,' mayor tells Colin Drury as families still banned from meeting in homes or gardens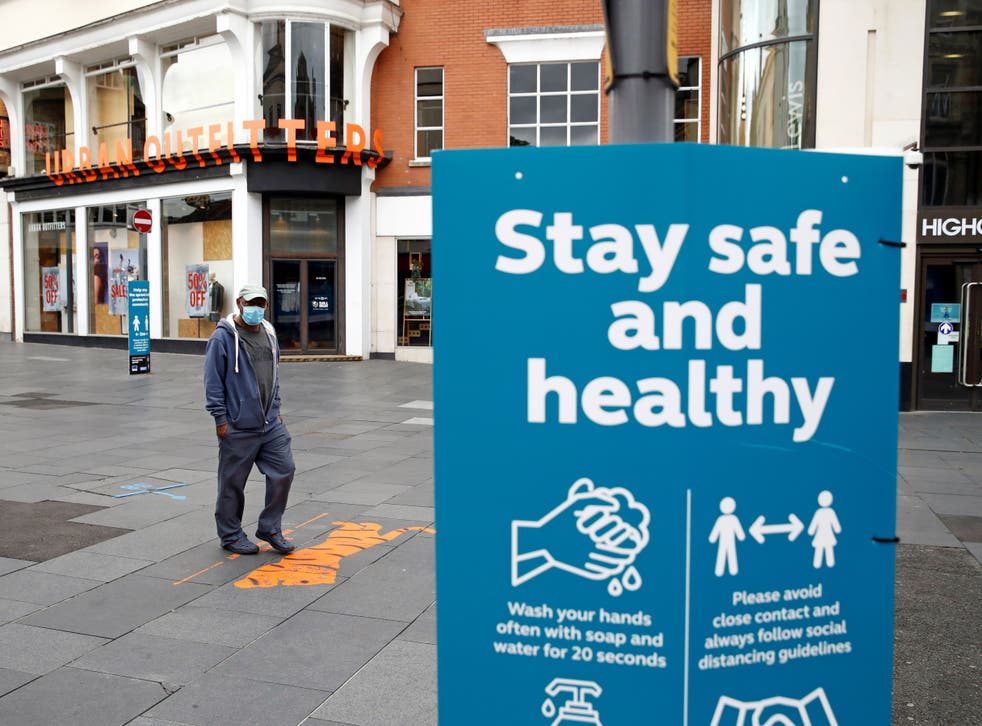 In Leicester, they have started to refer to themselves as the forgotten city.
It has now been 100 days since the jewel of the East Midlands became the first place in the UK to enter into local coronavirus lockdown. 
As the rest of the country started returning to some semblance of normality following the three-month national shuttering, health secretary Matt Hancock dropped the bombshell that restrictions would not only remain in place in Leicester, they would in fact be tightened.
Non-essential shops were to be shut once more; bars and restaurants would not be allowed to open; different households would remain banned from mixing. Haircuts stayed off limits.
Now, a full century of days on, while most of those measures have gone, one of the hardest remains firmly in place: families and friends here are still barred from meeting up in private homes and gardens.
As the rest of the country's attention has turned to other areas and other restrictions – and, increasingly, to talk of a second national lockdown – the reality in Leicester is that, to some extent, they never got out of the first.
"Seven months," says Kunverji Gohil down the phone from his home in the city's Rushy Mead area. "Seven months since I last saw my grandson. That's too long. Too long not to hug someone you love."
The 84-year-old is the first to admit that, to some extent, he and wife Parvathi are among the fortunate ones here.
Both are in good health and their 60-year-old son, Ramesh, lives right next door along with his wife and two grown up children. Their gardens have no dividing fence. On sunny days throughout summer, they have been able to sit together happily enough without breaking any laws.
Yet that has not made the fact that the couple – originally from India – cannot see their other son, Rohit, or third grandchild, 14-year-old Milen, any easier.
"We used to see each other every month or so, so it's been hard," says Rohit this week. "There's a suggestion we could meet in a park but my parents are in their 80s – dad uses a zimmer frame – so that's not practical."
Should the restrictions have been lifted? A pause. Rohit is a high school teacher and, as he himself admits, not one who naturally goes against authority.
"Statistically, these family meetings are where the virus is spreading most virulently, we know that, and we accept that," the 50-year-old says. "But that doesn't stop me feeling cheesed off that I can't see them. But I try and balance that… I'm a law-abiding citizen and so are my family. We will do what we're asked for the greater good."
Nonetheless, he remains frustrated at the apparent lack of a national roadmap to get back to some normality.
"Track and trace needs to be much sharper," he says. "We are putting our faith in the government to lead us to the right solution and, of course there will be differences of opinion about that, but I think more could be done."
Nor is it just families being pushed to the brink by the ongoing restrictions here.
In the city centre, Steve Brett, owner of the 75-year-old Withers Sports, says the whole shopping area remains "horrendously" quiet.
Stores, bars and other such venues may have been allowed to open but two things, he says, seem to be keeping customers away.
Firstly, people are confused about what exactly the new rules are. "No-one's sure anymore," he says. "The messaging has been nowhere near clear enough. I run a business and, if I'm honest, I don't exactly know what we're allowed to do and not do anymore, so I have no idea how others feel."
Secondly, and more pertinently perhaps, he says a large chunk of the population here now appears nervous about venturing into town.
"Leicester was made out to be this diseased city, we were treated like lepers, and that sort of thing sticks," the 56-year-old father says. "You can't blame people for being cautious, but that will hurt businesses. For us, I think we'll be okay because we're a destination shop but the high street as a whole, the damage could be irreparable."
Should the final lockdown restrictions be lifted to show Leicester is back open for business? "It should have happened weeks ago," he says decisively.
He is not alone in making that call.
Jonathan Ashworth and Liz Kendall – both Labour MPs in the city – say it is unclear why Leicester continues to have extra restrictions despite its infection rates dropping from 135 cases per 100,000 population in June to 88.7 cases in the latest data drop. For context, Manchester – now the worst hardest hit area in the country – has rates north of 500.
"In the government's latest guidance for Leicester that was updated on 2 October, it is not even stated when the next review date is," the pair said in a joint statement.
Just as bad, says the city's mayor Sir Peter Soulsby, the council continues to struggle to receive the test data it needs to contain outbreaks. "We have become a footnote in the department of health's news releases," he tells The Independent.
People are wondering, he adds, "just what we have to do to get out of lockdown."
Yet the one-time Labour MP disagrees with many here and feels restrictions on families meeting at home should probably, for now, be kept in place.
"This is the one element that has been effective [in combatting the virus]," he says. "As we have got more evidence through of where transmission is taking place, it is clear it is in households."
He himself, it may be worth mentioning, apologised earlier this year after twice breaking lockdown rules to visit his partner.
In any case, if anything, Leicester's release from lockdown arguably now looks further away than ever.
Cases here, as across the country, have started to tick up again, while the return of the city's two universities has resulted in at least one outbreak among students and staff.
For now, it seems, for families and business in this, the forgotten city, the wait goes on.
Register for free to continue reading
Registration is a free and easy way to support our truly independent journalism
By registering, you will also enjoy limited access to Premium articles, exclusive newsletters, commenting, and virtual events with our leading journalists
Already have an account? sign in
Register for free to continue reading
Registration is a free and easy way to support our truly independent journalism
By registering, you will also enjoy limited access to Premium articles, exclusive newsletters, commenting, and virtual events with our leading journalists
Already have an account? sign in
Join our new commenting forum
Join thought-provoking conversations, follow other Independent readers and see their replies