Libyan 'rendition victim' Abdul Hakim Belhaj offers to settle UK lawsuit for £3 and apology
Politician was kidnapped in Thailand and incarcerated in Gaddafi jail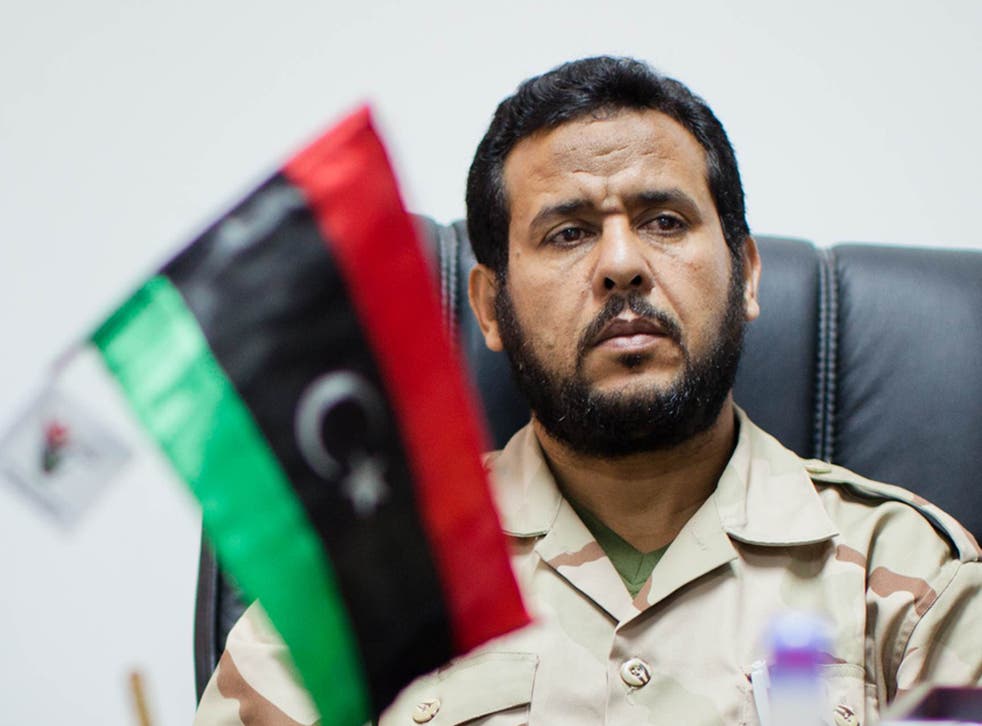 A Libyan revolutionary commander turned politician who is suing the British government for their alleged involvement in his extraordinary rendition to one of Gaddafi's notorious prisons has offered to settle his case for just £3 and an unreserved apology.
Abdul Hakim Belhaj, an Islamist opponent of the former Libyan dictator, was kidnapped in Thailand and returned to Libya where he claims he was brutally tortured and incarcerated until the revolution that swept Gaddafi from power. His family were also forcibly returned on the same flight.
Letters from Sir Mark Allen, the then head of Mi6, to Libya's former intelligence chief Moussa Koussa were found after Gaddafi's fall with one claiming that the intelligence which led to Belhaj's arrest in Bangkok and return to Libya was British.
That led Belhaj to sue the British government, Sir Mark and the then Foreign Secretary Jack Straw for alleged complicity in his rendition and torture. In a letter released today, Mr Belhaj, who became a senior commander in the rebel faction that ousted Gaddafi and is now a politician, said he would settle for a pound from each of those he is suing and an unreserved apology.
The Libyan, a former leader in the Libyan Islamic Fighter Group, said he was making the offer to dispel any accusation that he was suing the British government purely for financial gain. [Click HERE to see the full text of his letter.]
"Various media reports I have seen suggest that our motive for bringing this case is to enrich ourselves," the letter states. "I wish to lay this misconception to rest. It is certainly true that my wife and I suffered deeply during our kidnap and in Libya…But we have come to court in Britain because we believe your courts can deliver justice."
The LIFG were a violent Islamist group comprised primarily of Libyan veterans of the Afghan mujahideen who advocated the overthrow of Muammar Gaddafi. It was proscribed by many western nations post September 11 for alleged links to al-Qa'ida. However the group always denied being affiliated to Osama bin Laden's network and insisted it was only concerned with the removal of Libya's dictator, not al-Qa'ida's global brand of violent jihadism.
Mr Belhaj's offer comes at a time when the British government is pressing ahead with plans to have such cases heard in secret courts to protect national security. Civil liberty groups have expressed concerns that the so-called "Closed Material Hearings" (CMPs) would be a massive hindrance to open justice and contesting allegations from the security services.
Last year Sami al-Saadi, another Libyan who was forcibly returned from Hong Kong, agreed a £2.2m settlement with the government in which they admitted no liability in his rendition. Mr Belhaj has always refused to sign such a deal.
Mr Straw and Sir Mark have previously denied any allegations of wrongdoing and do not comment on the ongoing litigation. A Foreign Office spokesperson today said: "We can confirm we have received a letter from Mr Belhaj. [The government] is co-operating fully with investigations into allegations made by former Libyan detainees about UK involvement in their mistreatment by the [Gaddafi] regime. A police investigation is underway so we are unable to comment further. We are not going to comment on ongoing litigation."
In his letter Mr Belhaj states that he is "forever grateful to Britain" for being among those nations who helped defeat Gaddafi and insists relations between Britain and the new Libya must be on good terms. But he adds that he is pursuing his case because he wants the British government to admit to its complicit links with the Gaddafi regime.
Sapna Malik, from law firm Leigh Day which represents the former commander, said: "Mr Belhaj and his wife, Fatima, were motivated to bring their case to the UK, not for money, but because they believed the British courts would deliver a fair trial and hold to account those responsible for their rendition and torture. They are now offering a swift resolution to their claim, which would deliver what is most important to them, apologies and admissions of wrong doing."
Register for free to continue reading
Registration is a free and easy way to support our truly independent journalism
By registering, you will also enjoy limited access to Premium articles, exclusive newsletters, commenting, and virtual events with our leading journalists
Already have an account? sign in
Register for free to continue reading
Registration is a free and easy way to support our truly independent journalism
By registering, you will also enjoy limited access to Premium articles, exclusive newsletters, commenting, and virtual events with our leading journalists
Already have an account? sign in
Join our new commenting forum
Join thought-provoking conversations, follow other Independent readers and see their replies