Lidl and Nando's chicken supplier leaves deformed birds to die slowly on Taunton farm
A live chick was placed in a bucket of dead birds. It took an hour to die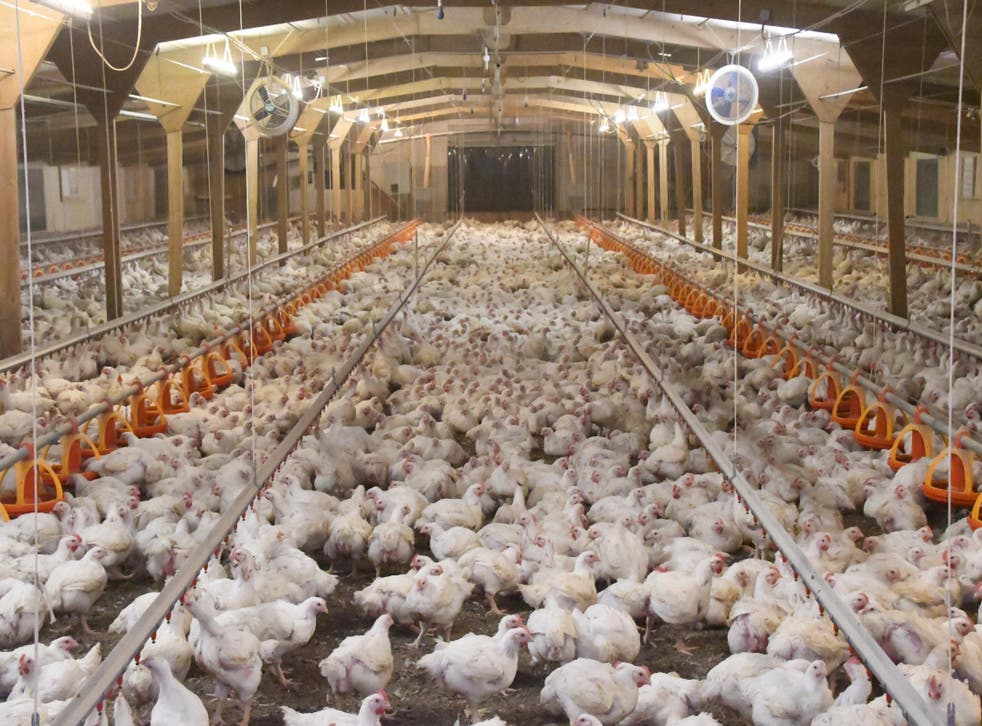 A chicken producer that supplies Asda, Lidl and Nando's allegedly breached animal welfare laws after hidden cameras discovered that deformed and ill birds were left to die slowly and painfully.
Production has since stopped at the farm near Taunton in Somerset following the investigation by vegan campaign group Animal Equality that was carried out between May and July.
The investigation witnessed a worker throwing a live chick in a wheelbarrow of dead and dying birds and leaving it for an hour, before coming back to empty the wheelbarrow into another bin. The worker then took the chick out – assumed to be the same one – and and broke its neck.
Workers allegedly kicked birds out of the way and the animal rights group found sheds were overcrowded, with four sheds housing 150,000 birds.
Warning – readers may find the following pictures distressing
Some of the birds were deformed, and often too weak to stand or reach for water or grain.
Cambria Farm supplies Faccenda, the second largest chicken company in the UK, and it employs cost-cutting methods that mean a chicken can cost just £3, The Times reported.
The most controversial animal killings

Show all 6
A chicken will live for about 40 days in such conditions. Many birds die during this time.
It is then loaded into a crate and driven by lorry for 140 miles to Faccenda's slaughterhouse in Northamptonshire.
A Faccenda spokesman told The Times that an "external vet" was sent to the farm to investigate workers kicking chickens and approved it, described by the spokesman as "shepherding" birds out of the way.
Paul Vaughan-France, owner of the farm, told The Times: "I will take the images as good feedback and will do everything I can to work on every aspect of my husbandry.
"I have had an independent vet on site to review my practices and he is satisfied with his findings."
A Nando's spokesman said: "Animal welfare is very important to us and we source 100 per cent of our chickens from suppliers that meet the UK Red Tractor standards. We were extremely concerned to hear the report that this farm was not meeting our standards and we are conducting a thorough investigation. Nando's will continue to insist all of our suppliers meet our strict animal welfare expectations, and will only ever source from farms that do."
Lidl and Asda could not be immediately reached for comment by The Independent.
Register for free to continue reading
Registration is a free and easy way to support our truly independent journalism
By registering, you will also enjoy limited access to Premium articles, exclusive newsletters, commenting, and virtual events with our leading journalists
Already have an account? sign in
Register for free to continue reading
Registration is a free and easy way to support our truly independent journalism
By registering, you will also enjoy limited access to Premium articles, exclusive newsletters, commenting, and virtual events with our leading journalists
Already have an account? sign in
Join our new commenting forum
Join thought-provoking conversations, follow other Independent readers and see their replies