Lieutenant-Colonel Nicholas Mercer says it is 'beyond question' that British soldiers tortured Iraqis
Former senior military lawyer rejects assertion that 'ambulance-chasers' are bringing fraudulent claims against UK soldiers
Jonathan Owen
Friday 08 January 2016 21:31 Comments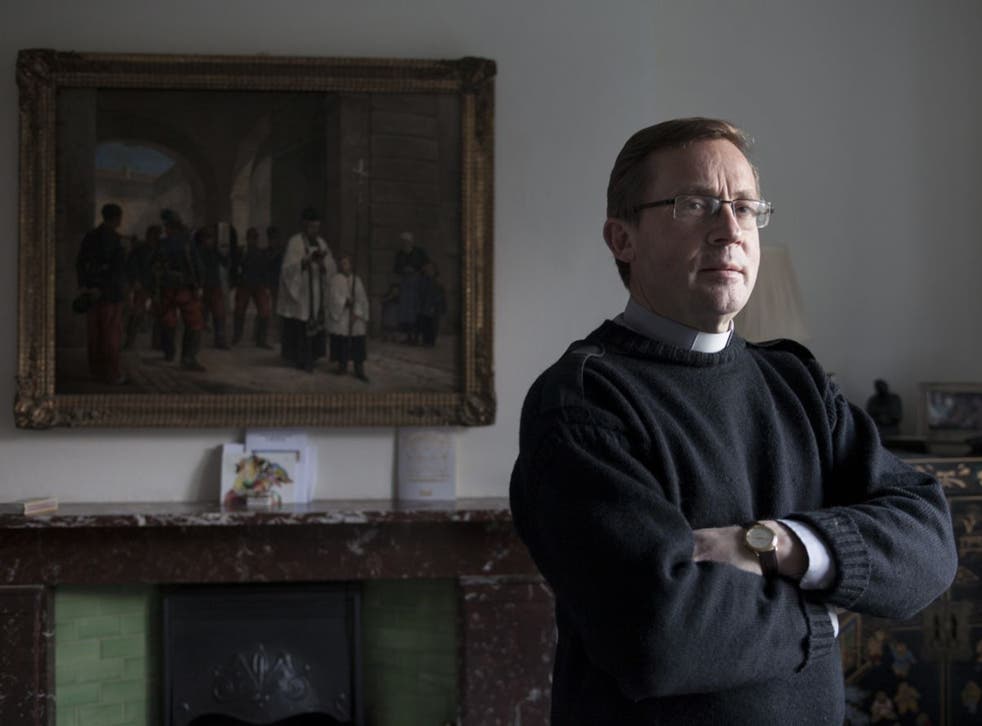 Britain's most senior military lawyer at the start of the Iraq War has condemned the Ministry of Defence (MoD) for attacking law firms representing Iraqi claimants – and claims British forces were guilty of unlawful killing and torture in some cases.
Lieutenant-Colonel Nicholas Mercer, the British Army's chief legal adviser in Iraq in 2003, told The Independent: "These cases cannot be swept under the carpet or dismissed out of hand.
"This isn't just about human rights lawyers, there were plenty of people within the military and the military legal community who raised their concerns as well, and are still doing so."
The former army lawyer spoke out after The Independent revealed last week that British soldiers who served in Iraq could face prosecution for crimes such as murder.
The news has prompted a backlash, with former Army officers following the lead of Defence Secretary Michael Fallon in claiming that "ambulance-chasing" lawyers are responsible for bringing fraudulent claims.
But there remain serious questions to answer regarding the conduct of British forces during the Iraq war and subsequent occupation, Lt-Col Mercer insists.
To date, the MoD has paid out £19.6m in out-of-court settlements in 323 cases relating to the actions of British forces in Iraq.
"Why is the MoD settling these claims and paying out on so many and then at the same time maintaining that everyone behaves to the highest standard when clearly the settled civil claims suggest that they don't?" he asked.
"This cannot be characterised as ambulance-chasing lawyers, there are plenty of lawyers who believe that the highest legal standards should apply to the way the state conducts itself, and it's important that, not only is this the benchmark, but if we fall short then that's properly addressed."
Lt-Col Mercer, who now works as an assistant chaplain at a boy's school in Dorset. reported prisoner abuse by British soldiers just weeks after the invasion. He claims to have witnessed prisoners hooded and kneeling on the ground next to an interrogation tent.
"Seeing prisoners in stress positions and hooded was serious, it was a shock. I'd never seen anything like it before. It was shocking and alarming," he recalled.
His concerns were passed up to ministerial level in March 2003, according to Lt-Col Mercer. "They (politicians) knew there were allegations not only of hooding and stress positions but also mistreatment itself within the first month of the war."
An official inquiry established that the death of Iraqi hotel receptionist Baha Mousa in September 2003 resulted, in part, from his detention by British troops, the former army lawyer pointed out.
Referring to five interrogation techniques – hooding, white noise, food and drink deprivation, painful stress positions, and sleep deprivation – banned by Britain in the 1970s, he said: "Did we torture people? Yes, that too is beyond question because we found out in the Baha Mousa inquiry that the five techniques were being employed against prisoners and there is legal jurisprudence to the effect that the five techniques amount to torture."
The treatment Lt-Col Mercer endured from the MoD after blowing the whistle on prisoner abuse ultimately saw him leave the military in 2011. "My own headquarters staff were very supportive and decent. I felt my conflict was with the Ministry of Defence. It was a constant battle, there was constant hostility. It was awkward throughout, you felt you were being undermined. It was just constant attrition really," he said.
Britain is a signatory to the Rome Statute, the treaty which established the International Criminal Court (ICC) in 1998, which means that the ICC can mount its own investigation if Britain fails to deal with allegations properly.
CIA 'torture' report: Timeline from 9/11 to Dianne Feinstein's findings

Show all 12
"Some of the techniques allegedly used in interrogation, if true, are quite unacceptable in a modern democracy. To physically threaten a captive, to sexually humiliate a captives (using female interrogators or pornography), or insult their religion (by defiling the Koran) is abhorrent," Lt-Col Mercer said.
"In the past, if anything happened that was untoward, it was either covered up, like the Mau Mau, or buried till kingdom come. Now you've got the ICC sitting on your shoulder. Britain is used to conducting things as it wanted to conduct them, but it can't any more," he claimed.
"In my view, the Army may have been led up the garden path by the Ministry of Defence. If unlawful interrogation techniques were signed off by the MoD or rendition operations approved by them, then the Armed Forces will have found themselves involved in unlawful activity by default," he said.
"I also think there has been a moral ambivalence in the way we treat people. I think we got too close to our American colleagues, in respect to the way people are interrogated and the contempt for international legal norms and some of that has cross-pollinated to our own armed forces which I think is regrettable."
As for the legality of the war itself, Lt-Col Mercer said: "We thought it was illegal... a lot of us were very uneasy about it but we decided, because we were in a legal bind, that our job was not to determine the laws of war, that was for the state to determine.
"Our job was to apply the laws in war. That's how we justified it in our own minds but there were deep-seated reservations from a lot of members of headquarters staff about the legality of the war when there was no Security Council resolution."
Profile: Nicholas Mercer
Nicholas Mercer was educated at Uppingham School in Leicestershire and St Andrew's University, and qualified as a solicitor in 1990.
He joined the Army's legal branch in 1991 and served for 20 years, rising to the rank of Lieutenant Colonel, completing tours in Northern Ireland, Bosnia, Cyprus and Germany. Lt-Col Mercer was the Army's top legal officer in Iraq in the first half of 2003, during which time he raised concerns with the chain of command about the abuse of prisoners by British forces.
He resigned from the military in 2011 and was named 2011/12 Human Rights Lawyer of the Year by Liberty. The 53-year-old is now a clergyman in Dorset, where he lives with his wife and three children.
Register for free to continue reading
Registration is a free and easy way to support our truly independent journalism
By registering, you will also enjoy limited access to Premium articles, exclusive newsletters, commenting, and virtual events with our leading journalists
Already have an account? sign in
Join our new commenting forum
Join thought-provoking conversations, follow other Independent readers and see their replies