Litter of wolf pups 'first' of its kind to be born in UK
The seven Hudson Bay Wolf pups are now settling in to their new home at the Combe Martin Wildlife and Dinosaur Park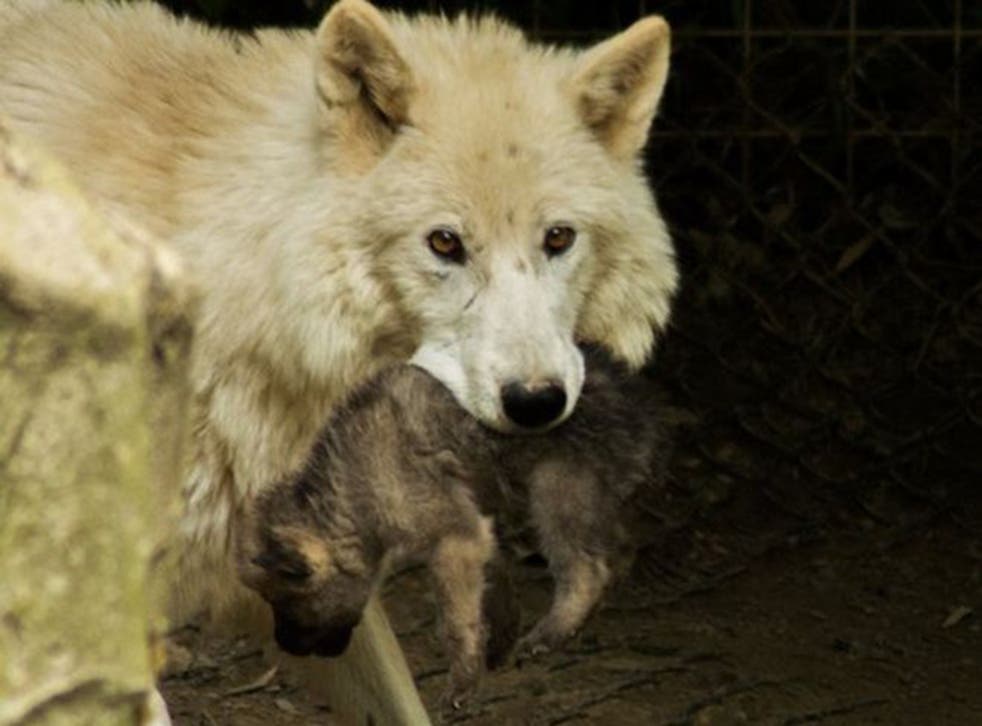 A litter of wolf pups in Devon are believed to be the first of their kind to be born in the UK.
The seven Hudson Bay Wolf pups were born to mother Naira and father Maska and are the newest edition delighting crowds at a Devon wildlife park.
The healthy pups, currently unnamed, are now settling in to their new home at the Combe Martin Wildlife and Dinosaur Park in Ilfracombe.
Park director Dawn Gilbert said: "This is a rather large litter for a first time mum. The average litter size is between four and six and not all of them generally survive.
"It is still early days yet but the pups are making strong progress and mum Naira is carrying out her role brilliantly."
The animals' natural habitat is in Canada and Alaska and the park said it was unknown how many are left in the wild.
Naira and her sister, Saskia, arrived at the park in July 2013 and Maska, a male wolf, joined them in February 2014.
"We always intended to allow them to have one litter because they are social pack animals that live in family groups so it is better for their welfare," Ms Gilbert said.
"We weren't sure if it was going to happen this year as they are all still fairly young. What is more surprising is the size of the litter so it is really imperative that we extend their existing enclosure to accommodate them all as adults."
The only other collection of white Hudson Bay wolves in the UK is at a wildlife park near Lincolnshire, but it is understood no litters have been born.
Register for free to continue reading
Registration is a free and easy way to support our truly independent journalism
By registering, you will also enjoy limited access to Premium articles, exclusive newsletters, commenting, and virtual events with our leading journalists
Already have an account? sign in
Register for free to continue reading
Registration is a free and easy way to support our truly independent journalism
By registering, you will also enjoy limited access to Premium articles, exclusive newsletters, commenting, and virtual events with our leading journalists
Already have an account? sign in
Join our new commenting forum
Join thought-provoking conversations, follow other Independent readers and see their replies