Liverpool schoolboys praised after coming to aid of younger boy crying on the wrong bus home
Fifteen-year-old Tom O'Brien gave sobbing lad £10 for a taxi, while Harry Campbell and Dylan Robson waited with him until cab arrived
Saturday 08 September 2018 16:09 Comments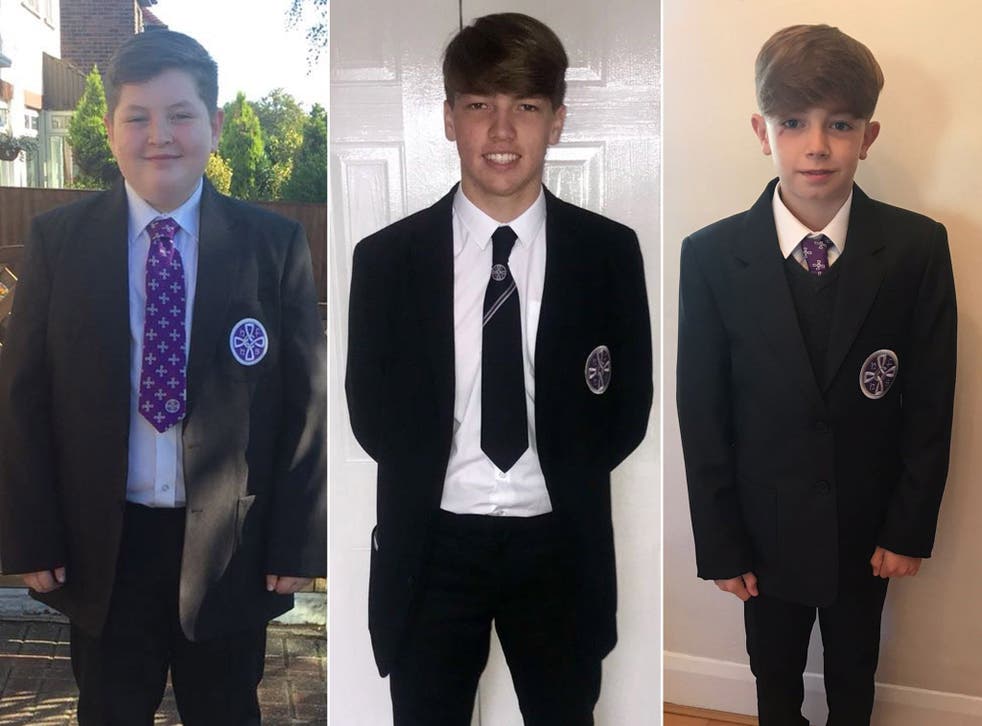 In an age when teens are regularly tarred with bad press, it is a tale to warm the heart's cockles.
A schoolboy has been praised across the world after giving a younger pupil £10 for a taxi when he discovered the child crying because he had caught the wrong bus home in Liverpool.
Reluctant hero Tom O'Brien, 15, handed the cash to the 11-year-old – who had found himself with no money, no phone and going in the wrong direction after his first day of school.
Tom told the boy to get off at the next stop, and called him a cab.
The act of kindness went viral after the mother of another child on the bus heard what had happened and posted it on Facebook. She said it had restored her faith in humanity.
Ruth Furlong wrote: "His name is Tom and he's a year 11 pupil at Holy Family [Catholic High School in Thornton village] so if anyone knows him or his parents, let them know what a lovely lad they've raised."
Tom's sister Katie replied to the post saying: "Ahhh everyone, it was my little brother. We are so proud and it's so lovely to know he's a good lad in the outside world.
"The school rang our mum and left a lovely message. All your comments are so so lovely they've had us all close to tears, Tom will hate all the attention."
Two other pupils, year seven lads Harry Campbell and Dylan Robson, also helped the sobbing child, who has not been named.
They both stood with the youngster, close to Harry's house, waiting for the taxi to turn up.
Harry's mum Colette wrote: "Harry had told Dylan to ring the taxi to pick him up from our house, to make sure he got home safe.
"Then he had walked him to ours and was stood outside waiting until the taxi came.
"This little fella was upset and had got on the wrong bus and with it being his first day wouldn't have known very many people either.
"I asked Harry had he seen the boy today and how he was and he said he was fine and had thanked him."
To add to the feel-good factor, it is understood the taxi driver, from local firm Delta, didn't charge for the journey when he heard what had happened.
UK news in pictures

Show all 50
Matthew Symes, headteacher at Holy Family, said: "It is just lovely and at the start of the year it really sets the tone for everyone else.
"Tom is an incredibly thoughtful and all-round good guy…. He was just pleased the boy had got home safe. He has set a great example in front of a whole bus of year sevens, who have all that worry and anxiety about the bigger kids.
"It is a brilliant example of the older pupils looking out for them."
Register for free to continue reading
Registration is a free and easy way to support our truly independent journalism
By registering, you will also enjoy limited access to Premium articles, exclusive newsletters, commenting, and virtual events with our leading journalists
Already have an account? sign in
Register for free to continue reading
Registration is a free and easy way to support our truly independent journalism
By registering, you will also enjoy limited access to Premium articles, exclusive newsletters, commenting, and virtual events with our leading journalists
Already have an account? sign in
Join our new commenting forum
Join thought-provoking conversations, follow other Independent readers and see their replies