Livingstone plan for street-corner cycle hire stands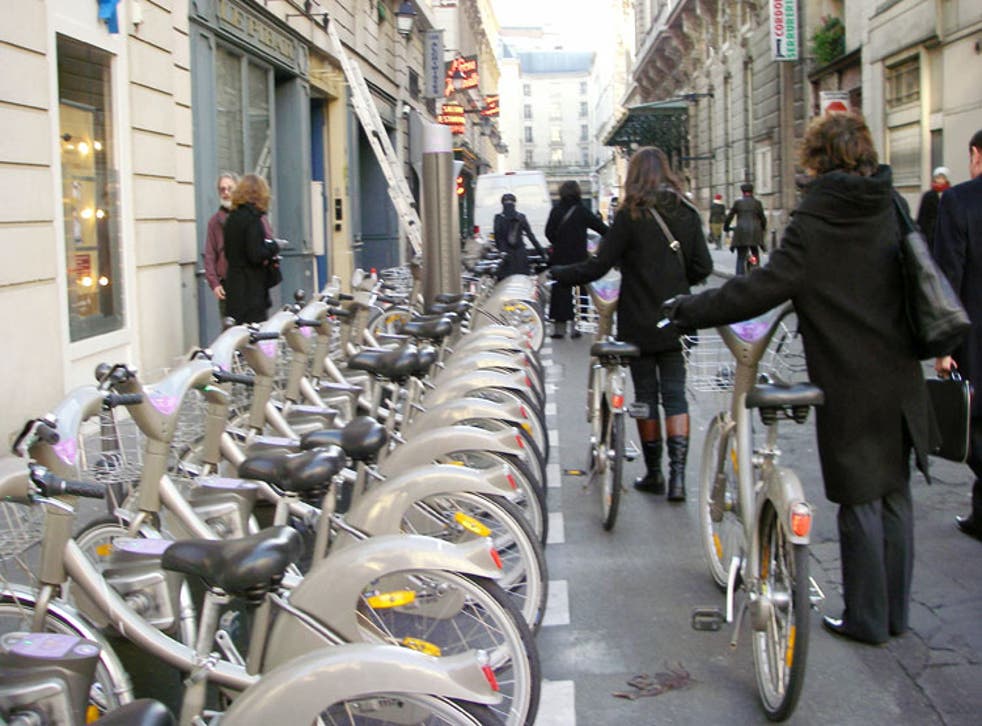 Thousands of bicycles will be available for hire from street-corner stands under a £500m programme to "transform" London into a cycling-friendly city.
About 6,000 bikes will be available to use for temporary periods in central London, with special stalls to be set up every 300 metres, as part of plans unveiled by the Mayor of London, Ken Livingstone.
His 10-year plan also includes creating a dozen commuter "corridors" into central London and opening up 20mph cycle zones in the outer London boroughs. He also pledged to create "streets of gold" in which pedestrians could walk unhindered by traffic.
Mr Livingstone said he aimed to ensure that one journey in 10 was made by bicycle in London, a shift in transport habits that would save 1.6 million tonnes of carbon dioxide emissions each year.
The Mayor, who is also expected to announce a crackdown on 4x4s today, said: "The aim of this programme is nothing short of a cycling and walking transformation in London. We will spend something like £500m over the next decade on cycling, the biggest investment in cycling in London's history, which will mean that thousands more Londoners can cycle in confidence on routes that take them quickly and safely where they want to go."
The London bike hire scheme will be modelled on the "velib" hire scheme in Paris, where thousands of bicycles are available for hire on automated stands.
Jenny Jones, a member of the Green Party on the London Assembly, said: "These plans for promoting cycling and walking are more ambitious than anything which has been tried before in this country but they are exactly what we need to persuade large numbers of Londoners out of their cars."
The CTC, the national cyclists' organisation, said the announcement would "revolutionise" life in the capital. The organisation's campaigns officer, Roger Geffen, said: "With so many bikes to hire, and major cycleways to get you into town and back quickly and safely, it's a wonder that anyone wouldn't want to cycle.
"If the Mayor achieves this, then the only thing left to crack is the minority of inconsiderate and aggressive drivers who still think the road is for them alone."
But Boris Johnson, the Conservative candidate for Mayor of London, said that Mr Livingstone had been "stampeded" into his announcement and insisted that the proposed London bike hire scheme was only a fraction of the size of the operation in Paris.
He said: "There is no doubt that the Mayor has been stampeded into this measure because he faces a cycling opponent. Some of the proposals sound like waffle. For example, why do Londoners deserve a bike-hire scheme that is a third the size of Paris?
"I have been in negotiation with London boroughs for many months to deliver a much more ambitious scheme. By his own admission, Mr Livingstone has yet to start this negotiation. What a feeble record for a man who has spent eight years in office."
Cities that embraced cycling
* Paris
Paris launched the "Velib" scheme – a play on velo, which means bike, and liberte – last July, and it has been a massive hit with locals and tourists alike. More than 10,000 bikes can be picked up and dropped off throughout the city at about a thousand locations. Tickets cost one euro for a day, five euros for a week or 29 euros for a year.
* Amsterdam
Known as the "biking capital of the world", some 40 per cent of traffic in Amsterdam is said to be from bicycles. The infrastructure of the city is in large part designed to accommodate cyclists, and a 10,000-bike parking garage is being built at the city's main train station.
* Copenhagen
Free public bikes, extensive bicycle lanes separated from the main roads and unique bike-zone signal systems: the Danish capital has long been a cyclist's heaven. Users of the not-for-profit system have to provide a deposit of 20 kroner (£2), which is returned when the bike is taken back to one of the many racks in the city. One neighbourhood, Christiana, is car-free. A total of 32 per cent of residents cycle to work.
* Tel Aviv
The biking craze is also spreading to the Middle East. The Tel Aviv municipality has just announced an international tender for the creation of a system in which 1,500- 2,000 bicycles will be available for hire in 100 spots throughout the city.
Join our new commenting forum
Join thought-provoking conversations, follow other Independent readers and see their replies