London attack linked to hate preacher Anjem Choudary's extremist network
Experts say Isis building on decades of Islamist radicalisation in UK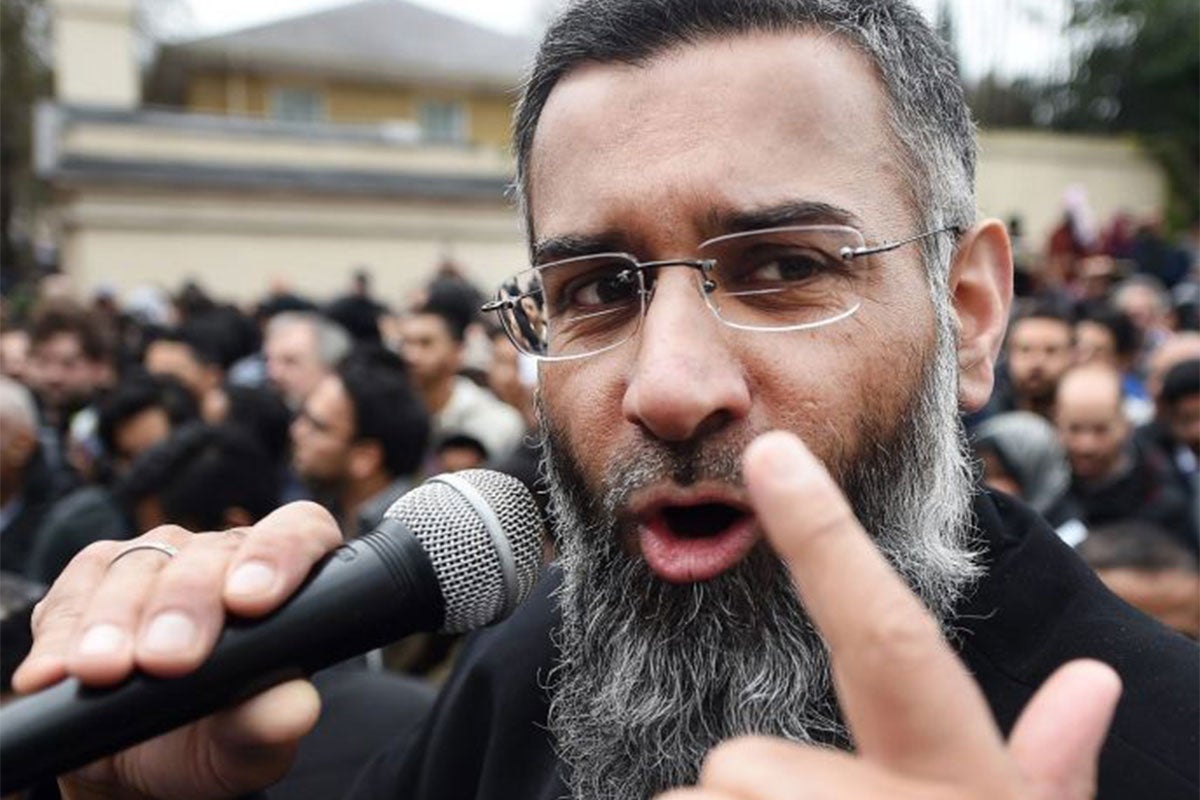 The bloody rampage that left seven people dead and dozens injured on a busy Saturday night in London Bridge is the latest atrocity to be tied to Anjem Choudary's network of extremists, it has emerged.
Khuram Butt, who wore an Arsenal shirt and hoax suicide vest to carry out the slaughter, had been reported to authorities repeatedly over alarming comments and behaviour.
Experts warn that his transformation from apparently non-violent extremist to terrorist could be echoed by countless British Islamists brought to a "tipping point" by the ideology espoused by hate preachers.
Butt was spotted alongside Choudary, who has subsequently been jailed for inviting support for Isis, at a protest following the murder of Lee Rigby in 2013.
Mohammed Shafiq, chief executive of anti-extremism group the Ramadhan Foundation, said Butt flanked Choudary as he defended a murder carried out by one of his own followers.
Mr Shafiq, who was conducting interviews nearby in Westminster's College Green, went to challenge Choudary, Butt and another supporter.
"I went to confront him and Butt shouted out 'murtadd' [apostate from Islam]," he told The Independent.
London terror attack suspect named
"He and Choudary were together – they came together and they left together.
"I didn't pay much attention to Butt at the time, he was just mouthing off at me."
Mr Shafiq later recognised the aggressor in a documentary on British Islamists broadcast last year, and again when he was named among the London Bridge attackers.
Butt made no attempt to hide his identity while appearing in Channel 4 programme The Jihadis Next Door, alongside a group of known extremists led by Choudary's former deputy Mohammed Shamsuddin.
He was shown joining a public prayer towards a black flag associated with Islamist groups including Isis and al-Qaeda, then shouting at police alerted by concerned passers-by.
It was one of several incidents reported to authorities, who have not confirmed claims that Butt was the subject of calls to the anti-terror hotline.
Assistant Commissioner Mark Rowley said the father-of-two was known to police and MI5, but because the probe into him did not reveal evidence of attack planning he was prioritised accordingly.
Butt most probably came to the attention of security services because of his association with Choudary, Shamsuddin and other remnants of the banned Al-Muhajiroun terrorist group.
A former member of the organisation who now works for counter-terrorism group Quilliam International, Adam Deen, said Butt had been reported to police for attacking one of his colleagues.
Dr Usama Hasan, Quilliam's head of Islamic studies, was at an event marking Eid in July last year when Butt approached.
"He spotted [Dr Hasan] at the festival and proceeded to attack him and verbally assault him…because he worked for Quilliam," Mr Deen told The Independent.
He said the incident was reported to police but witnesses did not know Butt's identity at the time.
A spokesperson for the Metropolitan Police would not confirm if the attacker was reported or when, saying: "We have looked back and some of the claims made in the media we do not recognise. But there have been some calls.
"That information is important and we are grateful to the people who ring in.
"But being radicalised is not enough to support a criminal prosecution.
London Bridge Terror Attack
Show all 16
"When we receive information we will act on it and we will do all we can to establish if there is any evidence of criminal activity."
But Mr Deen warned that the line between non-violent and violent extremism had become "blurred" in the UK.
"What we're seeing is the aftermath of two decades of grassroots movement of the Islamist ideology," he said.
"We're seeing reverberations of young Muslims being attracted to these calls to violence…often when followers are non-violent it is not because they don't believe in it, but as a form of strategy."
Mr Deen said former leaders of Al-Muhajiroun would not carry out attacks themselves because it was "strategically important" to stay out of prison and continue propagating messages in support of violence.
He described Choudary, a former solicitor, as "very au fait with the law" until he was finally jailed last year, while several close associates remain at large under bail conditions restricting their communications and social media use.
Among them is Shamsuddin, who has been arrested numerous times on terror charges but has so far evaded jail.
He succeeded Abu Rumaysah, real name Siddhartha Dhar, as the extremist group's leader after he skipped bail and took his family to join Isis in Syria in 2014.
Rumaysah became prolific for taunting British authorities on social media and posting photos of his children with Isis flags and guns, and is believed to have appeared as the masked British militant in a 2016 execution video following the death of Jihadi John.
Another key member of Choudary's network is Abu Haleema, a hate preacher who admitted communicating with a teenager who plotted to behead police on Anzac Day in Australia.
There is no indication that Shamsuddin or Haleema were linked to the London Bridge attack, but it is one of numerous atrocities and plots carried out by members of their network.
Fusilier Rigby's killer, Michael Adebolajo, joined protests alongside Choudary and other terrorists linked to al Al-Muhajiroun include 7/7 bomber Mohammad Sidique Khan, Mike's Place attacker Omar Khan Sharif, Kashmir suicide bomber Bilal Mohammed, Territorial Army petrol bomber Amer Mirza and the men behind plots to attack Royal Wootton Bassett and the London Stock Exchange.
Research by the Henry Jackson Society (HJS) think-tank found Choudary and his associates have "inspired more than 100 British jihadis", including a quarter of all Islamist terror offenders in the UK between 1998 and 2015.
Mr Shafiq said he had reported Choudary "many" times before he was imprisoned, as his followers staged provocative protests and spread extremist propaganda calling for an Islamic state governed by Sharia law.
"They're all the same clique," he added. "They were part of al- Muhajiroun and when that was banned they set up a lot of other groups under different names…glorifying terrorism."
He was critical of claims by Theresa May that there was "far too much tolerance of extremism" in the UK, adding: "British Muslims have been so intolerant of Choudary and his cronies, but police and intelligence agencies have done absolutely nothing.
"He was free to roam about spreading his hateful ideology for too long."
Mr Deen said existing counter-terror laws were "not being used to their full extent" to combat the spread of extremism.
"In Butt's case it's just negligence, given the fact someone was so open about their views and activities, which had been reported on a number of occasions," he added.
Neighbours said he tried to radicalise their children in a local park in east London, while he had been thrown out of a local mosque for claiming voting was "un-Islamic", but Butt was still able to work on the Tube at stations including Westminster, Canada Water and West Kensington last year.
Transport for London said Butt was employed for just under six months as a trainee customer services assistant until October last year, when colleagues claimed he was dismissed for poor attendance.
Nikita Malik, a senior research fellow at the HJS, said the link between Butt and fellow attackers Rachid Redouane and Youssef Zaghba was not yet clear but many Isis supporters committing attacks or travelling to Syria have acted in groups.
She said radicalisation remained largely a "social phenomenon", despite online propaganda creating a "fertile breeding ground" alongside charismatic hate preachers.
"It's difficult to discern where the level of violence comes in," Ms Malik said.
"The rate at which an individual can go from sympathising to actually committing a violent act can be incredibly short, a matter of months.
"Authorities are beginning to realise that the scale of the problem is far larger than the 3,000 people they have listed as potential terrorists…a number of people are at a tipping point."
Ms Malik warned that although Isis' prolific propaganda output has become a dominant focus from authorities, it does not reach supporters "in a vacuum".
"When Isis claims an attack, it is not always responsible for reaching out and training these individuals," she said.
"There are groups who are already in the UK causing people to normalise these beliefs."