London attack: Rachid Redouane's wife says she is 'numbed' by his actions amid reports of domestic abuse
Friends say attacker [right] beat and abused wife while trying to enforce radical views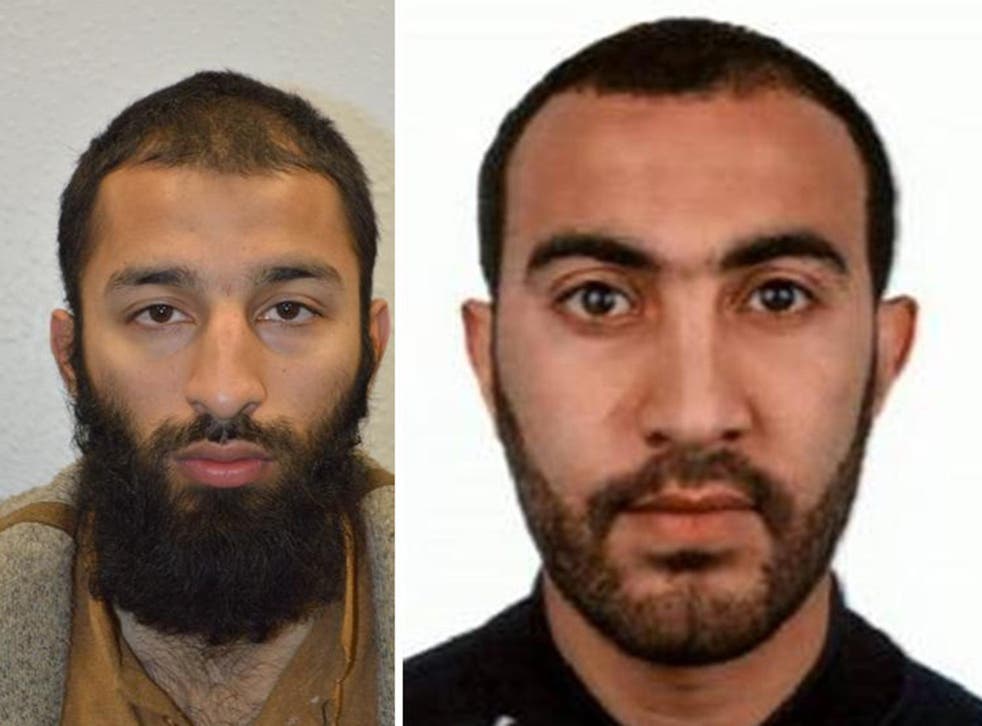 The estranged wife of one of the London Bridge attackers has said she was left "numb" by his actions.
Charisse O'Leary, who married Rachid Redouane in Dublin in 2012, said she has "shed many tears for the people caught up in this horrific incident" that left eight victims dead.
"I am deeply shocked, saddened and numbed by the actions of my ex-partner who has killed and injured so many innocent people," she said in a statement.
"We have a beautiful young daughter, that for the last six months has been our only bond and reason for contact," she continued.
"My thoughts and efforts now are with trying to bring up my daughter with the knowledge that some day I will have to try and explain to her why her father did what he did.
"I wish to make it absolutely clear, so there can be no doubt, I condemn his actions and do not support the beliefs he held that led to him committing this atrocity…[my] heartfelt thoughts go out to all those murdered or injured ."
Ms O'Leary, who had complained over Redouane's failure to visit their daughter on social media, said they split earlier this year.
Friends said the suspected Isis supporter had physically and emotionally abused his wife while attempting to force her to become a "traditional Muslim wife".
"We'd try to arrange to meet for coffee but she would call and say, 'I can't'," a friend told the Daily Mirror.
"It would either be, 'he's slapped me in the middle of the street today'' or 'he's kicked me' or 'he will not let me out the house'.
"He did not want her to drink or smoke – he wanted her to wear a hijab, he wanted a traditional Muslim wife, and Charisse was not that."
Ms O'Leary reportedly told friends her marriage felt like she was "in prison", saying her husband hit, kicked and slapped her, and sometimes confined her to the house.
The pair had met in London in 2010, getting married in Dublin in 2012 with a traditional Islamic ceremony followed by a civil ceremony at a registry office.
London Bridge terrorists: What we know so far
Redouane later moved back to his home country of Morocco, where he stayed for more than a year before the couple moved to the UK.
He had been refused asylum by the British government in 2009 but was granted a EU residence card through his marriage in Ireland, which later allowed him to reside in the UK.
Redouane, who worked as a pastry chef, also used the surname Elkhdar and is believed to have been known as Rachid al-Magrabi.
There were reports he had fought against Muammar Gaddafi's forces at the start of the Libyan civil war in 2011, where he potentially could have come into contact with Manchester attacker Salman Abedi and his family.
The terrorist was born in Morocco but his father was Libyan, causing him to describe himself as both Moroccan and Libyan according to the Metropolitan Police.
At the time of Saturday's attack, Redouane had been living in Barking, near the home of suspected ringleader Khuram Butt.
The third attacker, Youssef Zaghba, lived in nearby Ilford and moved to the UK despite being put on a Europe-wide terror watchlist after attempted to join Isis in Syria and telling Italian police he "wanted to be a terrorist".
Crowds gather for vigil honouring victims of London Bridge attack

Show all 8
Prosecutors in Italy say there was not enough evidence to arrest or charge the 22-year-old when he was intercepted at Bologna airport in March last year, but the incident sparked serious questions for British security services.
The Metropolitan Police said Zaghba was not a "subject of interest" to police or MI5, but Butt had been under investigation as a prominent associate of Anjem Choudary's network of extremists.
Police have said Redouane was not known to security services, but he is believed to have associated with Zaghba.
The pair were seen together at a café next to a betting shop in East Ham, where a flat above was raided this week.
The death toll of the trio's bloody rampage rose to eight on Wednesday after a victim's body was found in the River Thames.
Xavier Thomas, 45, is thought to have been knocked off London Bridge by their speeding van before the attackers emerged with knives and stabbed passers-by at bars and restaurants around Borough Market.
The other seven victims killed have been named as: Canadian Christine Archibald, 30, James McMullan, 32, from Hackney, east London, Alexandre Pigeard, 27 and Sebastien Belanger, 36, both from France, Australians Kirsty Boden, 28, and Sara Zelenak, and Spaniard Ignacio Echeverria, 39.

Join our new commenting forum
Join thought-provoking conversations, follow other Independent readers and see their replies