London terror suspect pictured wearing Arsenal shirt would 'smile and say hello', according to neighbours
Armed police raid flat in early hours of the morning
Rachel Roberts
Sunday 04 June 2017 19:15 Comments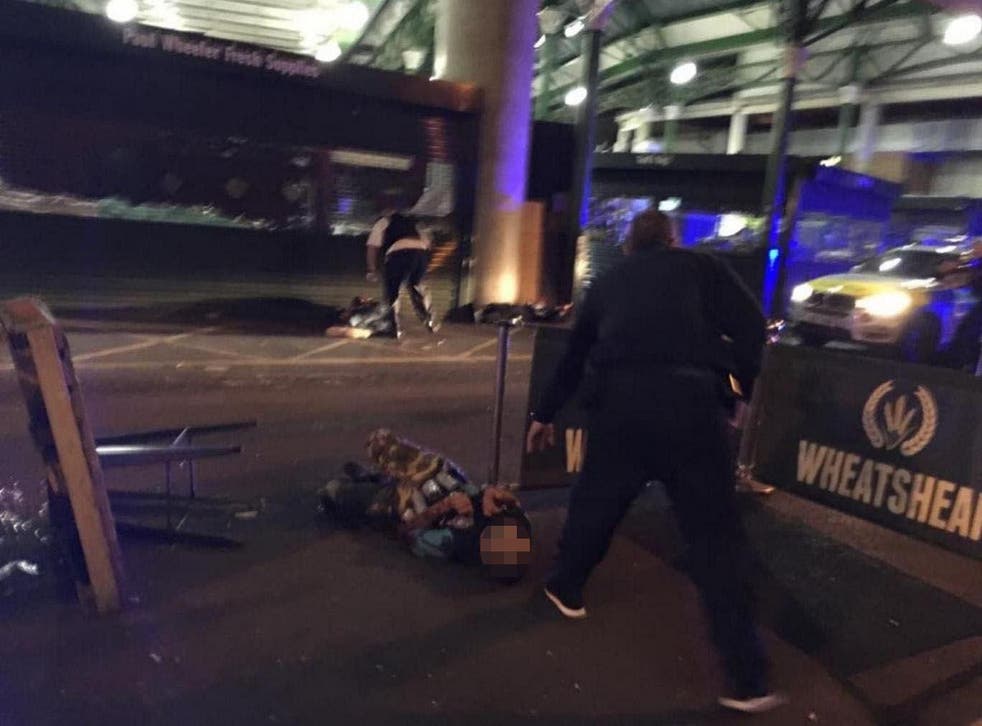 Neighbours of one of the suspected terrorists involved in the London attacks – who recognised him from a picture in which he appears to be wearing an Arsenal shirt and a fake suicide bomb vest – have spoken of their shock.
The photograph appeared to show two of the suspects lying on the ground after they were shot by police, with the one in the foreground wearing an Arsenal away shirt under camouflage clothing.
Seven people were killed and at least 48 injured, 21 of them critically, by the terrorists before they were killed by police.
People living in a flats in King Road, Barking, east London, were woken early on Sunday morning by an armed police raid in connection with the attack.
Residents who spoke to the Mirror anonymously said he was known as "Abbs" and that he appeared quiet and unassuming.
Construction worker Seva Litvjakovs, 35, who lives in the block that was raided, said: "I looked on Twitter and saw one of the terrorists who had been shot by police and he looked 90 per cent like my neighbour – he was even wearing the same Arsenal shirt that I had seen him in at 5pm that evening.
"I only had a normal neighbour relationship with him, but he always smiled and said 'hello.'"
The three attackers drove a van at pedestrians on London Bridge before indiscriminately stabbing people with large knives.
The terrorists were shot dead within eight minutes of the start of the attack but had managed to fatally wound or kill seven people and injure at least 48 others.
Gabriele Sciotto, who took the photograph, told The Independent he witnessed the men trying to attack people in the crowds, before officers shot them.
"There were three men. Policemen were trying to pull the attackers off the crowd ... then I saw them being shot," said Mr Sciotto.
"I couldn't tell who was dead or who was alive. I'm glad I'm alive."
Mark Rowley, Scotland Yard's Assistant Commissioner, said the attackers had worn fake suicide bomb vests with canisters strapped to their backs in an attempt to deter police officers from approaching them.
It did not work. Four police officers, including an off-duty officer and one armed with just a baton, were injured as they tried to tackle the terrorists before armed colleagues arrived.
Eyewitness said they heard the Islamist terrorists shouting "This is for Allah" as they stabbed people who had been out enjoying a meal or a drink in the area.
In Borough Market, the terrorists entered the Blue and Black restaurant where witnesses said they attacked people with "foot-long knives" before moving into the Southward Tavern where they also stabbed people.
Police were piecing together the sequence of events and trying to find out whether more than three people were involved in planning and carrying out the attack.
London Bridge Terror Attack

Show all 16
One witness told how he saw a woman stabbed as many as 15 times.
"I saw these three Muslim guys run up with knives, and they started stabbing this girl," he said.
"They run up and they stabbed her – I don't know how many times – maybe 15 times, and she was going 'help me, help me', but I couldn't do nothing. I tried to help her. I threw something at them. I picked up the chair to try to throw it at them but it was locked to the floor, just to get them away from her, but I could not do nothing.
"They were running in all the pubs, all the bars, they were stabbing everyone."
Crowds in the bars and pubs they entered are said to have fought back, hurling pint glasses, chairs and bottles at the attackers.
The public were told to "run, hide and tell" by police as officers swarmed the streets. People caught up in the incident were urged to switch their phones to silent and told to take shelter in the basements of pubs.
Met Commissioner Cressida Dick gave details of how the incident unfolded.
"Our officers confronted the suspects and brought this terrible incident to a conclusion within eight minutes," she said.
"We were called at 10.08pm last night [Saturday] initially to reports that a vehicle had struck pedestrians on London Bridge.
"The suspects were shot dead by armed officers."
Police are believed to have carried out controlled explosions in the area after loud bangs were heard, the first reportedly at 1.23am.
Responding to the attacks, Theresa May said there had been "too much tolerance" of extremism" in the UK and said the internet must now be regulated in a bid to root out the twisted ideology behind such attacks.
Register for free to continue reading
Registration is a free and easy way to support our truly independent journalism
By registering, you will also enjoy limited access to Premium articles, exclusive newsletters, commenting, and virtual events with our leading journalists
Already have an account? sign in
Join our new commenting forum
Join thought-provoking conversations, follow other Independent readers and see their replies