Mother describes being forced to drink her baby's milk as people living with poverty come forward to tell UN envoy their stories
'I was in my slippers, it was so cold. I plucked up the courage to ask them – to say I'm hungry, I have a baby. But they said: "We can't give you anything." I had to drink my baby's milk'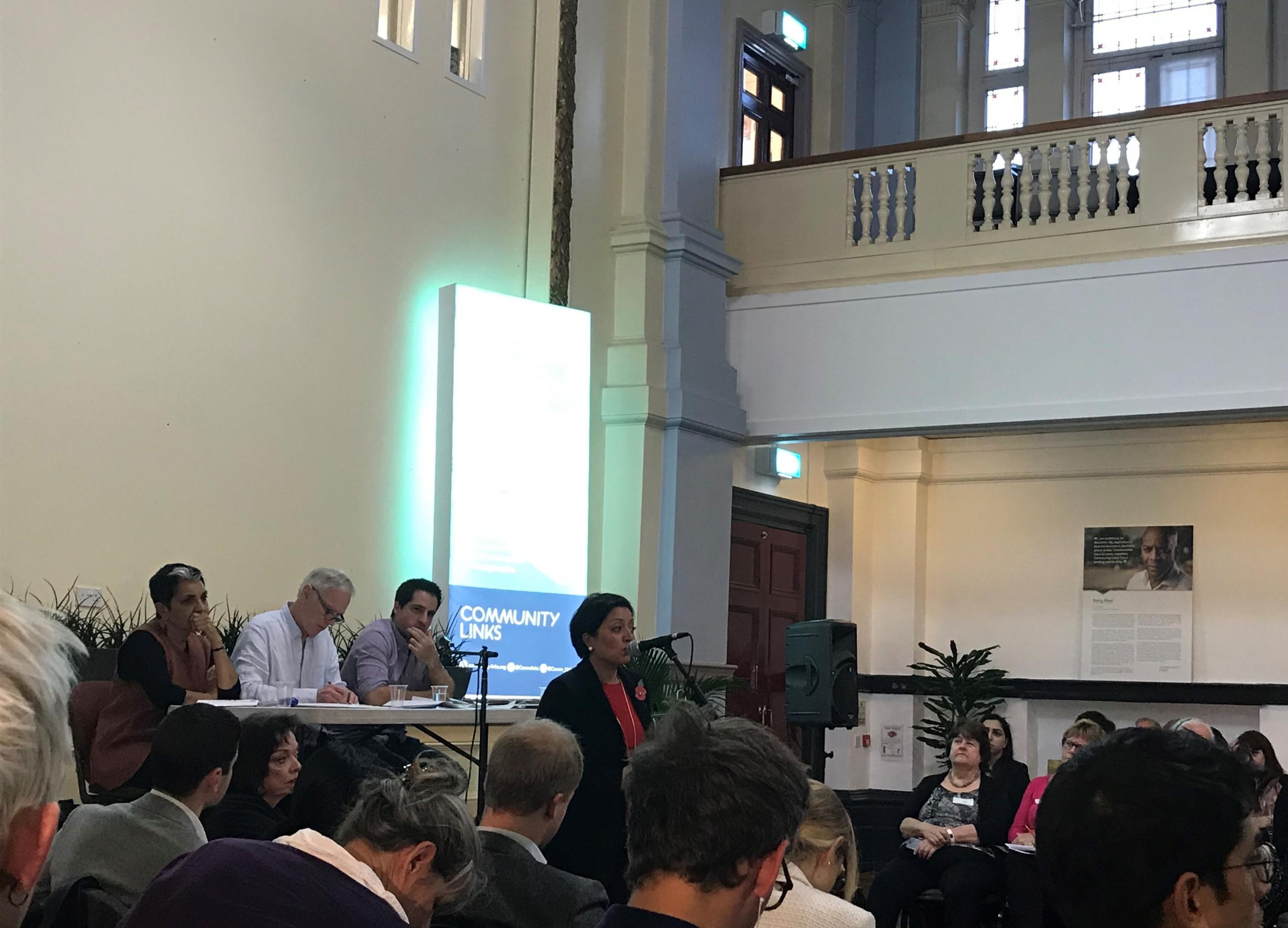 People suffering extreme levels of deprivation in London have told the UN's poverty envoy how government-inflicted austerity has left them homeless, hungry and at times forced into exploitation.
During a packed out-meeting in Newham, east London, Philip Alston heard directly from migrant women, people with disabilities and domestic abuse survivors, who gave personal accounts of how welfare cuts had affected them.
In one highly charged account, a West African mother with a baby strapped to her back explained through tears how she had to wait for 20 hours outside social services after fleeing an abusive relationship, during which she became so hungry she had to drink her child's milk.
Other stories included a mentally unwell man who was fined for making a mistake on his universal credit application, families with young children forced to live in flea-infested houses and a heavily pregnant woman having to sleep rough in a park.
The UN's special rapporteur on extreme poverty and human rights visited one of the poorest boroughs in the capital as part of his two-week tour of Britain to investigate the impact of the rollout of universal credit, child poverty and Brexit on people living there.
His visit comes after experts warned the UK had experienced the largest rise in poverty since Margaret Thatcher was in power – an increase believed to show the extent to which a combination of Brexit and government austerity is imposing a serious squeeze on living standards.
Jane Williams, of the Magpie Project, a charity supporting families in temporary accommodation in east London, told Mr Alston of one case where a new mother was placed in a hostel with her three-day-old son.
She said women were being "thwarted" in their parenting as local authorities place them in often decrepit housing miles away from their support networks, describing these families as a "transient, invisible" population.
"Families are being offered Bradford or nothing, that's to say they if don't accept being moved away from everything and everyone their children have ever known, they're deemed to have made themselves intentionally homeless," she said.
"There's nowhere to play, nowhere to learn to crawl, learning to crawl on the bed because their mum won't put them on the infested floor. Imagine being thwarted in your parenting, wanting to be the best mum you can, knowing how to, but being unable to because of your circumstances."
One of the mothers the Magpie Project supports, who did not want to be identified in the media, told how she stayed with an abusive partner for months because "he was the only hope of being housed", adding: "I managed because I didn't want my baby to be evicted."
The woman, who addressed the meeting with her baby strapped to her back, explained how when she did finally pluck up the courage to escape, the police directed her to social services where she was left waiting outside in the cold with her child for 20 hours with no food.
"I was in my slippers, it was so cold. I plucked up the courage to ask them – to say I'm hungry, I have a baby. But they said: "We can't give you anything." I had to drink my baby's milk," she said.
Another woman told how she fled her home country in Africa because her uncle was raping her, but received no support on arriving in Britain with her baby and was subsequently forced to live with a man who sexually abused her because he was prepared to house them.
When she finally left him, she said she was given no help from the council, and had to rely on friends and "almost nothing" to live. The woman, who became pregnant with the abusive man's baby, told of one occasion where she had to sleep rough when she was six months pregnant.
Mr Alston also heard stories of mentally and physically disabled people who had been "hounded by the Department for Work and Pensions every day".
One woman, a live-in carer aged 64, reportedly took seven attempts to fill out the universal credit application, which can only be done online.
"She had no wifi at home, she had the use the library, but with library closures impacting our communities it's incredibly difficult to access benefits," said a spokesperson for a disability campaign group.
"Due to jobcentre closures across the country, she had to take two bus journeys to get to Bromley. She had to borrow the money from her landlord. Due to payment delays in her claim, she had to borrow money of her landlord to eat. She hadn't eaten for a week when she came to us.
"She didn't get any help from the jobcentre to pay her travel expenses. She was put into debt and left anxious and stressed."
Another universal credit claimant was reportedly landed with a £15 fine for making a mistake on the application form, and was then told to get a smartphone to more easily handle his claim – but was unable to afford one.
The meeting also heard about the plight of women detained in Yarl's Wood immigration removal centre, both while they are in the facility and once they are released into the community.
"Many of you will have heard what's happened at the notorious Yarl's Wood detention centre where women have suffered rape and sexual abuse, but what you don't always hear is what happened to the women who get out," said one campaigner.
"We have heard women being literally thrown out from the detention centre without a penny to get anywhere in the country, and that is another level abuse that is so hidden, and makes women so vulnerable.
The campaigner added: "I'm fed up of people being on trial for being poor."
After hearing the witness statements Newham's mayor, Rokhsana Fiaz, said: "Can I just apologise on behalf of myself as mayor of Newham and on behalf of the council that you experienced that treatment at the hands of people that we employ. It shouldn't have happened.
"This treatment of our residents, regardless of their circumstances, their backgrounds, of how long they've been here, has to stop."
Closing the meeting, Philip Alston said the accounts had "really exemplified the dramatic challenges so many are confronted with today", and said he hoped to "galvanise" those in power to "promote the prospects for people to live the sort of lives they want to and should be able to live".
Mr Alston added: "It will be up to me to ascertain the extent to which the authorities the various governments and government ministers are really aware of the sort of issues you've presented to help me today ... and the extent they have thought about measures that can improve the situation. That's what I want to find out."
During his two-week visit to the UK, Mr Alston is travelling around the country to meet people directly affected by extreme deprivation, as well as government officials to discuss efforts to eradicate it.
Join our commenting forum
Join thought-provoking conversations, follow other Independent readers and see their replies