London attack: Neighbours describe terrorist as 'doting father' and 'chatty Arsenal fan'
'Football was his thing - when I saw that picture of him [lying on the ground] I recognised his shirt'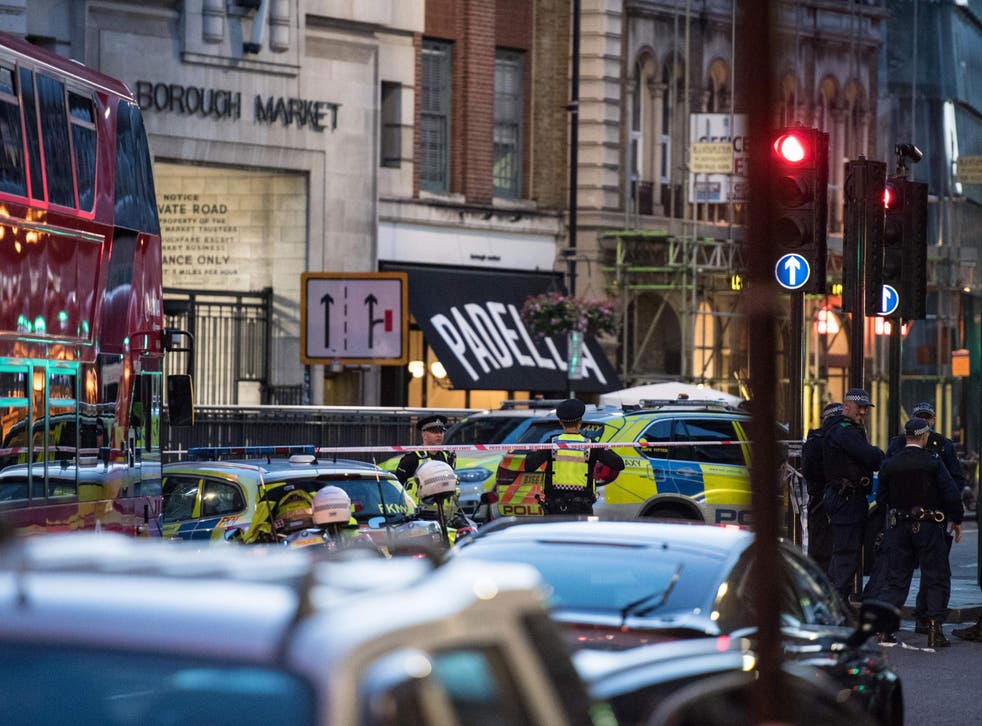 Neighbours of one of the London Bridge attackers have described their horror at discovering a man they knew as a doting father and chatty Arsenal fan was capable of carrying out the massacre.
Residents in the street where the man lived with his wife and two children in Barking, east London, saw no reason to be suspicious when a white van appeared on Friday.
Michael Mimbo, who lives across the road from the man he knew as Abz, said he noticed the hired vehicle on Friday.
London Bridge Terror Attack

Show all 16
"It was blocking the middle of the road outside the flats," he told The Independent.
"A car beeped at him to say 'move' and he responded quite aggressively.
"I was walking past and thought he was moving out or his car had broken down or something - for him to react like that."
Mr Mimbo identified the van in photos of the aftermath of the attack on London Bridge, when it was rammed into pedestrians before Abz and two other men emerged with knives and went on the rampage in nearby bars and pubs around Borough Market.
Neighbours last saw the van on Saturday afternoon, when it sped the wrong direction down the one-way road as children were playing.
At one point it was followed by Abz' Red Peugeot, which was left at the flats and has been taken away by police.
Theresa May: London attack was 'on the free world'
Armed officers raided the attackers home in the early hours of Sunday morning, detaining several family members including Abz' wife and mother.
They are among 11 people being held in connection with the attack following searches at properties in Barking and nearby Newham.
Neighbours described the family as friendly and polite, saying the father-of-two was known for attending barbecues, playing with local children and giving out sweets in the nearby park.
But in recent months some parents had raised concerns about "brainwashing" after their children came home saying they wanted to become Muslims.
Mr Mimbo said Abz never spoke to him about religion and politics, mainly sticking to their shared passion for Arsenal or passing the time of day at a nearby gym.
But he recalled him appearing increasingly devout in recent months, growing his beard longer and starting to regularly wear traditional Islamic dress.
"Football was his thing - when I saw that picture of him [shot on the ground] I recognised his shirt," Mr Mimbo said.
"I thought maybe he was just devoting himself a bit more and becoming more religious.
"But I never, ever would have expected this - we didn't have a clue that he was capable of this."
Other neighbours said Abz had started talking to them about religion and how to be a "better" Muslim.
He had also been thrown out of a nearby mosque for ranting at an imam and claiming voting was un-Islamic.
One of Abz' friends told BBC's Asian Network he reported him to the police after he discussed Isis terror attacks and started watching videos of US hate preacher Ahmad Musa Jibril.
"I have heard some of this stuff and it's very radical," he added.
"I phoned the anti-terror hotline. I spoke to the gentleman. I told him about our conversation and why I think he was radicalised."
Police shot member of public when 50 rounds fired at three suspects during London attack
Abz' neighbours were not aware he had appeared in a Channel 4 documentary called The Jihadis Next Door, where he was seen among a group of extremists praying with a black Islamist flag in Regent's Park.
Most described a "family man" who they believed had a string of short term jobs including at Transport for London and KFC.
A woman who gave her name as Ramona Huczko remembered Abz doting on his young son and new baby.
"He was a good father," she told The Indepedent. "You'd always see him feeding his son.
"We're shocked that he could do this - he is the devil."
Abz is believed to be a nickname for the attacker, who has not yet been identified by police as they continue to investigate the atrocity that killed seven victims and injured almost 50 more.
He and his two accomplices were shot dead at the scene by armed police, less than two weeks after the Manchester bombing and months after the Westminster attack.
Isis has claimed responsibility for all three atrocities, saying the London Bridge attack was launched by a "unit of Islamic State fighters", following calls for attacks during the Muslim holy month of Ramadan.
Register for free to continue reading
Registration is a free and easy way to support our truly independent journalism
By registering, you will also enjoy limited access to Premium articles, exclusive newsletters, commenting, and virtual events with our leading journalists
Already have an account? sign in
Register for free to continue reading
Registration is a free and easy way to support our truly independent journalism
By registering, you will also enjoy limited access to Premium articles, exclusive newsletters, commenting, and virtual events with our leading journalists
Already have an account? sign in