London Bridge attack: Unarmed officer shouted 'shoot him' at armed police as terrorists stabbed last victim
Unarmed officer tells inquests he was about to run into attack to save man as armed colleagues arrived
Lizzie Dearden
Security Correspondent
Wednesday 03 July 2019 21:46 Comments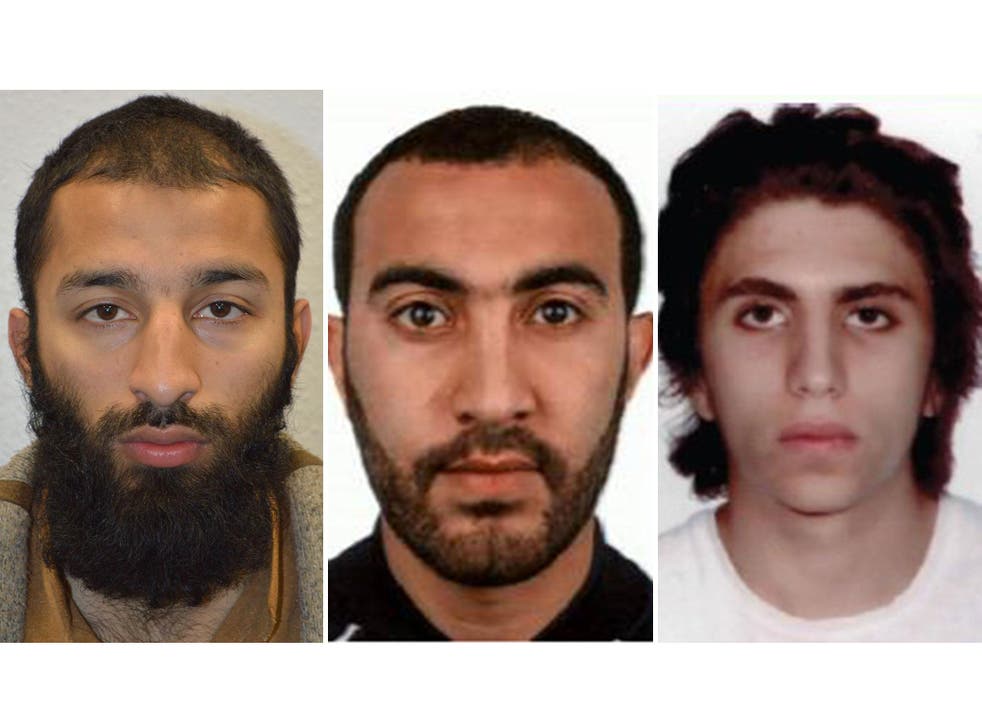 An unarmed policeman has told how he desperately shouted for armed officers to shoot the London Bridge attackers dead as they stabbed their last victim.
PC Tim Andrews told inquests into the terrorists' deaths that he thought there had been a drink-driving accident on London Bridge until he saw a man bleeding on the ground by Borough Market.
He described members of the public shouting "they've gone down there" before he and colleagues turned down a side street and came face-to-face with the attackers.
"Khuram Butt had a football shirt on and he was standing with two knives in either hand," PC Andrews told the Old Bailey on Wednesday.
"The other two were in dark clothes also with knives.
London Bridge Terror Attack

Show all 16
"Then it dawned on me it was probably a terrorist attack. I pressed my emergency button and asked for emergency assistance, firearms support."
He and his colleague PC Bartosz Tchorzewski were armed only with batons and backed away, but were pursued by the three terrorists.
The court heard that PC Tchorzewski was hit in the head with a glass bottle and the pair ran, but by the time they reached a street where there were more officers, the attackers had disappeared.
"Realising we lost sight we turned round to go and find them again," PC Andrews said, describing how they then found the trio attacking another man in Stoney Street.
"They were stabbing him repeatedly. We started to close them down to assist the gentleman."
He said he was about 10 metres away when an armed response vehicle pulled up and an officer got out of the passenger door with a gun.
"I was pointing at Butt shouting, 'Shoot him! Shoot him!'," PC Andrews told the court.
"Butt started to close the officer down. The officer pulled the weapon up and shot him a number of times."
He said Butt, thought to be the ringleader of the attacks, had been running towards the armed officer with his hands "raised in a threatening manner", and the officer shouted a warning before opening fire.
Butt fell to the ground and the officer shouted to PC Andrews: "Cuff him. Cuff him," jurors were told.
"He was making some noises and moving slightly," the officer said. "I put the cuffs straight on. I looked down and could see a bomb belt around his waist."
Believing the fake suicide to be real, he shouted for people to "get back" and then noticed belts on the two other attackers.
Butt, 27, Rachid Redouane, 30, and Youssef Zaghba, 22, had killed eight victims and injured 48 more in a 10-minute rampage on 3 June 2017.
It started when they rammed a hired van into pedestrians on London Bridge, before crashing and jumping out armed with knives taped to their wrists and fake bomb vests.
They tried to murder their last victim, Antonio Filis, just seconds before being shot dead.
Mr Filis said he had no idea there was a terror attack underway as he walked through Borough Market, when one of the knifemen approached him.
"I heard a scream but I could not tell what they were saying because that scream was covered by the sound of my own voice," he told the inquests. "I raised my hands in defence and shouted something along the lines of 'Oi what are you doing'.
"I felt a blow on my head. At first I thought it was a bottle or another blunt instrument but I had no idea it was a knife.
London Bridge attack: Court shown footage of van moments before mounting pavement
"I remember seeing two more people coming towards me. I felt I was being pushed around so I found myself on the ground curled up with my hands over my head. I was shocked. I could not feel anything."
Mr Filis said he thought he had been caught in a football brawl, on the evening of the 2017 Champions' League final, and did not immediately realise he had been stabbed.
He described the gunshots as "explosions" that sounded like fireworks going off as the terrorists were shot feet away from where he was slumped on the ground.
"I was still conscious clutching the side of my head," Mr Filis said. "I could feel a liquid, hot and sticky and I looked at my hands and they were red. It was blood."
He did not realise he had been stabbed until he was helped into a nearby pub by a police officer.
Jurors were taken to the scene where the attackers were shot on Wednesday morning, with Chief Coroner Mark Lucraft QC pointing out key locations as Borough Market bustled with tourists and Londoners.
It was the second day of inquests into the attackers' deaths, which follow separate inquests that found the eight victims were unlawfully killed.
"There is no question of attributing blame - an inquest is simply a way of establishing facts," judge Lucraft told jurors on Monday.
"You are not allowed to express an opinion on any other matters. You may not determine any criminal liability or question of civil liability."
The inquests continue.
Additional reporting by PA
Register for free to continue reading
Registration is a free and easy way to support our truly independent journalism
By registering, you will also enjoy limited access to Premium articles, exclusive newsletters, commenting, and virtual events with our leading journalists
Already have an account? sign in
Join our new commenting forum
Join thought-provoking conversations, follow other Independent readers and see their replies