London Bridge attacker told wife music channels would 'turn baby daughter gay', inquest hears
Rachid Redouane's ex-wife says she had 'no inkling' he was capable of attack
Lizzie Dearden
Security Correspondent
Wednesday 05 June 2019 19:21 Comments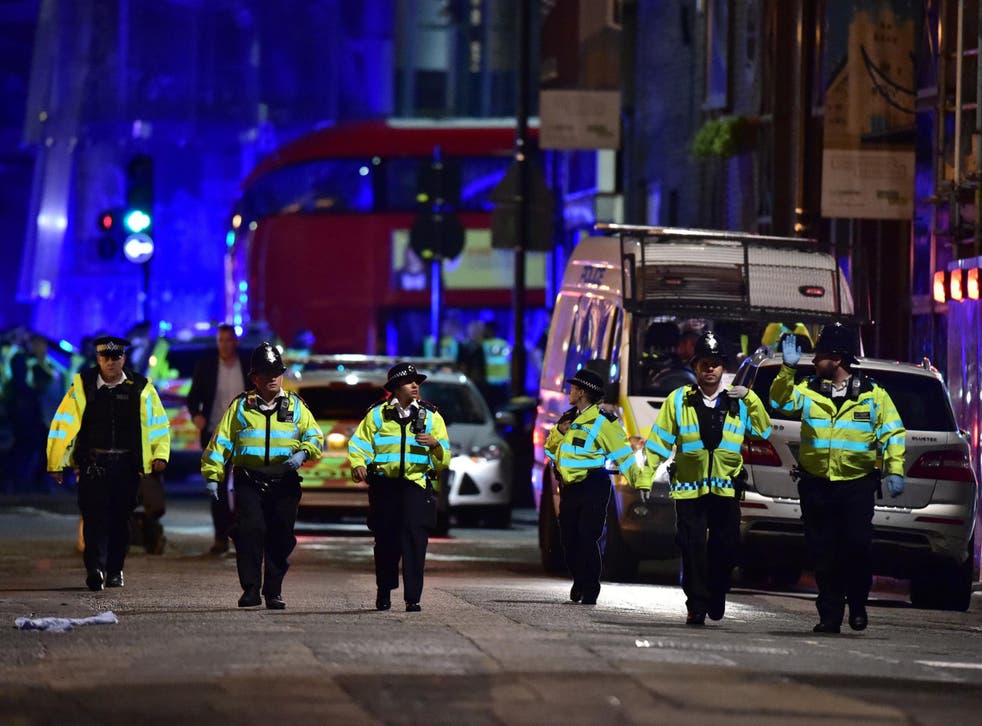 The former wife of one of the London Bridge attackers has told how he became increasingly extreme and claimed their baby would be "turned gay" by music videos.
Charisse O'Leary, from Ireland, told inquests into the deaths of eight victims that Rachid Reoudane last visited their daughter on the day of the attack.
Redouane looked after the toddler until she returned from a family barbecue at 7pm – three hours before the atrocity on 3 June 2017.
Ms O'Leary told the Old Bailey that as they walked back into her flat, she asked Redouane if he would be seeing their daughter the following day.
"He didn't reply, he just made a quick exit and said he forgot his phone," she said, describing how Redouane gave her £50 and left a phone at her home that he told her not to switch on until the next day.
London Bridge Terror Attack

Show all 16
Ms O'Leary said she later tried calling Redouane and sending WhatsApp messages, but received no reply and only found out he was involved in the attack when police arrived.
She broke down in tears as she told the Old Bailey of her shock on Wednesday.
When Jonathan Hough QC, the counsel to the inquests, asked her whether she had "any inkling at all that he was capable of such violence" she replied: "No."
Mr Hough asked: "Did you have any inkling at all that he harboured such extreme views to carry out such an attack?"
Again she replied: "No ... I was shocked, I didn't think he was capable of doing something like that."
Ms O'Leary told the court she was "shocked that he was capable of doing something like that", but also detailed a pattern of statements suggesting deepening extremist beliefs and associations.
She recalled her brother asking Redouane about the murder of Lee Rigby in May 2013, adding: "He turned round and said it was the government's fault, he blamed the government. I just thought he was talking rubbish."
When asked about Redouane's reaction to the Manchester bombing in May 2017, she said that while she described it as "terrible", he "didn't comment".
Ms O'Leary said Redouane showed her military videos of Muslims being attacked abroad after terror attacks in the UK, and began to express homophobic views.
Footage released of London Bridge victim who used skateboard to fight terrorist
In late 2016, he asked his wife to stop watching certain music channels on the television in front of their baby daughter "because if there were gay people on there he would say it would turn her gay".
Ms O'Leary told the court that he also disapproved of the way women dressed in the videos, and said he would have "ideally liked" her to convert to Islam.
"I said from day one it was never going to happen," she added.
The couple had met in 2010 in a nightclub in Manchester and were married in November 2012 in Dublin.
They lived together at her mother's house in London before Redouane moved back to his native Morocco from September 2013 to February 2015.
The couple then lived in Dublin before moving back to London, and then their own home in Barking in 2016, with their newborn daughter.
At that time, Redouane started going to a mosque every day and would socialise with friends while she was not there, hiding photographs of her when they came to their flat.
In late 2016 the relationship began to break down, and the court heard that Redouane hit Ms O'Leary during an argument over heating their baby's milk.
The couple split in January 2017, but Redouane still saw his daughter.
Ms O'Leary said: "He just became distant towards me and he wasn't helping me financially or emotionally."
The court previously heard by the time the couple moved to Barking in 2016, attack ringleader Khuram Butt was already being investigated by police and MI5 for a suspected terror plot.
But the Metropolitan Police officer who led the probe said they believed Butt only "aspired" to commit an attack and had not been told of a warning made to a terror hotline in 2015.
He admitted that investigators had not looked into Redouane or the third attacker, Youssef Zaghba, before the atrocity or identified the two men as associates of Butt.
Redouane and Zaghba also attended the same mosque, and a fellow worshipper said they had raised the topic of Isis and made him "persona non grata" when he disagreed with their view.
The man described Zaghba, the youngest attacker, as "impressionable" and said that for both him and Redouane "their knowledge of religion was little and shallow".
The court heard how the three attackers would meet at an Ilford gym owned by an extremist linked to Anjem Choudary's banned al-Muhajiroun Islamist network.
Butt and Redouane had travelled to Leeds together and all three men took their children on group swimming sessions to Stratford in east London.
It was Redouane who bought the knives used in the attack, while Butt hired the van and Zaghba drove it.
The trio ploughed the vehicle into pedestrians on London Bridge before going on a stabbing rampage in Borough Market, killing eight people and injuring 48 more before being shot dead by police.
Lawyers representing the victims' families said there was a "very real missed opportunity" to stop the atrocity.
They highlighted evidence that Butt worked at both the Ummah Fitness Centre, which was run by a suspected extremist Sajeel Shahid, and an Islamic primary school run by Shahid's wife.
He had been accused of helping to set up a terrorist training camp in Pakistan attended by one of the 7/7 bombers but the lead investigator into Butt, known as Witness M, said he only became aware of the link after the attack.
Butt worked most days at Ad-Deen Primary School in Ilford – where Zaghba also volunteered – but police had been given intelligence that he was employed at other schools and failed to discover where he actually worked.
The court was shown a CCTV still of the three attackers all meeting at Butt's flat in March 2017, and heard details of repeated phone contact between the three terrorists.
"There was no intelligence that suggested the gym was significant prior to the attack and we followed the intelligence around a number of schools and it was uncorroborated," Witness M said.
"There is nothing I could look back on and say, 'this was a missed opportunity around a significant disruption', nor was there anything that we had in our possession at the time that indicated any attack was being planned."
Xavier Thomas, 45, Christine Archibald, 30, Sara Zelenak, 21, Sebastien Belanger, 36, James McMullan, 32, Kirsty Boden, 28, Alexandre Pigeard, 26, and Ignacio Echeverria, 39, all died in the attack, which lasted less than 10 minutes.
The inquest into their deaths will be followed by a separate inquest heard by a jury into the deaths of the three attackers.
Register for free to continue reading
Registration is a free and easy way to support our truly independent journalism
By registering, you will also enjoy limited access to Premium articles, exclusive newsletters, commenting, and virtual events with our leading journalists
Already have an account? sign in
Join our new commenting forum
Join thought-provoking conversations, follow other Independent readers and see their replies