London council approves 'buffer zone' to stop anti-abortion protests outside clinic in landmark move
Binda Rai, the councillor who proposed the motion, says there could be 'national implications' after the decision was passed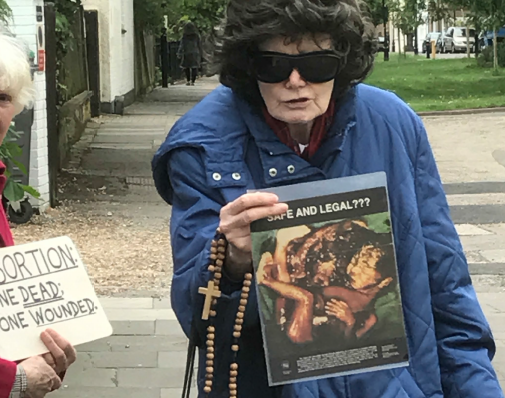 Anti-abortion protesters could be banned from demonstrating outside a clinic after a groundbreaking decision by a London council, which could lead to the creation of the first ever protection zone to prevent women being harassed.
Following reports that women were being "terrorised" as they entered the Marie Stopes Clinic, Ealing Council voted to pursue a public spaces protection order, which are usually used to stop anti-social behaviour like drug taking.
Anna Veglio-White, a spokesperson for women's rights group Sisters Supporter, which presented the council with a petition with more than 3,000 signatures calling for the buffer zone, told The Independent she had seen women being harassed and reduced to tears after being confronted by the pro-life demonstrators.
Speaking before the meeting, she said: "They call the women murderers, they physically trying to stop them from going into the clinic, giving them leaflets that say they're going to become a drug addict and have an eating disorder. We've seen them tell girls it's not the clinic, so women miss their appointments. On a number of occasions we've also seen girls get so upset that they've burst into tears and run into the nearby park.
"On one occasion, the woman just didn't go in. She got too upset and didn't want to walk past them. Her partner asked them to move out of the way so she could walk in but they wouldn't."
Sisters Supporter presented the council with accounts from residents about protestors trying to stop women from entering the clinic and showed leaflets distributed by the groups telling women that they would regret their action.
The decision was overwhelming passed by the Labour-controlled council. Out of the 69 councillors present all voted in favour of the motion bar two who abstained. The motion will now be put to a public consultation.
Ealing Council leader, Julian Bell, told The Independent: "This harassment of women who are in a most vulnerable place has been going on for over 20 years. I've been down and gone past the protests and even for me it's disturbing and intimidating, let along someone who is trying to access these legal services."
Binda Rai, the councillor who proposed the motion, said: "This issue is a blight on our borough and has been around for far too long. What we've decided today is that this has got to stop. I'm absolutely thrilled that there was such huge support in the chamber for the motion, and right across the parties.It was really good. And this is really a stand for women, and for women's rights to access healthcare that is legally available to them.
The councillor said there could be "national implications", as she said Ealing Council is the first council to have this debate, adding that it could be the first local authority to actively take action to address the issue.
Richard Bentley, Managing Director at Marie Stopes UK, which runs the Ealing clinic, described the moved as "ground breaking" and urged that other local authorities follow suit to protect women in their areas.
"For too long, these groups have used the word protest to mask their real objectives, which are to harass women they don't know, invade their space and block their right to healthcare," he said.
"If they were serious about protesting against abortion law, they would be standing on Whitehall where the laws are made. We respect and support the right to free speech, but it absolutely does not give strangers a free pass to bully and intimidate women.
"The majority of women who arrive at our clinics have already had a consultation with a trained professional in which they have talked through their options and have come to a decision that's right for them. Strangers harassing them as they enter and leave the clinic does nothing to change that. All it does is upset women on what can already be a difficult day."
The British Pregnancy Advisory Service, which has previously called for the Government to introduce legislation to bring in buffer zones around clinic across the country, said that while the council's decision was welcome, there must be a national solution.
"We welcome Ealing Council's commitment to taking all actions within its powers to prevent the harassment of women attending their local clinic," a spokesperson said. "As the council has noted, this is not about shutting down debates about abortion or limiting free speech, but balancing the right to protest with the right of women to obtain advice and treatment in confidence and free from intimidation.
"While today's vote is undoubtedly a significant step forward for women and residents in Ealing, anti-abortion protests are a national problem in need of a national solution. The situation in Ealing is sadly not unique, and women and clinic staff across the country report being followed, filmed, and harassed when trying to access or provide legal healthcare services. This has to stop.
"A number of other countries have introduced buffer zones around clinics in which anti-abortion activity cannot take place. Women in the UK deserve exactly the same level of protection. We urge the government to follow the example set by Ealing Council, take responsibility for the safety and wellbeing of women seeking abortion care, and put forward legislation to introduce buffer zones as a matter of urgency."
Join our commenting forum
Join thought-provoking conversations, follow other Independent readers and see their replies