Why was a law-abiding cyclist who was passing through a green light ordered to pay compensation to a pedestrian who was staring at her phone?
Robert Hazeldean collided with pedestrian Gemma Brushett as she stepped out into road while using her phone – but now he is facing a huge compensation and legal bill
Tuesday 25 June 2019 15:57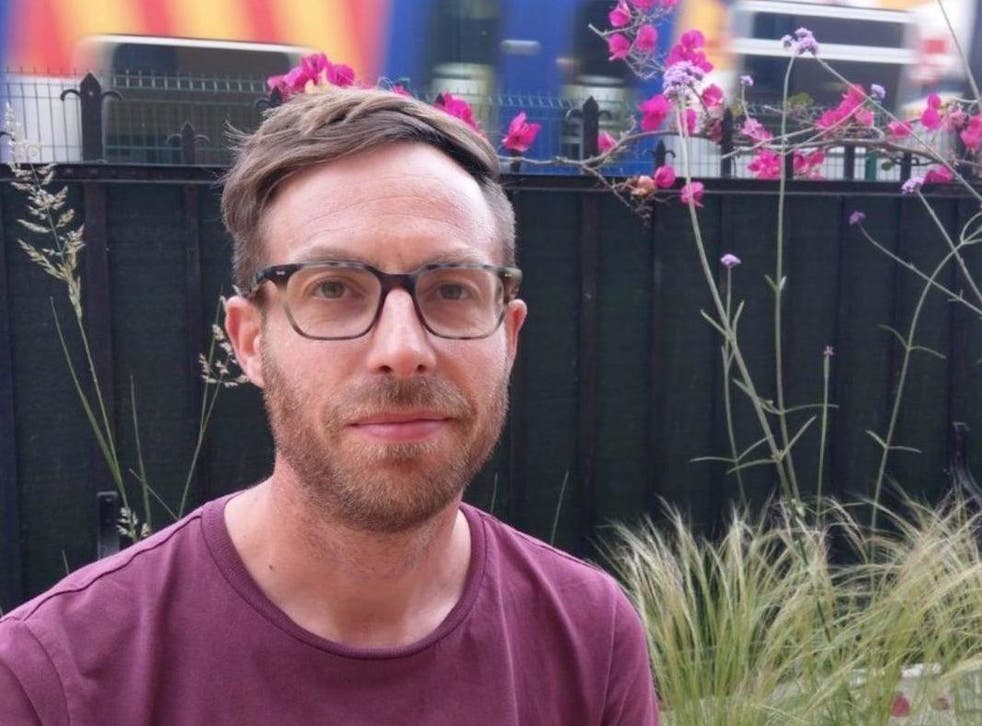 Robert Hazeldean was cycling through central London at between 10 and 15mph and had just passed through a green light when a pedestrian walked out in front of him.
The "calm and reasonable" cyclist, as he was described by a judge in his subsequent trial, hit Gemma Brushett as she stepped out on to the road while using her phone.
She had been among a "throng" of pedestrians who were crossing the road despite the traffic signals showing green for cars and bicycles.
As soon as the garden designer, who now lives in the south of France, saw Ms Brushett he sounded sounded an airhorn on his bike and began shouting.
But it was not enough to prevent a collision.
The pedestrian, a part-time yoga teacher who worked for a finance firm, tried to step back onto the traffic island at the same time as Mr Hazeldean swerved to avoid her. The pair collided and were knocked unconscious.
Britain's stupidest cycle lanes

Show all 13
That was in July 2015. At a trial last week, Mr Hazeldean was found to be equally to blame for crashing into the woman despite the judge acknowledging key details which many would consider significant enough to absolve him: the light was green, the pedestrian was distracted on her phone, and the cyclist had attempted to warn her he was fast approaching.
But that was not enough and he now faces a huge legal bill and possible bankruptcy.
The case has triggered alarm among cyclists and raises questions over the protections the law affords vulnerable road users, with experts citing the case as further evidence that vulnerable road users are "time and again being denied justice in our courts".
The case drew condemnation not because of the circumstances that led up to the collision – an unfortunate but not wholly unusual case of vulnerable road users colliding while one or other parties was distracted by a mobile phone – but because the judge ruled both the cyclist and pedestrian were "equally culpable" for the collision.
Awarding £4,161 in damages, judge Shanti Mauger made a wider point that cyclists "must be prepared at all times for people to behave in unexpected ways".
She acknowledged that Ms Brushett was "looking at her phone" when she walked in front of him but said Mr Hazeldean knew the road was not entirely clear when he tried to ride through.
Because Mr Hazeldean was legally unrepresented at the initial stages of the case and failed to launch a counterclaim against the pedestrian he faces a total legal bill that could reach £100,000.
A crowdfunding campaign has raised more than £50,000 for Mr Hazeldean but experts have warned that the implications run far deeper than a single cyclist's legal bill.
Support free-thinking journalism and attend Independent events
Emma Farrell, head of the personal injury team at Levi Solicitors, which represented the cyclist, said she was surprised by the judgment.
"We had anticipated that there might be an apportionment of blame [to our client], but not 50/50," she said.
Asked by The Independent whether the case set a precedent for future trials centring on collisions involving cyclists, Ms Farrell expressed concerns about the "imbalance that exists when a defendant is not insured and when both parties are partly responsible but only one has claimed damages".
That, she suggested, could leave other cyclists exposed to a similar fate. She said: "If our client had been insured then the claimant's costs would have been limited by Part 45 of the Civil Procedure Rules and would have been in the region of £7,000 plus the costs for her medical reports, court fees etc.
"As we know, the claimant's solicitor has served a costs schedule seeking almost £96,000 which, even if reduced by the court at the next hearing, has had a very negative emotional impact on our client whilst it is hanging over him."
Most innovative and stunning cycle routes in the world

Show all 20
Mr Hazeldean has said he hoped his experience would highlight the "vulnerability of cyclists, both physically and against the courts". He has also called for reforms to the legal system that currently "appears to leave certain road users disproportionately exposed".
Nick Chamberlin, policy manager at British Cycling, warned that vulnerable road users were "time and again being denied justice in our courts" and said Mr Hazeldean's case put the spotlight on "one of the big issues that Britain has always shied away from engaging in": presumed liability law.
Under current English and Scottish law, a cyclist must prove, on the balance of probabilities, that a driver involved in a collision has been negligent. But in most European countries, presumed liability means the more powerful road user is judged to be at fault unless they can prove otherwise.
In the case of a car-bicycle collision, which far outnumber incidents involving bicycles and pedestrians, this would offer additional protections to the cyclist. But it would also put the onus on the cyclist in cases involving a pedestrian.
Mr Chamberlin said the UK was one of a "tiny number of countries around the world" that does not have presumed liability enshrined in law, and while it might not have changed the outcome of Mr Hazeldean's case, it would prove useful in hundreds of cases each year.
"It would give much, much more clarity around the rules of the road," he said.
"There is an awful lot of work to be done in terms of the justice system in this country recognising the needs of cyclists and pedestrians."
The broadcaster Jeremy Vine, a prominent cycling advocate, said inconsistency in how drivers and cyclists were punished for road collisions "makes a nonsense of the law".
Cyclist ordered to pay £105,000 for knocking over woman who crossed road looking at phone
Comparing Mr Hazeldean's case with that of Michael Mason, a cyclist who died after being knocked off his bike in central London in 2014 (the driver involved was acquitted of causing death by dangerous driving), Mr Vine tweeted: "CYCLISTS. Hit a pedestrian smartphone-zombie who steps into the road – you pay.
"DRIVERS. Kill a cyclist who is cycling with full attention to the road – no charge."
Roger Geffen, Cycling UK's policy director, said the latest case was a reminder that cyclists needed to be covered by third party insurance.
"Based on our reading of the media reports, it seems odd that the judge attributed responsibility on a 50/50 basis given their own reported comments on the case," he said.
"However this case highlights why Cycling UK gives all our members third party insurance, and recommends regular cyclists take out similar policies to protect themselves from this sort of situation."