London fire: How you can help those affected by the Grenfell Tower block blaze
'There is a number available for anyone who is at all worried about their loved ones or friends or family,' says Sadiq Khan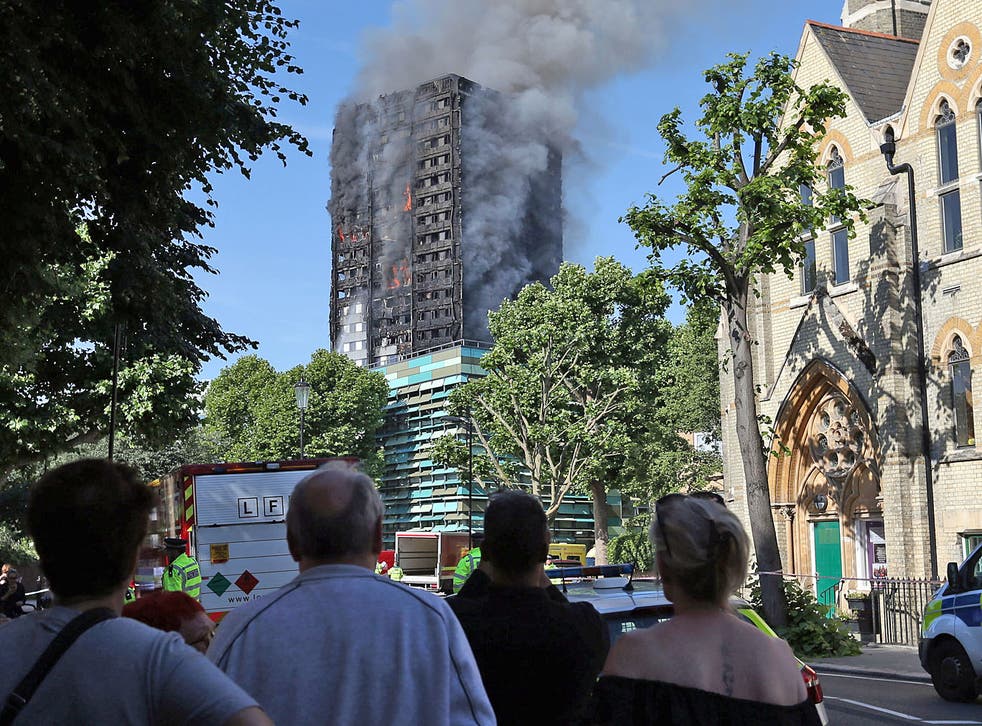 Sadiq Khan has urged anyone concerned about their loved ones in the wake of the horrific West London fire to call the Casualty Bureau to seek help.
Many are thought to be trapped in their homes after a massive blaze engulfed Grenfell Tower in north Kensington in the early hours of Wednesday morning. Hundreds of firefighters fought to rescue residents from the 24-storey block as clouds of smoke billowed into the sky.
At least 50 people have been taken to five hospitals in London for treatment and the fire brigade has said there are "a number of fatalities" but is yet to confirm numbers.
The Mayor of London advised friends and family to call an emergency hotline set up by the Metropolitan Police on 0800 096 1233.
"There is a number available for anyone who is at all worried about their loved ones or friends or family," Mr Khan told Radio 4's Today programme.
"If you are worried please feel free to ring the number. It's manned by professional staff and they've got records of who they know is accounted for and can take your details and ring you back if there is anybody that you're worried about."
The Met Police warned Londoners to avoid the area near the fire which flared up on Latimer Road, near Notting Hill, just before 1 am. There are cordons in place around the scene and nearby residents have been evacuated.
Met Police Commander, Stuart Cundy, said: "Anyone who is concerned about loved ones in relation to the fire should contact Casualty Bureau which has been opened following the fire. If you do not get through immediately please do try again."
Grenfell tower fire

Show all 42
He added: "The A40 is closed in both directions. We kindly ask that the public stay away from the area."
Jamie Oliver has announced he is providing free food, drink and shelter to all those effected at his Jamie's Italian Westfield restaurant in the near vicinity of Grenfell Tower.
Writing in a post in Instagram, the chef and campaigner said: "To any of the hundreds of FAMILIES effected by this terrible fire at Grenfell Tower Notting hill today, You are all welcome to come hang out in my restaurant and be fed and watered by my Jamies Italian team.
"We are in the Westfield just around the corner. Food and drink free of charge, so just go and speak to my manager Juan and we will sort you out and give you some love .... This is for victims of the fire. Our thoughts, love and prayers are with you all. Big love Jamie x x x x."
Nearby mosques and churches have opened their doors to offer help to those affected by the blaze. Residents have rallied together to urge people to donate clothing, toiletries, toys and spare clothes to St Clements Church, W11 4EQ, and other places in the near vicinity.
Local resident Jade Ellis delivered water to a church where some of the survivors from Grenfell Tower are being looked after.
Witnesses described seeing residents waving, shouting and screaming from their windows and entrapped on the upper storeys as the block went up in flames.
Dany Cotton, the London Fire Brigade commissioner, said: "This is an unprecedented incident. In my 29 years of being a firefighter, I have never ever seen anything of this scale."
She added: "At this time I am very sad to confirm that there have been a number of fatalities. I cannot confirm the number at this time due to the size and complexity of this building, and it would clearly be wrong for me to speculate further."
Join our new commenting forum
Join thought-provoking conversations, follow other Independent readers and see their replies