Video shows terrifying moment police open fire outside parliament
London Parliament attack being treated as terrorist incident by Met Police
'We are treating this as a terrorist incident until we know otherwise,' says Metropolitan Police
Police are treating the shooting outside the Houses of Parliament as a terrorist incident.
A police officer has been stabbed and an alleged assailant shot by armed police outside the Houses of Parliament in London, shortly after a vehicle is reported to have ploughed into members of the public on Westminster Bridge.
The Metropolitan Police released a statement saying: "Incident in Westminster: We are treating this as a terrorist incident until we know otherwise.
"​Officers - including firearms officers - remain on the scene."
The Police said they were called at approximately 2.40pm to reports of a firearms incident near Westminster Bridge.
The Metropolitan Police asked people to avoid Parliament Square, Whitehall, Westminster Bridge, Lambeth Bridge, and Victoria Street up to the junction with Broadway and the Victoria Embankment up to Embankment tube in order to allow emergency services to deal with the ongoing incident.
In pictures: Westminster attack

Show all 9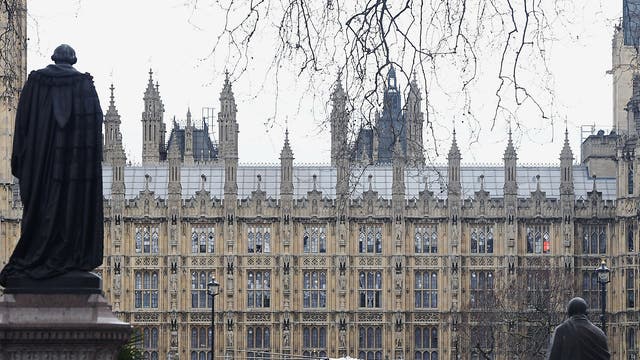 Staff inside parliament found themselves on lockdown and unable to leave the building on Wednesday afternoon after at least three gun shots were heard by those inside Westminster.
Early reports indicate the car, which mounted the pavement on Westminster Bridge and ploughed into approximately a dozen people, was the same vehicle which then rammed into the gates of Westminster just around the corner.
Theresa May was in parliament at the time of the incident but has been confirmed safe.
Proceedings at the House of Commons have been suspended and the Speaker said Parliament will shut down activity until further notice.
David Lidington gives statement to House of Commons after security incident
Commons leader David Lidington, announced the commons would be suspended in the house, saying a police officer had been stabbed and the "alleged assailant shot by armed police".
Liddington said the Commons would "remain in lockdown" until further notice.
He said: "I shall endeavour to do the very best I can, both at the despatch box and by communicating with my opposite numbers in other political parties, to ensure that Members are kept aware of what is happening but at the moment the very clear advice from the police and the director of security in the House is that we should remain under suspension and that the chamber should remain in lockdown until we receive advice that it is safe to go back to normal procedures."
More follows
Join our new commenting forum
Join thought-provoking conversations, follow other Independent readers and see their replies