London Pride 2019: Partying against prejudice as 1.5 million people sing and dance at rainbow-filled parade
The LGBT+ community descended on the capital to both celebrate the community's history and culture, and rally against ongoing challenges, inequalities and discrimination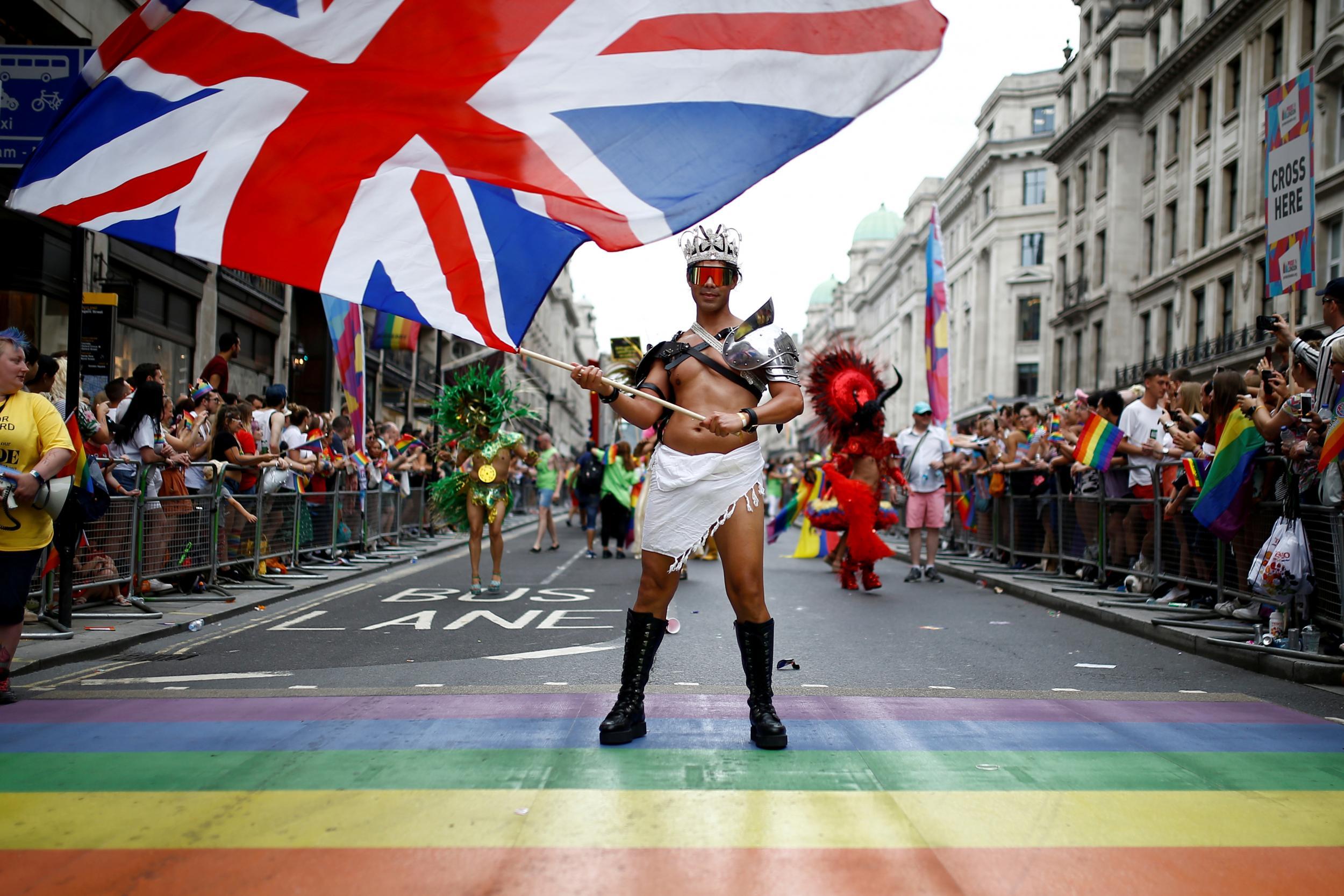 For Big Larry from Manchester – no last name given – it was a Pride to forget.
As temperatures soared to 23C and the sun beat down on the estimated 1.5 million people attending this weekend's annual London parade, the self-professed street-hawker gamely tried to sell passersby his specially-acquired range: woollen rainbow scarves.
"Probably not my greatest decision," he admitted ruefully, as he stood, decked out in T-shirt and shades, in Piccadilly Circus. "I suppose I shouldn't hope it snows."
At times on Saturday, it seemed like he might have been the only person in the whole of central London not having the absolute time of their lives.
Rainbows, glitter and unicorns – not to mention an admirable amount of PVC – filled the streets as the LGBT+ community descended on the capital to both celebrate the community's history and culture, and rally against ongoing challenges, inequalities and discrimination.
London Pride 2019: Best pictures by The Independent
Show all 60
Some 30,000 participants paraded in more than 600 groups – many in lavishly decorated floats – from Portland Place to Whitehall as flag-waving crowds lined the route, cheering them along to a soundtrack of Queen, Wham, Saara Aalto and the occasional champagne-cork popping.
This was, as one attendant told The Independent, a party as protest, and a protest as party.
Away from the main procession, Soho enjoyed a carnival atmosphere – bunting, dancing, daytime drinking – while, come evening, Grammy Award-winner Billy Porter headlined the massive Trafalgar Square stage. An afternoon RAF flyover in honour of the parade, spraying coloured vapour across the sky, felt like just one more rainbow.
"An amazing day," said Craig Smith, decked out in a pair of leather pants, eye shadow and not much else. "Nowhere does Pride like London."
The 35-year-old marketing manager had travelled down early from Cambridge. "Glad it's nice weather," he said of his outfit. "But I'd have worn it anyway. This is who I am."
He stressed a theme oft-repeated throughout the event, which was launched by Mayor of London Sadiq Khan: that Pride, on the 50th anniversary of New York's famous Stonewall riots, had never been more important.
"I think the community has come a long way in terms of being accepted," he said. "But there are still people out there who feel they have to hide who they are – not me, clearly; not in this outfit – but wearing this today is a way of encouraging others to be themselves."
A glance around: "Not that many people here need any encouragement from me," he added.
Such positivity, it's worth noting, came only after a build-up dogged by controversy.
Peter Tatchell, who co-founded the first Pride in 1970, criticised organisers for making this year's event overly commercial and said it was at risk of being co-opted by companies as a marketing opportunity – a claim possibly not helped by the sight of hundreds of people wearing rainbow Burger King crowns.
Accusations, meanwhile, that multinationals like Tesco and Amazon were partnering with the event simply to "pink wash" their reputations – that is to say, showing cosmetic solidarity with the LGBT+ community while doing little to tackle prejudice – had also been rife.
"But it's sort of like the Olympics," reckoned attendee Josh Kemp, resplendent in rainbow sunglasses and draped flag. "In the weeks before there's always criticisms – often rightly – about how it's been organised, and of course that should be taken into consideration next time. But then on the day, itself, I think the community just wants to come together and use the platform to make its voice heard."
For Josh, a 23-year-old treasury worker of London, this was his first Pride since coming out – although, he says, he had attended previously as an "in denial ally".
"I'm pretty cynical about all the corporate involvement," he said. "I feel a lot of it is tokenistic. But, you know what, if I worked for these companies, would I feel better about them being involved? Yeah, I would. It shows progress. We shouldn't forget that 40 years ago, many places would have sacked an employee for being gay, so things have improved."
But he acknowledged his own privilege in saying that: "I'm a white gay man so things are generally okay but there are still groups that are being discriminated against. As a community, we now have to unite to fight that."
It was a line of thought Sophia Wallis agreed with.
Aged just 18, she said she felt reasonably fortunate to have come of age in an era when LGBT+ lifestyles and relationships are more accepted than ever before. But she also pointed out that incidents such as parents in Birmingham protesting against "No Outsider" lessons and the disruption of last year's Pride by anti-trans groups were both proof that more work needed to be done.
"We're nowhere near true equality yet," she said. "That's why Pride is needed to keep pushing things forward."
She was one of a 25-strong group of attendees, aged from 17-24 and from all across the UK, who had all become friends after meeting online.
"Social media these days offers real support for people coming out," the student from Bath said. "But the fact we had to turn to social media in the first place – because support wasn't there in our own schools or communities – shows, again, there is still an issue with prejudice.
Ben Parsons felt strongly bout the same issue. He had brought 10-year-old daughter Lauren along after she had asked to attend while the pair were on a family holiday from Canada.
"It just looked fun," the youngster said as she perched on dad's shoulders for a better view.
"Fine by me," he added. "I think anything like this that promotes inclusivity, tolerance, love, that's the kind of thing you want your kid to believe in and stand for, right? That's something that's worth coming to."
Certainly, the organisers hoped so.
Support free-thinking journalism and attend Independent events
"It's vital that we remember that Pride is not just one day a year – we must fight for the rights of all members of our community all year round," said Alison Camps, the event's co-chair in a statement. "We must all take stock of how far we've come – and of the contributions and sacrifices in particular made by trans women of colour to get us to where we are today.
"Our main aim is to ensure that everyone who comes to Pride in London has a safe space to celebrate, protest or mark the occasion however they wish."
As the party – and the protests – continued into the night, it was, it seems, a job well done.
Join our commenting forum
Join thought-provoking conversations, follow other Independent readers and see their replies