London Pride: LGBT parade celebrates gay marriage rulings
The landmark decisions in America and Ireland energised the event
Serina Sandhu
Saturday 27 June 2015 22:27 Comments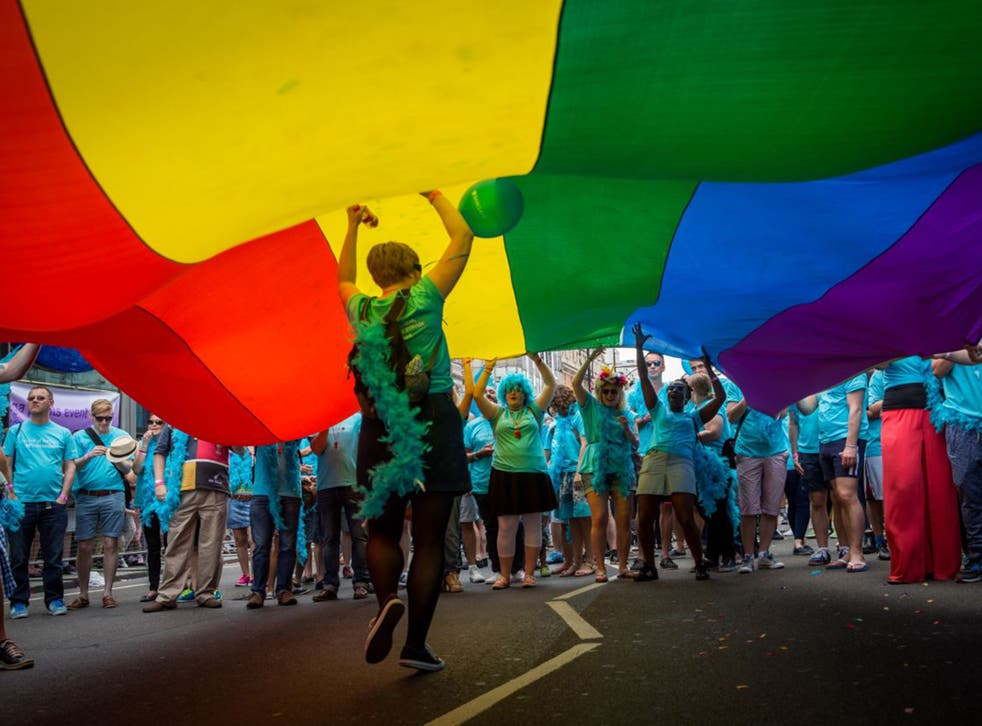 Rainbow flags flew high above the London crowds as the annual Pride parade was energised by two recent landmark decisions advancing LGBT legal rights.
The hundreds of LGBT groups and supporters who marched from Baker Street to Whitehall were jubilant after the United States Supreme Court legalised same-sex marriage on Friday. In May, a referendum in Ireland gave the green light to same-sex marriages.
But the parade took place amid increased security after terror attacks in France, Kuwait and Tunisia.
Michael Salter, the chair of Pride in London, said: "What we saw [on Friday were] horrific incidents around the world. But we also saw something incredibly positive, which was the Supreme Court in America with equal marriage, so there is a great deal that people want to celebrate and campaign for."
London Pride Festival 2015 - in pictures

Show all 14
Andres Gonzalez, 31, who is from Colombia but lives in Croydon, said: "Because I'm gay, I feel very proud of who I am and happy to be out in the street being myself."
Crowds lined the entire route to watch thousands take part in the march, which included flagbearers, campaign groups and businesses.
But for Valerie Dunn of the Older Lesbians Network, the latter meant that Pride had become too "corporate". The 74-year-old, who has been attending Pride since 1983, said more still needed to be done for LGBT rights. "There [are] women all over the world who can't live a lesbian life let alone go on Pride," she said.
Isabelle Gladstone, 58, from New Barnet, said she had been coming to Pride for the past 15 years, "in the hope that, in celebrating, we might get some of the things we deserve out of life"."When I first came to Pride, I didn't come out," she said. "I was too frightened to come out, but now I feel very comfortable because of how things have changed."
This year's Pride was a first for some, including Ukip's LGBT group. The group joined the march – to cheers and jeers – despite being banned after campaigners, including the human rights activist Peter Tatchell, criticised its inclusion.
Ukip member Richard Hendron said he wanted the group to attend to allow people to change their views of the party. "We simply are not homophobic," he said.
Register for free to continue reading
Registration is a free and easy way to support our truly independent journalism
By registering, you will also enjoy limited access to Premium articles, exclusive newsletters, commenting, and virtual events with our leading journalists
Already have an account? sign in
Join our new commenting forum
Join thought-provoking conversations, follow other Independent readers and see their replies