Sadiq Khan backs 20mph limit across central London in bid to cut 'unacceptable' number of deaths
Over five miles of road will initially be affected, with those caught breaking speed limits fined £100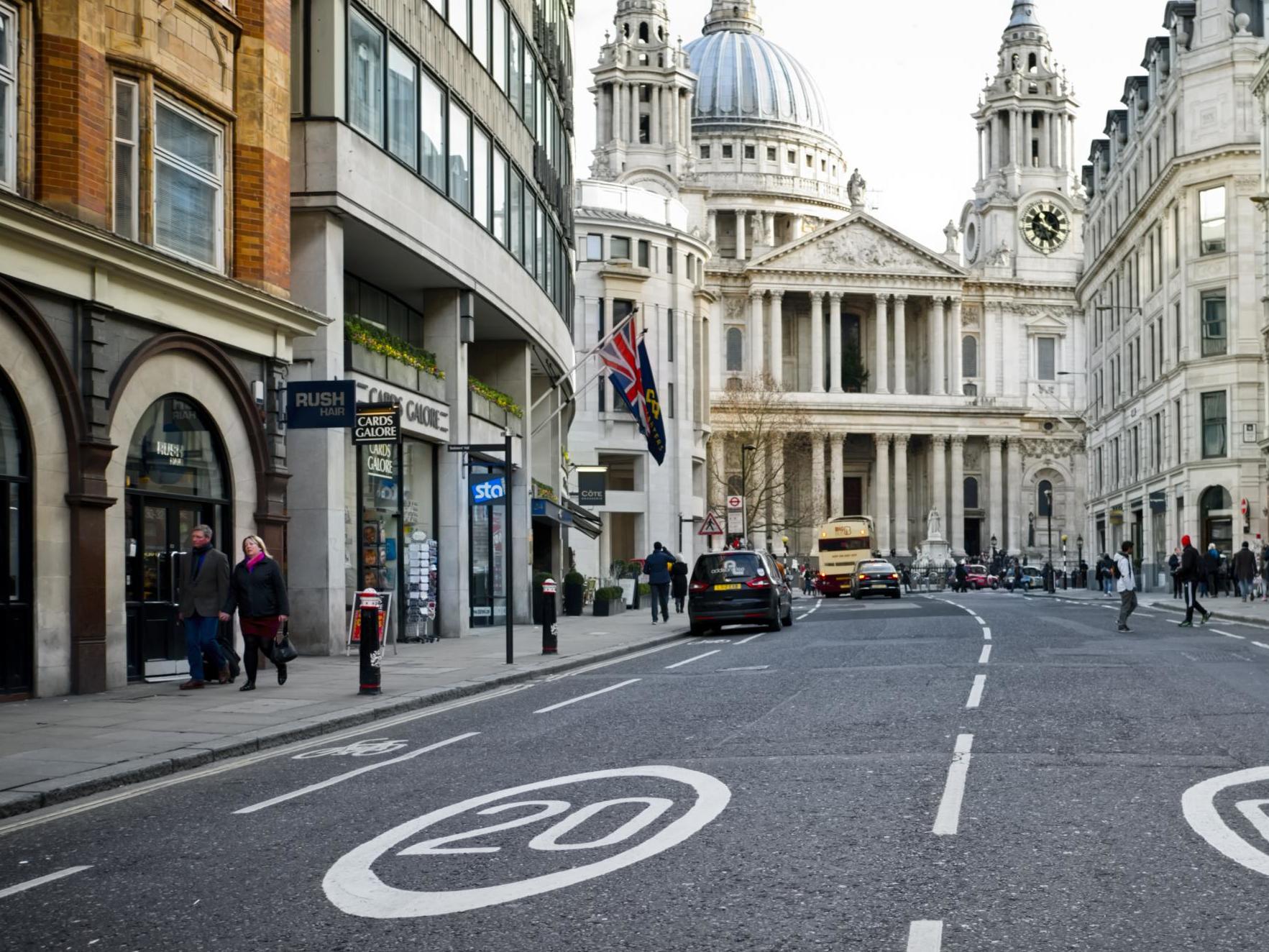 Plans to reduce speed limits to 20mph in central London have been unveiled as authorities aim to cut the "unacceptable" number of deaths on the capital's roads.
Transport for London and the mayor, Sadiq Khan, have launched a consultation which would bring in lower speed limits on some of central London's busiest roads by May 2020.
TfL initially wants to bring in 20mph limits for all of the "red route" roads it manages within the congestion zone, which total 5.5 miles in length and include the Embankment, Tower Hill, Blackfriars Road and Millbank.
A 20mph limit would also be introduced at Aldgate Gyratory, which is on the boundary of the congestion charge zone, rather than within it.
Combined with the 20mph limits already in place on the vast majority of borough roads, this would mean most of the roads in central London would become 20mph.
London smog: in pictures
Show all 13
Existing speed cameras will be used to enforce the new limits and those caught speeding will be fined £100 and given three points on their licence.
In a second phase, which could be completed by 2024, 90 miles of roads outside the city centre could also see their speed limits lowered by 10mph.
Sadiq Khan has previously outlined his plans for "Vision Zero" – a target of reducing road deaths to zero by 2041. Despite falling figures, with 110 people killed on London roads last year, TfL is not on target to meet the aim.
Speed is a factor in around 37 per cent of collisions where a person dies or is seriously injured across London.
TfL said cutting speed limits from 30mph to 20mph would significantly reduce the likelihood of death and serious injury when accidents occur.
If someone walking is hit by a vehicle at 20mph, they are five times less likely to be killed than if they were hit at 30mph.
Mr Khan said: "Each year more than 4,000 people are killed or seriously injured on London's streets. The evidence is clear – lowering speeds on the most dangerous roads saves lives.
"The proposed 20mph speed limit on TfL roads within the congestion charge zone and at Aldgate Gyratory will protect people walking and cycling and other road users in the busiest part of the capital."
The move follows the recent introduction of TfL's ultra low emissions zone, in which drivers of older more polluting cars are charged £12.50 per day to enter the congestion charge zone, on top of the congestion charge fee of £11.50.
Joshua Harris, the director of campaigns at Brake, the road safety charity, said: "Whether you are walking, cycling, or driving, it is everyone's right to be free to get around in a safe and healthy way but this can only be achieved if the vehicles on our roads are travelling at safe speeds. 20mph limits give drivers more time to stop to avoid a crash and also make our streets more welcoming places to be, encouraging people to choose to walk or cycle rather than get in a car."
But Steve McNamara, from the Licensed Taxi Drivers Association, has said the 20mph limits TfL is currently consulting on will make little difference, pointing out that average speeds in central London are already well below 10mph due to congestion.
"Those roads are all at a virtual standstill," he told the BBC.
The chair of the London Assembly Transport Committee, Florence Eshalomi, suggested TfL's plans did not extend far enough. In response to the consultation she said: "In our Hostile Streets report, the Transport Committee asked TfL to review all the speed limits on its roads.
"The committee believes the Mayor could be more ambitious and think about areas outside of the Congestion Charge Zone where walking and cycling could be utilised even more.
"It is not acceptable that we are still seeing deaths on London's roads because of drivers not obeying the speed limit. This is a start from the mayor and TfL and more needs to be done to protect pedestrians and cyclists."
Join our commenting forum
Join thought-provoking conversations, follow other Independent readers and see their replies