London students leave underwear around university campus to protest sexual violence
Campaigners want university to name dedicated, 'unbiased and professionally trained' member of staff to work on campus full time to tackle sexual assault, harassment and rape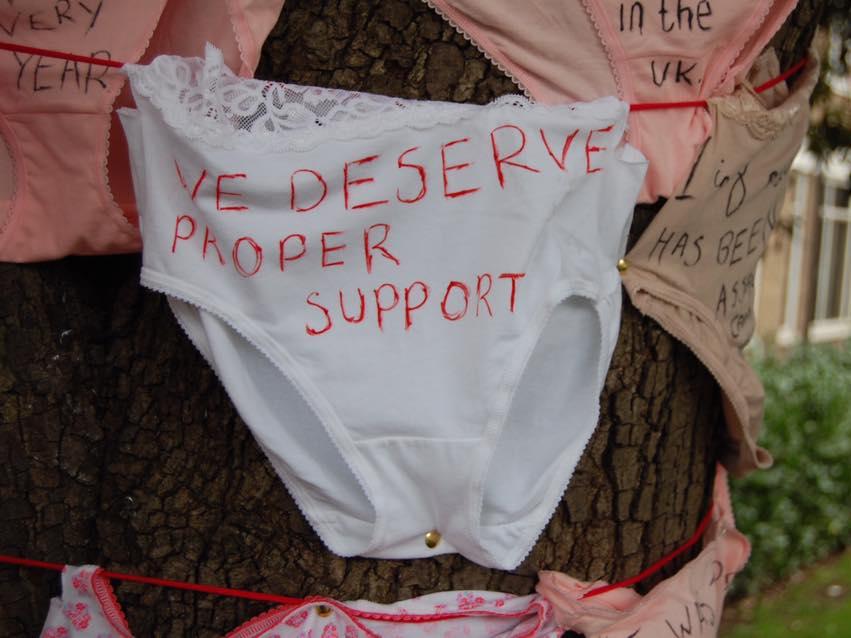 Underwear featuring quotes from rape survivors has been hung by London students around their campus to demand more support for people who are sexually assaulted at university.
The Feminist Society at Roehampton University want a dedicated member of staff employed to tackle rape and harassment on campus and services that are already available to be better publicised.
Its head Zoë Cartlidge, told the Independent she organised the protest because she was assaulted early on in her first year and did not know where to turn.
Without support from a clearly identified, trained member of staff, the 21-year-old said she felt alone and was afraid she would not be believed if she told people she had been sexually assaulted by an older student who already had many friends on campus.
When she raised the incident in a FemSoc meeting more than two years later, she realised the extent of the problem and felt it was necessary to do something to highlight the issue.
A 2015 survey by The Telegraph found that nationwide one in three female students said they had been assaulted on campus.
The group decided to put underwear decorated with slogans around campus because they wanted to create "something lasting", Ms Cartlidge said.
Campaigners intend to hold a second "lie in" protest at their student union next week.
Ms Cartlidge said the response from other students to the initial action, which took place earlier this week, had been overwhelming and very positive.
Student Union President Jack De France said it was supportive of the campaign, but wanted to emphasise that staff were trained to deal with incidents of rape.
"The Student Welfare Officers are fully trained and capable of providing wellbeing support to victims/survivors of sexual assault (and they do deal with such cases)," he wrote in post on the society's Facebook page.
"The Head of Wellbeing at the university's PhD is titled 'Investigating Post-Assault Services for Sexual Violence in England' which informs national policy and current institutions on how to improve services, and she is trained in Sexual Assault and Violence Response/Advocacy (a three month training held by a Rape Crisis Centre)."
The University Registrar said: "The Welfare team at the University of Roehampton is led by Dr Aleata Alstad-Calkins who has completed a PhD in post-assault care and has undertaken specialist training at a rape crisis centre. In addition, students also have access to four student welfare officers, who are trained to handle reports of sexual assault and offer support during police interviews; these welfare officers can provide assistance with post-assault services such as medical treatment and long-term therapy and provide ongoing support for the duration of the survivor's studies. Our welfare officers are trained to provide professional and unbiased support. Free in-house counselling is offered on site.
"The University takes a proactive role in protecting our students from experiencing sexual assault. Earlier this year, the University formed a sexual assault and harassment working group to improve awareness and prevention and the University has recently received £50,000 of funding from the HEFCE Catalyst Fund for a bid to set up support groups, develop consent workshops and train a bystander intervention team."
Ms Cartlidge responded to the statements on Facebook, saying she still did not think the university was doing enough.
"I want to highlight that although Dr Aleata Alstad-Calkins is very qualified for the job of dealing with sexual assault she is not named in any kind of sexual assault help page by the university or RSU and is mostly unknown by the student body. Nor is her job specifically to help students as she has many other responsibilities," she said.
"ALSO I am part of the 'task force/working group' mentioned by the university and I can tell you there has only been one meeting so far this year, of which no action seems to have been taken that I am aware of.
"I am not discrediting that the student welfare officers exist and can help, but they are not specific to these issues, and not advertised online to have specific training in these areas."
She told the Independent: "Our campaign is about getting an unbiased and professionally trained member of staff to work on campus in a full time position that is specifically tackling issues of sexual assault, harassment and rape.
"As well as having this person in place it is really important that it's clear to students who it is, that it's online, that around campus it is generally known that that is the person you go to if you are assaulted."
She added that although several of her friends have had similar experiences to her, she does not feel Roehampton is more dangerous than other universities.
"This is a universal problem," she said. "It is not limited to Roehampton, it is a UK-wide problem, a worldwide problem, and something that everyone should be thinking about."
Join our commenting forum
Join thought-provoking conversations, follow other Independent readers and see their replies