London terror attack: SAS 'Blue Thunder' unit 'lands in London Bridge following atrocity'
Elite unit established after 2015 Paris attacks 
Will Worley
Sunday 04 June 2017 16:17 Comments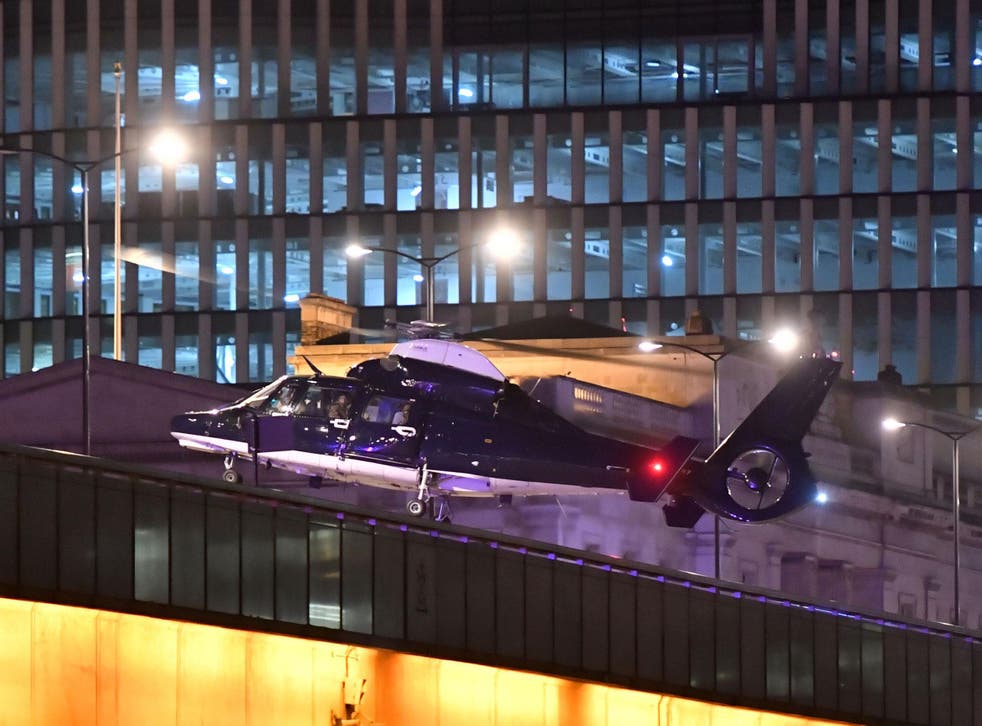 An elite SAS unit nicknamed 'Blue Thunder' is believed to have landed by helicopter on London Bridge, following an attack which left at least seven people dead and 48 hurt.
Police shot and killed all three attackers but it was believed during the night that one suspect could have escaped.
Special Forces were apparently mobilised to hunt down the suspected missing terrorist.
Video shows police enter bar after London Bridge attack
Blue Thunder, who act on orders from the Home Secretary, are a 70-man strong unit formed after the 2015 Paris attacks and trained in tackling domestic terror scenarios.
It is reported to be the first time the squad has been deployed in response to an attack in Britain. The Home Office refused to comment on the reports to The Independent.
Blue Thunder's name comes from the unmarked blue Eurocopter Dauphin helicopter in which they travel. Photographs appeared to capture two of the aircraft landing on London Bridge shortly after the vehicle and stabbing rampage.
The civilian style helicopter is used to transport Special Forces troops around the country quickly and covertly.
It is believed the unit was mobilised after three men rammed a truck into pedestrians on London Bridge around 10pm last night, before going on a stabbing rampage, targeting passers-by and drinkers in nearby pubs.
The three attackers were shot dead by armed police within eight minutes of the attack being reported.
Officers entered pubs and bars looking for a potential escaped suspect, and people were seen walking through streets with their hands on their heads.
Metropolitan Police Commissioner Cressida Dick said on Sunday morning that no suspects were believed to be at large.
The main political parties have suspended general election campaigning following the attack.
European leaders have voiced solidarity with the British government and expressed condolences to the victims in the London attacks that left six dead.
French President Emmanuel Macron says French citizens are among the wounded in Saturday's London attack.
London Bridge Terror Attack

Show all 16
In a statement Sunday denouncing the "abominable and cowardly" attack, Mr Macron said France will continue fighting "terrorism with all our strength alongside Britain and all other countries concerned."
German Chancellor Angela she learned with "sadness and dismay" of the attacks in the London Bridge area Saturday night.
Spanish Prime Minister Mariano Rajoy wrote in Spanish on his Twitter account: "I am following with great concern the attacks in London, sad news. Our solidarity and support for the British people and authorities."
Italian Premier Paolo Gentiloni tweeted Sunday: "Solidarity with the British government and a shared effort against terrorism. We are united in memory of the victims."
Register for free to continue reading
Registration is a free and easy way to support our truly independent journalism
By registering, you will also enjoy limited access to Premium articles, exclusive newsletters, commenting, and virtual events with our leading journalists
Already have an account? sign in
Join our new commenting forum
Join thought-provoking conversations, follow other Independent readers and see their replies