The dark side of the Tube network: Women recount experiences of sexual harassment on the London underground
Exclusive: Survey finds 90 per cent of young women who are sexually harassed on the London underground never report it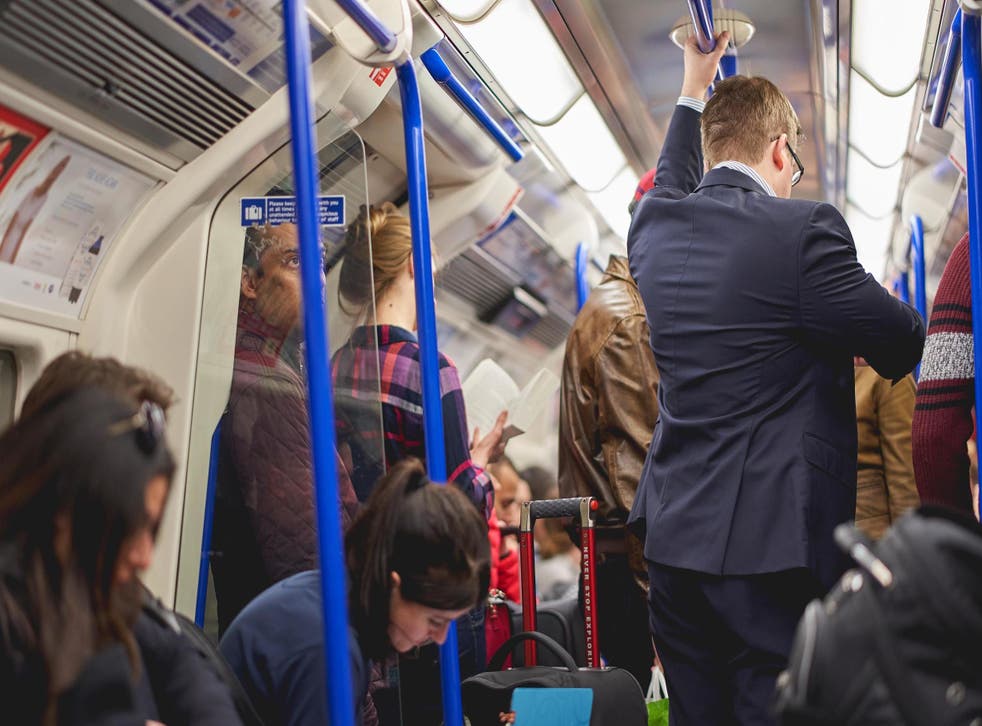 "I was on the Northern line heading home," Rose* says. "A guy kept staring at me and made me uneasy. I got off last minute at my station. He rushed after me and followed me to the top of my street, where I started sprinting down. He stood and watched me from the top of the road."
Rose is not alone. Research by a new campaign group dedicated to raising awareness of the prevalence of sexual harassment on the London Underground found almost two-thirds of young women surveyed said they had suffered harassment on the Tube network.
Visible, a platform for reporting sexual harassment on the London Underground, found nine in 10 of those who suffered harassment chose not to report it, while 32 per cent of women who were harassed also experienced racism too.
Some 41 per cent of all the women polled said they had changed their clothing, their commute, or their time of travel, as a direct result of the harassment they had endured or to avoid potential harassers.
The research, which polled women and girls aged between 15 and 28 pre-lockdown, found eight in 10 of women who suffered harassment had been catcalled. Some 38 per cent of them reported having been groped on the Tube, while 29 per cent said they had been followed on the underground.
"I was 15 years old, on the way to the O2 to see an Ed Sheeran concert with my older sister," one woman, who chose to remain anonymous, told researchers. "An older man came up and grabbed my bum, then ran off when my sister shouted at him."
Another woman added: "It was on the Victoria line in northeast London at around 8.30pm on a Wednesday or Thursday. It was a mixed group of middle-aged men and women who seemed to be going out. It was an otherwise empty carriage. I was by myself. As I stood up to get off the train one of the men, who I wasn't physically close to, stood up, leaned right over and grabbed and slapped by bum. I was wearing jeans and a jumper, not that it should make any difference."
Another woman told of how a man "grinded" his erection against her legs and touched her crotch area during the morning rush hour, while another said a man masturbated next to her on the District Line in the late afternoon.
"It's so common but a standout experience happened at 15 when I was harassed in front of my parents on the Tube, which was incredibly humiliating and uncomfortable – the men were twice my age and looked like they were going to eat me. It was disgusting," a different woman said.
Krishna*, a 24-year-old trainee solicitor who lives in southwest London, told The Independent she was groped by a man during rush hour at Bank station at the end of 2018.
She said: "I got off the Tube at Bank station where the station was packed with office people going to work in suits. I was walking along the platform to the exit. A businessman was walking towards me. He walked past me, brushed against me as he walked past and grabbed my bum.
"He was in a suit. He looked perfectly respectable. I couldn't believe he'd done that. I was completely shocked. I felt completely violated. You don't really expect that on the way to work. Some men are very entitled. The dress I wore, I've never worn again. I'm warier anywhere I go now.
"I always walk with a key in between my fingers on the streets at night in case someone attacks me. It is always the same place in my hand. It falls into place. I don't even think about the way they go."
She said society assumes men who grope women are visibly "pervy and creepy" but this is not the reality of the situation.
The campaign group found a quarter of women polled who suffered harassment said they had been photographed without their consent on the Tube.
Lucy, a 24-year-old who works in the fintech sector, told The Independent she was followed by men on the Tube around four years ago when she was just 20.
She said: "I look very young for my age. At that age, a lot of people told me I looked 15. I was on a Tube that had just left Wembley Park. It was 11-ish. Two guys stepped onto the carriage. I noticed quite a few stares. They were nudging and talking. They were staring at me in a dirty way and pointing at me and making hand gestures at me. When I got up, they got off the train. They were right behind me following me down the platform.
"I thought I'm not going to go on the Bakerloo line, I need to get out. I didn't want to go further into the Tube network as that felt dangerous. They were walking very quickly behind me. I started running up the escalator, they start to run after me. I ran out of the station and got a cab. The incident has meant I no longer get the Tube late at night on my own. I always get Ubers."
Campaigners previously told The Independent it was "very worrying" there are no CCTV cameras on either the Central line – the line on the London Underground where the highest number of sexual assaults take place – or the Bakerloo line.
A campaign launched by the police and Transport for London called "Report It To Stop It" encourages people who have suffered unwanted sexual advances on public transport to come forward.
Caitlin Sim, one of the co-founders of Visible, said the platform was set up to raise awareness of the many experiences women have in life which are not properly documented.
She added: "And when these incidents aren't recorded it makes it seem like they're not really happening. But we know they are, and something needs to be done to draw attention to it."
The campaign group is keen to emphasise that sexual harassment is not going to be tolerated as London reopens in the wake of the coronavirus crisis.
Olivia Wasson, who founded the platform with her, said she had experienced harassment on the Tube herself and had routinely comforted colleagues who had come into work crying because they were groped on their way into work.
"I have listened to friends who have told me that they never wore a skirt again," Ms Wasson added. "Public transport is a hotspot for predators. Women are thankful that we were 'only' catcalled because we know how much worse it can be. We are so thankful that harassment doesn't escalate that we devalue their own experience: 'Ok he catcalled me, but at least he didn't grope me. He groped me but at least he didn't follow me. He followed me but at least he didn't catch me. He caught me but at least I'm alive.' I know that sounds extreme, but we truly do think that way. And we think that way in a matter of seconds."
*Names have been changed to protect identities
Register for free to continue reading
Registration is a free and easy way to support our truly independent journalism
By registering, you will also enjoy limited access to Premium articles, exclusive newsletters, commenting, and virtual events with our leading journalists
Already have an account? sign in
Register for free to continue reading
Registration is a free and easy way to support our truly independent journalism
By registering, you will also enjoy limited access to Premium articles, exclusive newsletters, commenting, and virtual events with our leading journalists
Already have an account? sign in
Join our new commenting forum
Join thought-provoking conversations, follow other Independent readers and see their replies