London Underground criticised over 'heartless' announcements telling passengers not to 'encourage' beggars
'What's that about? These are people we're talking about, not pigeons in the park!'
May Bulman
Social Affairs Correspondent
Friday 16 February 2018 22:34 Comments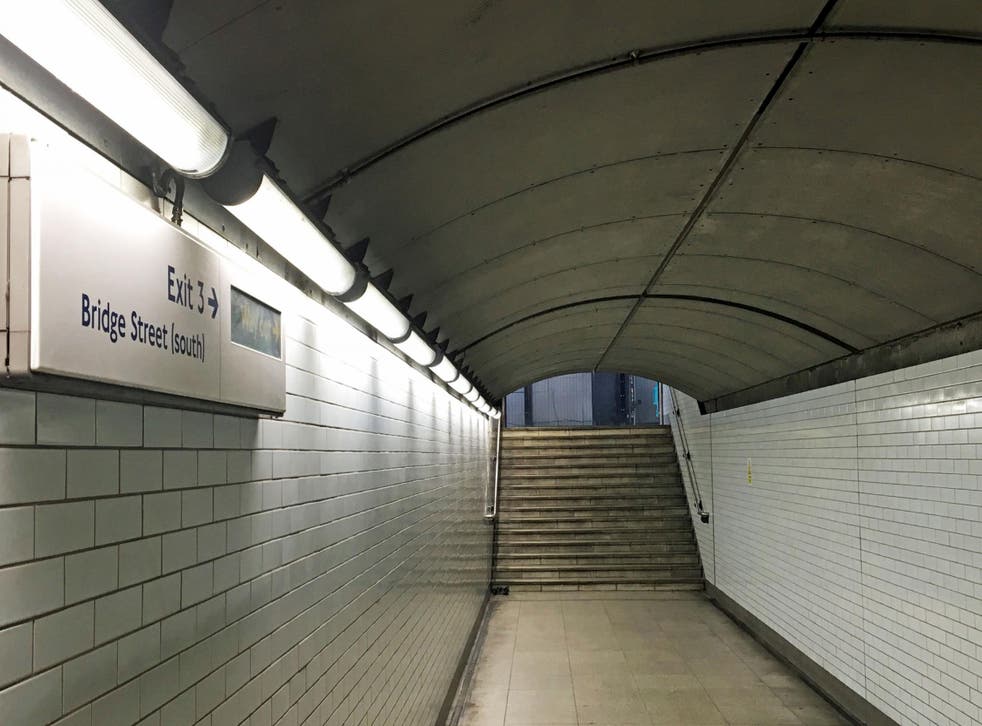 The London Underground has been criticised over announcements urging passengers not to "encourage" beggars and buskers by giving them money.
Broadcast in some tube stations, Transport for London (TfL) started playing the messages on the advice of the British Transport Police, which made the recommendation in 2015.
"There are beggars and buskers operating on this train, please do not encourage their presence by supporting them," it states.
While it is not new, the advice appears to have attracted renewed criticism from tube users amid a surge in rough sleepers and growing awareness that homeless people are dying on the streets.
One passenger tweeted: "Just heard the TfL message on the tube not to 'encourage the beggars and buskers'. What's that about? These are people we're talking about, not pigeons in the park!"
Another tweeted last month saying it was the "most heartless announcement I've ever heard on the tube", while a third passenger described it as "disgusting".
TfL urged the announcement was intended to prevent criminal networks from operating on the tube, and encouraged people to donate to the London Charities Homeless Group rather than to beggars travelling on the Tube or rail network.
But Jon Glackin, a former rough sleeper who is the founder of Street Kitchen, which provides meals for homeless people, said it marked a "further demonisation and criminalisation" of homeless people.
"We should be portraying them as not human, beggars. It reinforces that negative attitude. We're dehumanising people with problems that can be solved so easily," he added.
"My understanding is that in the train stations they have a bigger problem with people in suits shoplifting and dodging fares than homeless people. I've never met this 'criminal network'.
"In Euston they have big spikes up; there are bars on benches so people can't sleep there. It's this hostile environment that's been created."
UK news in pictures

Show all 50
The remarks come two days after a homeless man in his forties was found dead in an underpass just beneath Parliament. The Portuguese national, whose body was found in Exit 3 of Westminster station, is said to have applied to be a waiter the week before.
Figures show a 73 per cent increase in rough sleepers across England over the last three years. On any given night in autumn last year, 4,751 people were recorded sleeping on the streets, a figure that has more than doubled since 2010.
Siwan Hayward, TfL's Head of Transport Policing, urged the organisation was working to tackle rough sleeping, with a dedicated outreach team out at night to help homeless people who use Night Buses and Tubes as a place to sleep.
"The team are part of the Mayor's efforts to help connect rough sleepers with services in the capital and they have helped many vulnerable people find accommodation, access to support services and reconnected them with family and friends," she added.
"We encourage people to donate to the London Charities Homeless Group rather than to beggars travelling on the Tube or rail network, so that donations can directly help fund homeless services."
Register for free to continue reading
Registration is a free and easy way to support our truly independent journalism
By registering, you will also enjoy limited access to Premium articles, exclusive newsletters, commenting, and virtual events with our leading journalists
Already have an account? sign in
Join our new commenting forum
Join thought-provoking conversations, follow other Independent readers and see their replies