London Zoo holds night 'parties' with music and alcohol, prompting fears animals will be 'terrified and traumatised'
More than 100,000 people sign petitions against event, five years after beer was poured over tiger at similar spectacle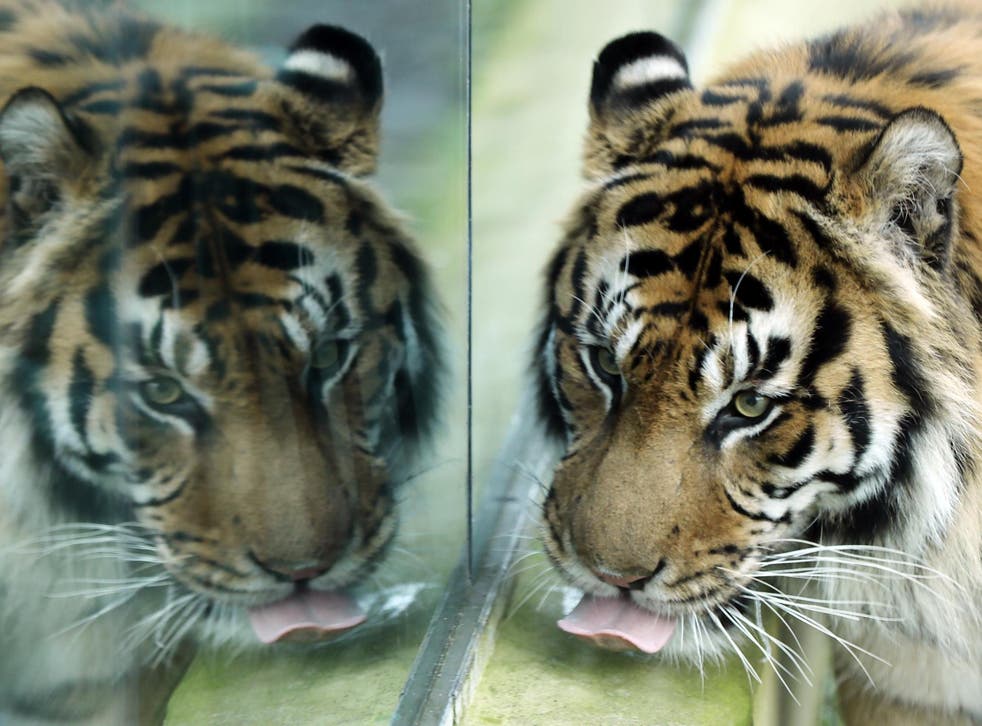 Critics claim a new series of after-dark entertainment events with alcohol and live music at London Zoo (ZSL) risk "traumatising and stressing" the animals.
Zoo chiefs have revived the Friday night events, which they cancelled in 2015 after reports of drunken visitors and a man pouring beer over a tiger.
The new format still allows ticket-holders to drink while watching acts such as comedians and acrobats close to the enclosures, leading to fears animals could suffer stress.
Organisers say the "zoo nights", held every Friday this month and next, will bring a wider range of visitors than usual closer to wildlife, while taking advantage of the lighter nights.
A bar will sell alcohol and a band will play, while performers on stilts and in costumes walk around and visitors, paying £19.95 each for a ticket, can eat and socialise.
Animals in entertainment

Show all 20
But opponents claim the events are cruel, exploitative and prioritise profit over animal welfare.
They say experience shows the zoo's inhabitants, from lions, tigers and giraffes to penguins and lemurs, are stressed and scared by crowds louder than ordinary visitors, as well as the party atmosphere, noise and commotion.
More than 138,000 people have signed one petition calling for the events to be cancelled, and more than 100,000 have signed another. At least one called on Sadiq Khan, the London mayor, to intervene.
In 2014, concerns were raised about "Zoo Lates", which were advertised as an "after-party with the animals" where some visitors reportedly drank excessively.
One man threw beer into the tiger enclosure and another, according to witnesses, tried to climb into the penguin pool. Some people reported butterflies were crushed underfoot.
The next year, the zoo replaced Zoo Lates with Sunset Safaris. This time the gorilla kingdom was off-limits to visitors, and is again this year, to allow two baby gorillas to sleep.
On Facebook, Sheena Bleakney, posted: "Not satisfied with keeping animals in captivity their entire lives, making them a spectacle during the hours of daylight, you chose greed and profit over their wellbeing during the hours of darkness for people to party with the animals. Shame on you London zoo, what about this event benefits the animals? Protects species?"
Ellie Brookes added: "Can you imagine how horrific it is for these animals, loud music, drunken people. These maybe captive animals (cruel enough) but they are also wild and haven't been domesticated for hundreds of years like dogs and cats so this disturbance will be especially terrifying for them."
Joanna Hardeman posted that the animals' "permanent residency is forced and their lives are trapped yet you wish to punish them further. You cannot claim that such irresponsible events are for the benefit of the 'residents' when they cannot escape inebriates, loud music, taunting, and other traumatic incidents like those seen at previous events."
ZSL said visitors are searched to prevent them bringing in alcohol. Kathryn England, ZSL's chief operating officer, said: "If anyone is behaving in a way we don't like we will take action. But those coming are animal lovers and these evenings are not about the alcohol."
The noise limit allowed is 70 decibels – about the noise level of an average street.
Ms England said nobody in masks was ever allowed near the animal houses, that the animals' bedtimes were kept the same as all year round, and that animal welfare came first.
Support free-thinking journalism and attend Independent events
She was disappointed by critics' "inaccurate" portrayal of the events allowing "people who are passionate about animals and conservation to have an enjoyable evening".
Register for free to continue reading
Registration is a free and easy way to support our truly independent journalism
By registering, you will also enjoy limited access to Premium articles, exclusive newsletters, commenting, and virtual events with our leading journalists
Already have an account? sign in
Register for free to continue reading
Registration is a free and easy way to support our truly independent journalism
By registering, you will also enjoy limited access to Premium articles, exclusive newsletters, commenting, and virtual events with our leading journalists
Already have an account? sign in
Join our new commenting forum
Join thought-provoking conversations, follow other Independent readers and see their replies