London Zoo's first Sumatran tiger cub in 17 years drowns in pool
First tiger cub to be born in the zoo for 17 years just two weeks ago has drowned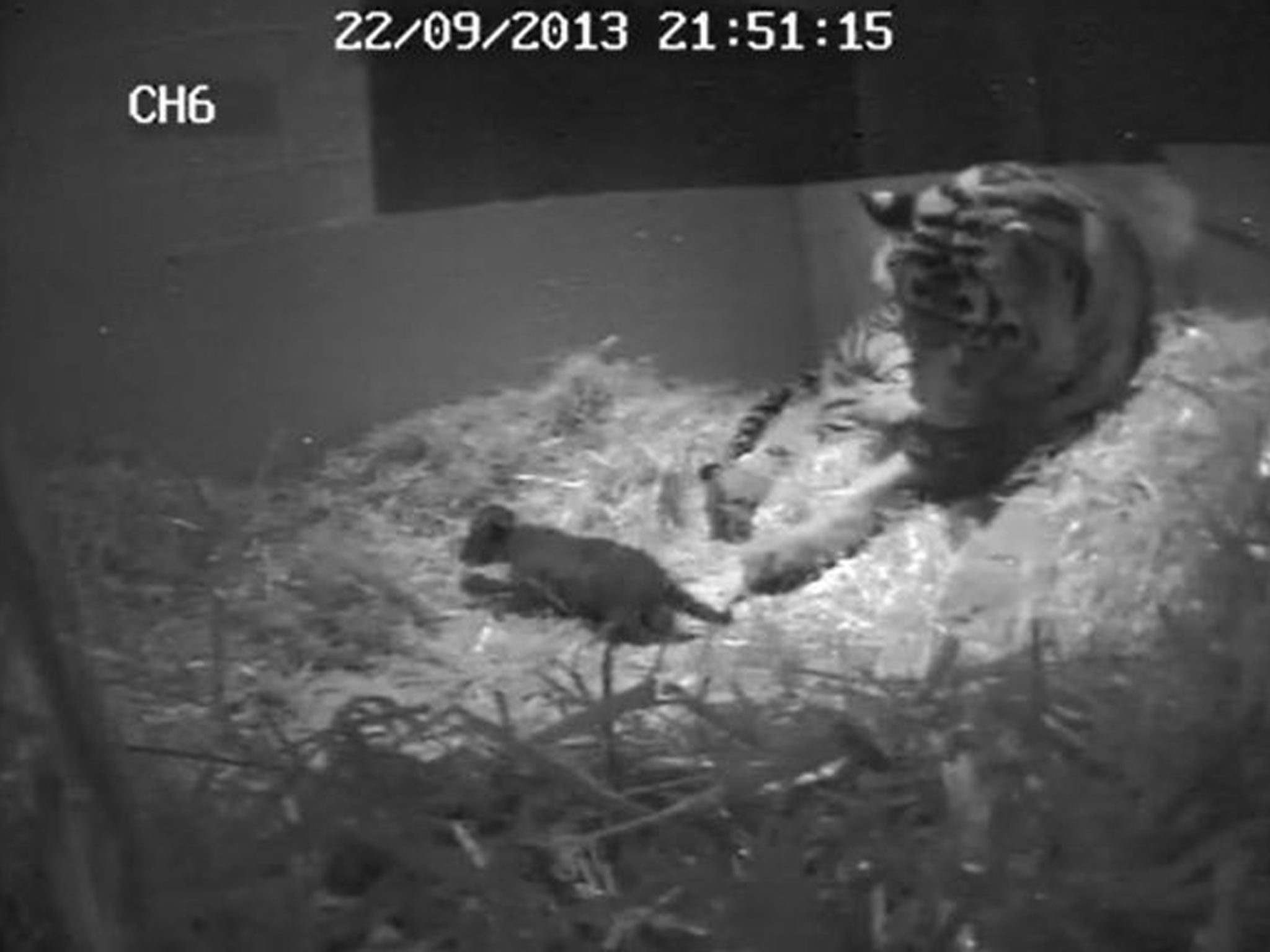 London Zoo have said they are "distraught" after the first tiger cub to be born at London Zoo for 17 years was found dead on Saturday morning.
Keepers at the zoo raised the alarm after they noticed that they could not see the cub on the den cameras.
The cub was discovered on the edge of the pool inside the tigers' enclosure, a ZSL London Zoo spokeswoman said.
It had not been named or sexed as it was so young.
"The keepers are naturally very distraught. They work very closely with the tigers, so it is incredibly sad news for them," she said.
The world watched as five-year-old Sumatran tiger Melati gave birth to the cub two weeks ago in a den fitted with hidden cameras, after being pregnant for 105 days. She was in labour for just six minutes.
The zoo spokeswoman said a post-mortem examination conducted on Sunday confirmed the cub had drowned.
Keepers believe Melati carried the cub outside but are unsure as to how the cub got into the pool as there are no cameras in the wider enclosure.
They are now reviewing the situation as it was not envisaged that the mother would take the cub outside so early.
The cub is the grandchild of the zoo's last tiger cub, Hari, the father of Melati.
The cub's father is five-year-old Jae Jae, which had been playing no part in taking care of the new arrival.
Curator Malcolm Fitzpatrick said: "We're heartbroken by what's happened. To go from the excitement of the birth to this in three weeks is just devastating.
"Melati can be a very nervous animal and we didn't want to risk putting her on edge by changing her surroundings or routines, in case she abandoned or attacked the cub.
"At the time we thought it was in the best interests of Melati and her cub to allow her continued access to the full enclosure as normal.
"We would do anything to turn back the clock, and nobody could be more upset about what's happened than the keepers who work with the tigers every day.
"They are devoted to those tigers and are distraught."
Join our commenting forum
Join thought-provoking conversations, follow other Independent readers and see their replies