Lord Sugar loses tribunal counter-claim against Apprentice winner Stella English
BBC TV show winner said she is now unemployed and on benefits after rejecting the prize role as an 'overpaid lackey'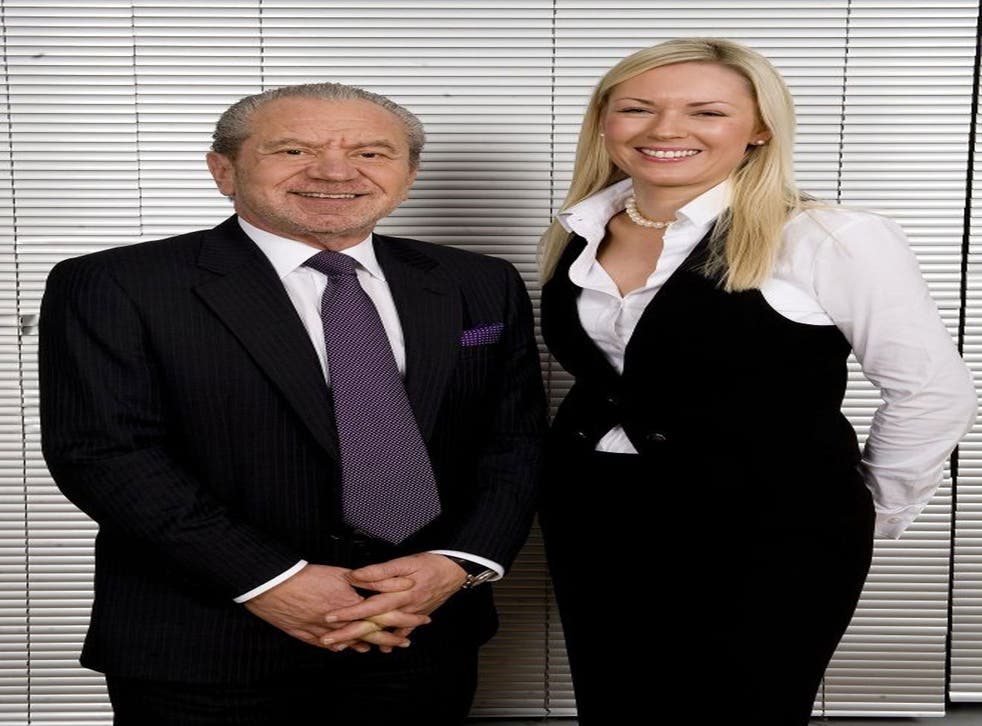 Apprentice 2010 winner Stella English, who says her case for constructive dismissal against Lord Sugar left her an unemployed, single parent on benefits, will not have to pay the multi-millionaire's legal costs, a tribunal panel has ruled.
Ms English had originally claimed that the prize for winning the highly competitive TV show was a role as an "overpaid lackey" in one of Lord Sugar's businesses.
She claimed that she was forced to resign from the £100,000 a year job because it was "not a role of substance", and that she felt pressured to then take up another position at Lord Sugar's internet set-top box company YouView.
When she was told her contract there was not going to be renewed, she resigned and brought the matter to a tribunal – the legal fees for which ended up costing Lord Sugar £50,000.
But an East London Tribunal Service panel yesterday ruled the mother of two would not have to repay any that figure, saying that while the case "should never have been brought", Ms English did not do so maliciously.
The TV show winner said during the proceedings that she only has around £200 in her bank account, is falling into arrears on the three properties she owns and has been forced to apply for housing benefit.
The 34-year-old wept when the decision rejecting Lord Sugar's claim for £35,000 was announced.
Her lawyer Henry Hendron said: "My client is over the moon the employment tribunal have found in her favour and have dismissed the respondent's application for substantive costs against her.
"They have gone further to state that she did not bring the claim against Lord Sugar's company motivated by malice or by bad intentions but she genuinely believed that she had a good case as advised by her then lawyers.
"Ms English is now keen to put this saga behind her."
Tribunal judge George Foxwell said: "We found that the claimant believed she had a claim, that she had been advised she had a claim and she pursued it like any other litigant."
Ms English has been unemployed since July, and in her witness statement said: "I am now an everyday parent trying to support two young children and feel unfairly penalised for standing up for myself against such a powerful opponent."
"The immense pressure as a result of this tribunal, and in particular statements made by the respondent affecting my credibility, has had a detrimental effect on my career prospects.
"Additionally the stress on my husband and young children has been a major contributor to the breakdown of my marriage.
"This has left me not only unemployed but a single parent."
Join our new commenting forum
Join thought-provoking conversations, follow other Independent readers and see their replies