Dog miraculously survives on seaweed for 45 days after falling off cliff
Shadow underwent surgery to remove items from stomach and needs more operations after badly breaking leg in 547ft fall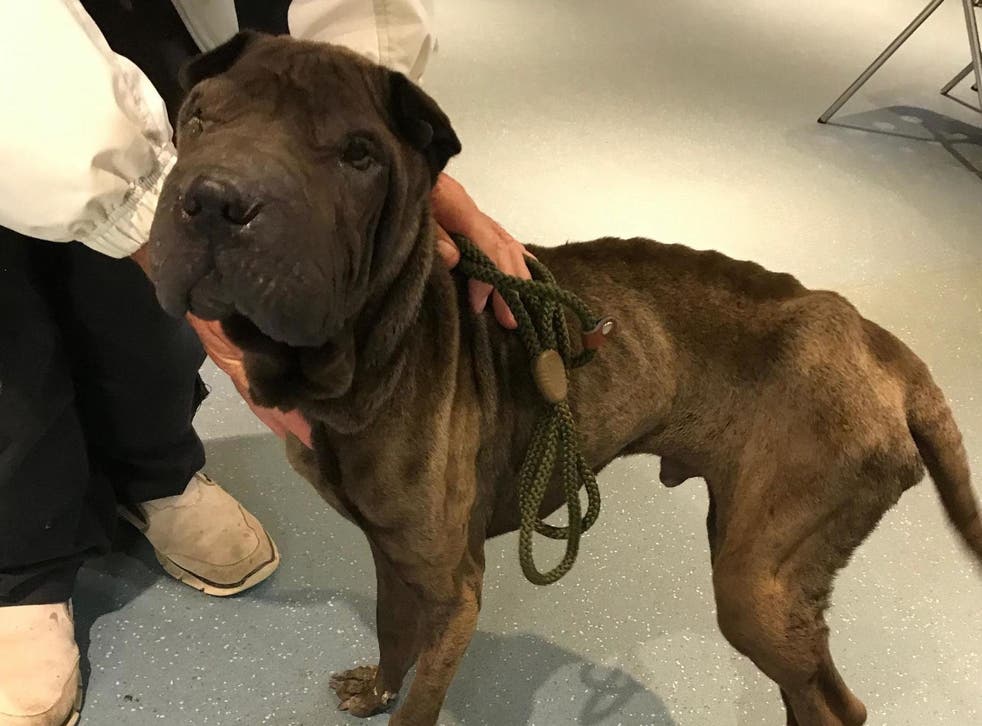 A lost and injured dog has survived on seaweed, sticks and stones for 45 days after falling off a 547ft cliff.
Shadow, an 18-month-old Shar-Pei, was on a clifftop walk with his owners on 9 May when he slipped his harness, fell off the cliff and went missing near Falcon Hill Beacon near Eype in Dorset.
Coastguard, volunteers and the owners together with their family and friends ran search parties and appeals, but weren't able to find the young dog. Amber Whiting, the dog owner, says she and her family, from Bridport, assumed he had died or been stolen.
But holiday-makers found the dog on 23 June and called animal welfare charity RSPCA. By that time, he was barely recognisable.
"When my husband first saw him he didn't think it was him, despite the microchip details, as he looked so different," says.
Once a sturdy dog, he was visibly emaciated. He had lost almost half of his weight and had a badly broken leg.
University wellbeing dogs

Show all 5
"He seems to have survived by eating anything he could," says Ms Whiting.
Shadow has undergone surgery to remove sticks, stones and dried seaweed in his stomach that he had seemingly eaten in an effort to survive.
He will also require further surgery to correct a badly reset broken leg, which is thought to have after the fall from the 547ft cliff face.
"I've not stopped crying since he returned, I can't believe he's back with us," says Ms Whiting.
"I cried myself sick thinking about him lost and alone without his snuggle blanket, or worrying about what might have happened to him.
"I explained to the boys that what he'd been through would have been painful and awful for him and that he may not be the same dog he once was to make sure they understood he needed time and space to get better.
"But we were all shocked to see him wagging his tail and wobbling towards us for strokes and kisses straight away."
RSPCA inspector Ken Snook, who was involved in Shadow's rescue, said the dog's reaction to seeing his owners was "amazing" and "proves beyond doubt the bond between dogs and their owners".
Support free-thinking journalism and attend Independent events
Join our new commenting forum
Join thought-provoking conversations, follow other Independent readers and see their replies