Lutz Bachmann: Founder of far-right anti-Islam group Pegida barred from entry to UK and deported
'Border Force has the power to refuse entry to an individual if it is considered that his or her presence in the UK is not conducive to the public good'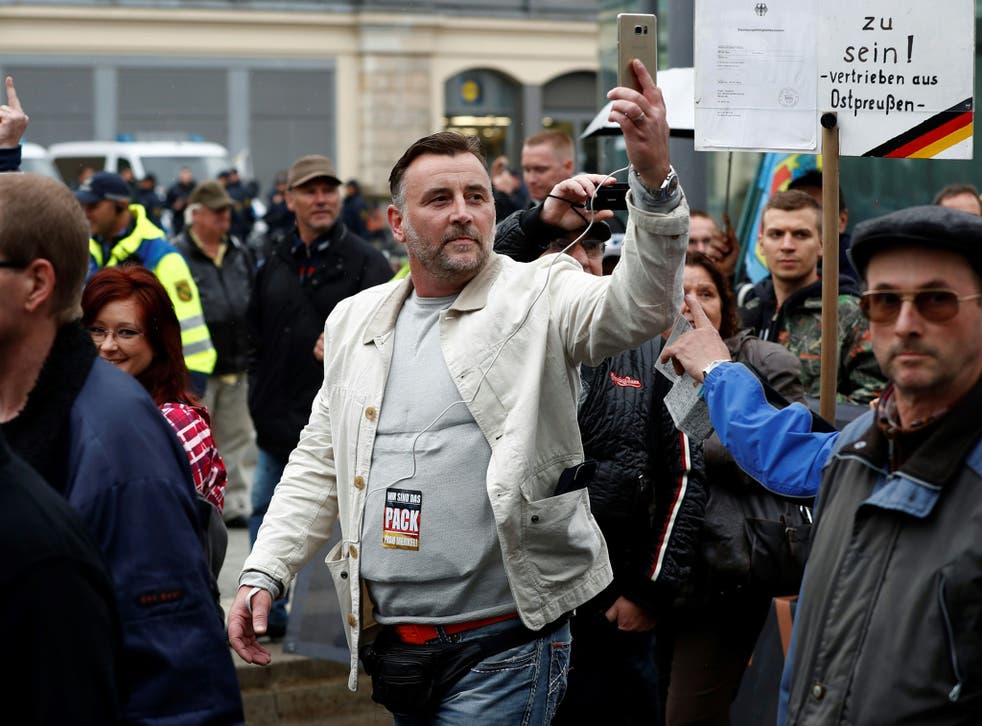 The founder of far right anti-Islam group Pegida has been barred from entry to the UK and deported from Stansted airport.
Lutz Bachmann, who has led anti-immigration marches of tens of thousands of people, landed at Stansted airport on Saturday night.
He was detained and subsequently expelled from the UK on Sunday morning.
The Home Office told The Independent Bachmann was refused entry on grounds his presence in Britain was not in the interest of the public good.
"Border Force has the power to refuse entry to an individual if it is considered that his or her presence in the UK is not conducive to the public good," said a spokesperson.
Supporters say Bachmann was due to speak alongside Tommy Robinson – the former English Defence League leader who founded a subsidiary branch of Pegida in the UK – at Speakers' Corner in Hyde Park on Sunday.
The 45-year-old founded Pegida, which stands for "Patriotic Europeans against Islamisation of the West", in October 2014 to demonstrate opposition to plans for 14 refugee centres in Dresden, Germany.
Branded "Nazis in pinstripes", the group has been widely accused of racism, fascism and xenophobia.
UK news in pictures

Show all 50
Bachmann stepped down from his official role as leader in January 2015 after a picture of him dressed as Hitler surfaced on Facebook – something he dismissed as a "joke". However, he then capitalised on a resurgence of concerns around a migration influx and returned to his post after the outcry had subsided a few months later.
According to the Sachsische Zeitung newspaper, Bachmann has several criminal convictions – 16 burglaries, driving drunk or without a licence and dealing cocaine.
In 1998, after Bachmann was sentenced to a number of years in prison, he fled to South Africa but was deported back to Germany.
A spokesperson for anti-racism campaign Hope Not Hate told The Independent they were not surprised Bachmann was refused entry to the UK.
"Bachmann is a multiply convicted racist, drug dealer and burglar who, like Tommy Robinson, has made his name as a prominent Islamophobe," they said.
"Far from being denied a chance to air their views, as they often like to falsely claim, these extremists have abused freedom of speech and social media platforms to spread and push toxic views which, as Britain's most senior anti-terror police officer has warned, are akin to how jihadi hate preachers like Anjem Choudary pushed their vile beliefs in the past.
"These extremists are two sides of the same coin and need each other – which we, the ordinary Britons, do not.
"In the wake of the Government's decision to refuse entry to Lauren Southern, Brittany Pettibone and Martin Sellner last week, we warned that Bachmann – with his extreme history – could also be turned away. It appears that today that is the case."
The decision to bar Bachmann comes after Canadian far-right activist Lauren Southern was detained in Calais and banned from entering the UK earlier in the week.
Ms Southern, who worked for far-right Canadian site The Rebel Media, was held by Border Force in Coquelles on Monday.
Ms Southern, who supported a seaborne mission seeking to hamper the rescue of refugees, claimed British authorities had told her she was "officially banned from UK for racism" after being detained.
"They just locked me out and said 'au revoir' ... Officially banned from UK for 'racism' ... Doing fine though, all the cool people are being banned anyway," the far-right provocateur tweeted.
Writing in a Facebook post last week, Generation Identity, a British white supremacist group, said Austrian far-right activist Martin Sellner and his American girlfriend Britanny Pettibone, who is a YouTuber and author, had been detained by the British Government.
The couple were refused entry at Luton airport on Friday, also on grounds their presence was not conducive to the public good. Mr Sellner and Ms Pettibone were detained and subsequently removed from Britain on Sunday.​
Register for free to continue reading
Registration is a free and easy way to support our truly independent journalism
By registering, you will also enjoy limited access to Premium articles, exclusive newsletters, commenting, and virtual events with our leading journalists
Already have an account? sign in