Lyra McKee: Mural tribute to murdered journalist appears in Belfast
Writer's image painted alongside moving letter to teenage self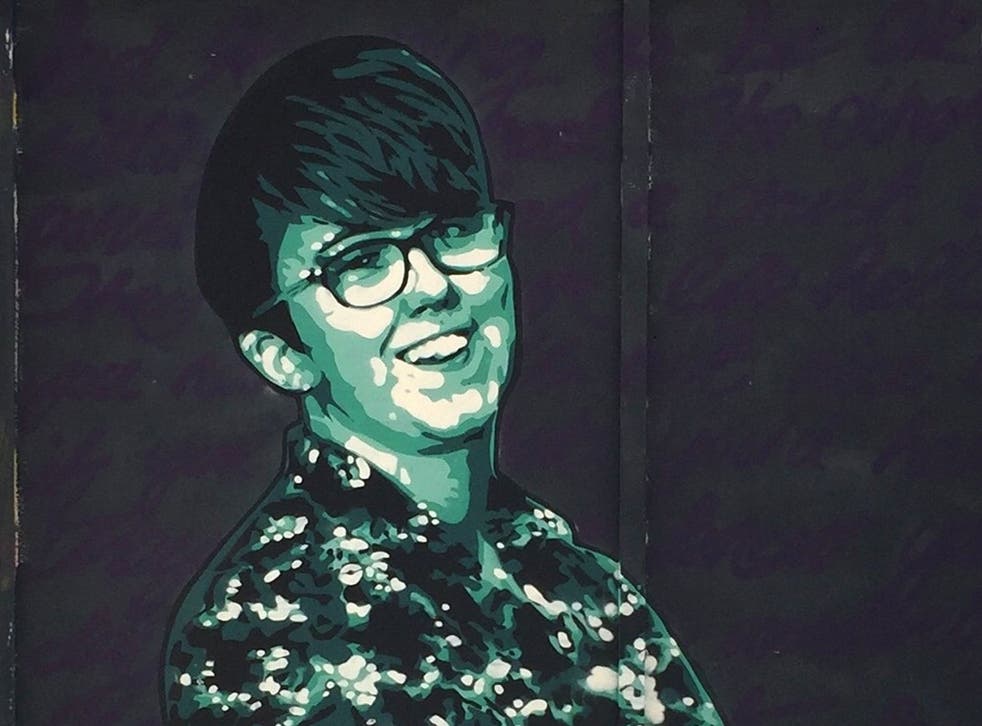 A mural of murdered journalist Lyra McKee has been painted across a wall in Belfast.
Emma Blake, a Dublin based artist, created the image in the centre of Northern Ireland's capital as part of its annual Hit the North street art festival.
She painted it over the bank holiday weekend, on 4 and 5 May. By Monday the painting of the 29-year-old journalist, who was shot dead last month, had attracted visitors who stopped to take photographs of the mural.
The image of a smiling Ms McKee appears alongside a moving letter she wrote to her 14-year-old self.
The piece touched on her struggles as a gay teenager growing up in Northern Ireland and spread quickly online in the hours after she was shot dead by a stray bullet on 18 April during a riot in the city of Derry.
"It won't always be like this. It's going to get better," Ms McKee wrote in the letter.
"Street art is always dialogue," said Adam Turkington, the art festival's organiser. "Writing on a wall is always political, whether you realise it or not. I think what's been really interesting is how you've seen that the aftermath of Lyra's death has played out in art on walls – whether it's the bloody hand prints on the office walls or whether it's people painting over the IRA murals in Derry. That's activism.
"Street art has its roots in activism and in anti-establishment-ism, but also in finding ways to communicate with each other about things that really are hard to talk about.
"It's about aesthetic, it's about place-making. And especially in the context of Northern Ireland, where we have these very divisive murals, street art for me in this context is all about building a shared space and finding a place that people can co-exist."
Support free-thinking journalism and attend Independent events
"It's a very natural thing in a way that Lyra has been represented in this way at the festival and long may it continue."
The mural's location, in Kent Street in Belfast's centre, is also significant.
The painting faces an existing piece of street art which provided a striking backdrop for a photograph of Ms McKee that was widely circulated in the wake of her death.
The 29-year-old was killed by the so-called New IRA while covering dissident rioting in Derry last month.
Her death has sparked outrage across the world as well as a swell of criticism for dissident republican violence in Northern Ireland.
Additional reporting by agencies
Register for free to continue reading
Registration is a free and easy way to support our truly independent journalism
By registering, you will also enjoy limited access to Premium articles, exclusive newsletters, commenting, and virtual events with our leading journalists
Already have an account? sign in
Register for free to continue reading
Registration is a free and easy way to support our truly independent journalism
By registering, you will also enjoy limited access to Premium articles, exclusive newsletters, commenting, and virtual events with our leading journalists
Already have an account? sign in
Join our new commenting forum
Join thought-provoking conversations, follow other Independent readers and see their replies