M2 sinkhole: 15ft ditch in central reservation being investigated by Highways Agency
The hole caused disruption for thousands of motorists on Tuesday evening 
Kashmira Gander
Tuesday 11 February 2014 20:47 Comments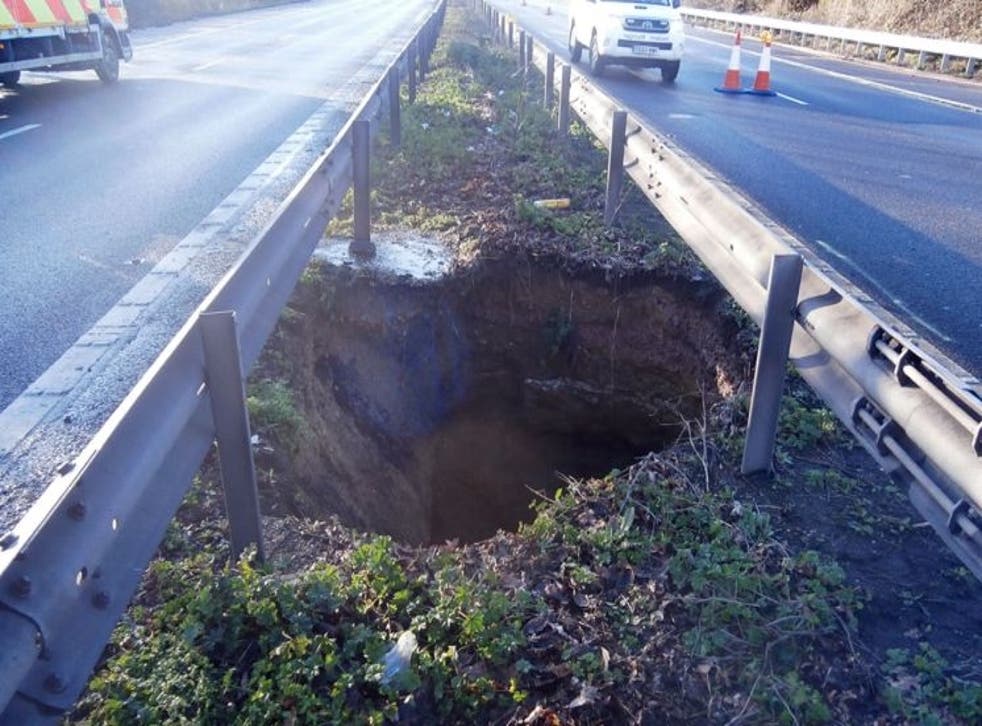 Travellers on the M2 experienced disruption on Tuesday when a 15 foot –deep sinkhole appeared on a central reservation between junctions 5 and 6 near Sittingbourne, Kent.
The Highway Agency is currently carrying out repairs on the 16 by 6 foot hole, and are attempting to discover the cause, a spokesman said.
It is thought the heavy rainfall may have been behind the sinkhole.
Drivers were warned on Tuesday evening of delays of 15 minutes eastbound and 30 minutes westbound in the area, while traffic heading to and from Dover should use the M20 instead.
Most areas in the UK susceptible to sinkholes are relatively small or are in upland rural locations. They have also been known to occur in areas including the Mendips, parts of Wales, and the northern Pennines including the Yorkshire Dales.
Old coalmine shafts in Yorkshire have been known to cause holes which could "theoretically" be the case in Kent but is it "more likely to be related" to the probable chalk or limestone make-up of the area along with the rainfall, according to Sarah Fray, director of Engineering and Technical Services at the Institution of Structural Engineers.
She described the M2 hole as "unpredictable" adding that "it could potentially not be visible when there was construction and water has been know to be a mobilising influence" to cause an underground cavity to collapse.
Sinkholes around the world

Show all 9
She said: "Chalk and limestone is alkaline and rainwater is acidic - if you put acidic water on it, it dissolves over a period of time which can happen over a millenia".
Areas of chalk can be susceptible to sink holes especially where it is covered by younger clay and sand deposits. Ms Fray said: " Then when you have a lot of rain, this can mobilise the soil".
In December 2013, torrential rain caused a 130-ft deep sinkhole to form in the Peak District, after a growing hole part of the old Mill Dam Lead Mine near Buxton, Derbyshire, caved in overnight.
Dr Vanessa Banks, of the British Geological Survey, said: "This process occurs over thousands of years."
"During this period the growing void in the chalk remains bridged by the overlying deposits until infiltrating water is sufficient to physically remove the finest particles into the underlying void, thereby destabilising the 'soil bridge' and ultimately resulting in total collapse of the 'soil bridge' into the void."
"If surface water drainage was finding its way into such a feature, as is likely in a motorway setting, this would increase the likelihood of collapse," she added.
Earlier this month a sinkhole measuring 30ft (9m) deep swallowed up a car after opening up on the driveway of a house in High Wycombe.Nobody was inside the VW Lupo when the ground on Main Road in Walter's Ash gave way.
Firefighters said the hole was about 15ft (4.5m) diameter.
Additional reporting by PA
Register for free to continue reading
Registration is a free and easy way to support our truly independent journalism
By registering, you will also enjoy limited access to Premium articles, exclusive newsletters, commenting, and virtual events with our leading journalists
Already have an account? sign in
Join our new commenting forum
Join thought-provoking conversations, follow other Independent readers and see their replies