M6 lorry fire causes 11-mile queues after road surface melts under intensity of heat
Vehicle was thought to be carrying boilers with flammable mastic and sealant
Alice Harrold
Sunday 19 July 2015 08:31 Comments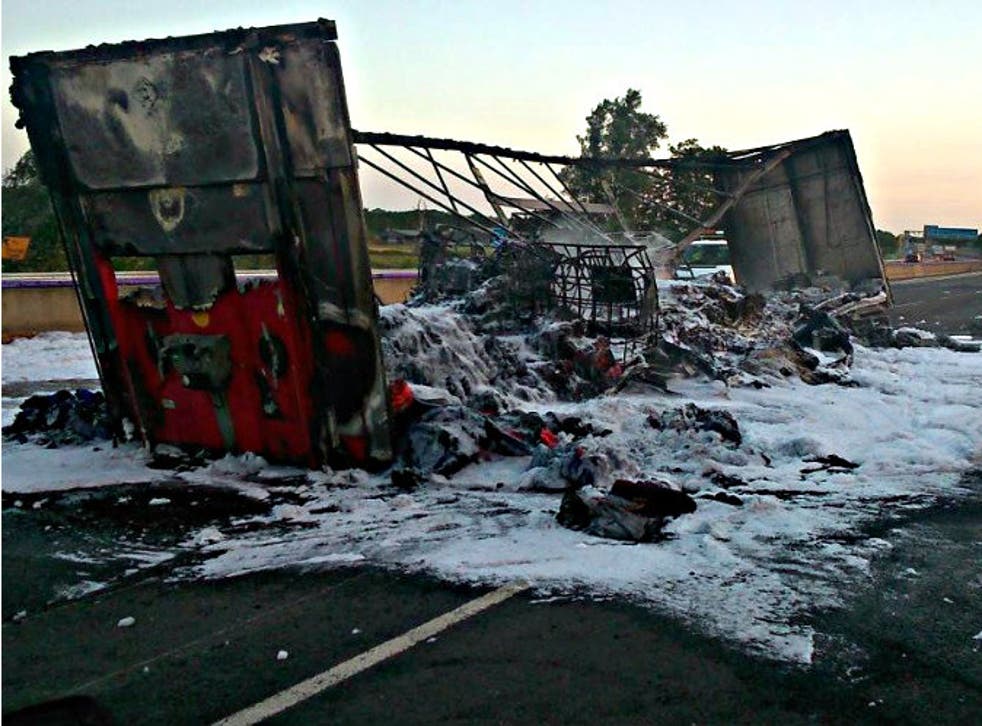 Drivers heading off on their summer holidays have faced long queues when parts of the M6 were forced to close following a lorry fire that was so hot it melted the road surface.
Travellers were forced to wait in queues of up to 11 miles as the motorway closed to allow for resurfacing work to take place.
Earlier, the Central Motorway Police Group tweeted a picture of the HGV engulfed in flames which spread across the carriageway, melting the tarmac overnight.
Zakir Ullah caught the lorry on camera using his phone as the vehicle exploded in the raging fire.
The fire broke out at 1.30am when the lorry, along with four lanes of the motorway, went up in flames. The cause of the fire, which started in the lorry's trailer, has not yet been reported.
The vehicle is believed to have been transporting boilers with flammable mastic and sealant.
Highways England said: "The intensity of the fire has caused extensive damage to the carriageway and resurfacing is required."
Straffordshire fire services worked over night to bring the blaze under control.
The southbound section between junction 13 for Stafford South and junction 12 for Cannock was closed until 5.30pm.
Queues of up to 11 miles were reported. Traffic is now moving but extremely slow. Drivers travelling south-east should divert towards the M1 if possible.
Read more:
The Channel Tunnel's ultimate sprinkler system
Cheese lorry bursts into flames on M1
Lorry bursts into flames after crashing through barrier on M25
"It's been a very frustrating day, especially for holiday-makers," the national campaigns manager for Highways England said.
"All we can do is thank them for their patience and assure them that we are working full out."
Register for free to continue reading
Registration is a free and easy way to support our truly independent journalism
By registering, you will also enjoy limited access to Premium articles, exclusive newsletters, commenting, and virtual events with our leading journalists
Already have an account? sign in
Join our new commenting forum
Join thought-provoking conversations, follow other Independent readers and see their replies