Madeleine McCann's parents Kate and Gerry suffer online abuse on tenth anniversary of her disappearance
Kate and Gerry McCann face criticism and anger a decade after their three-year-old child went missing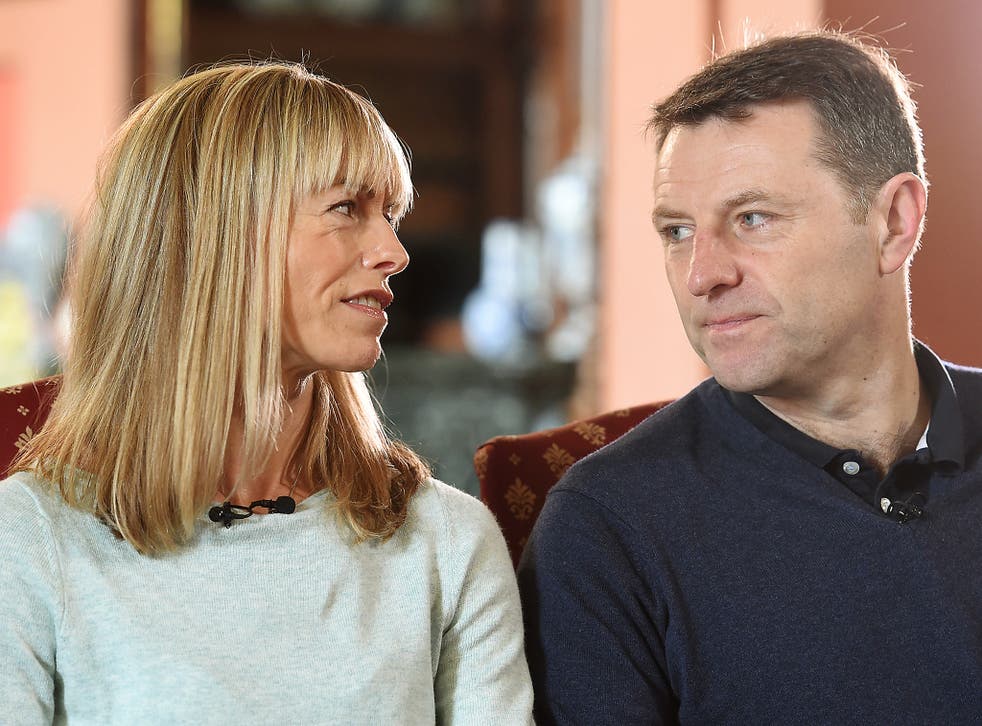 Madeleine McCann's parents are still facing a daily barrage of online abuse, 10 years to the day after their daughter's disappearance.
Social media criticism of Kate and Gerry McCann, posted on the 10th anniversary of their three-year-old daughter going missing in Praia da Luz, Portugal, has included calls for them to be charged with child neglect, and unsubstantiated allegations that they accidentally killed Madeleine.
In apparent references to the fact that Madeleine went missing from the family's holiday apartment while her mother and father dined at a tapas restaurant 50 yards away, successive twitter users have called the McCanns "vile", "negligent" parents who "have only themselves to blame".
The McCanns – who with their friends had been checking on their daughter every half- hour, have been called the 'McScams' and accused of lying about Madeleine's disappearance.
One anonymous twitter user chose the tenth anniversary to post his theory that the McCanns accidentally killed their own daughter after giving Madeleine medicine so she slept while they went out.
This is despite the McCanns having shown as long ago as October 2007 that they had never sedated their children, by hiring forensic specialists to take hair samples from Madeleine's younger brother and sister.
The McCanns also had their formal "arguido" (suspect) status lifted by Portugese police in July 2008.
Other 10th anniversary social media comments included claims the £11m Scotland Yard review of the case is "corrupt" and concerned only with establishing the parents' innocence. Abuse has also been directed at the Sky News reporter who had confronted woman accused of posting online accusations directed at the McCanns, who later committed suicide.
It follows a decade of online hostility directed at the McCanns by some social media users.
The Madeleine McCann case

Show all 25
Since their daughter disappeared, the couple have had to face implied threats which have included comments such as: "We need some numbers for some assassins", "These two should burn in hell", "I will supply the petrol".
In an interview with the BBC's Fiona Bruce last week, the McCanns said that they now avoided social media, and did their best to protect their twins from the online abuse.
Kate McCann said: "I think it has been shocking ... that aspect of human nature that I hadn't really encountered before. Because I think it's so far from how you would behave or people that you know would behave."
She added: "It's been striking and quite hard really to get your head round. Because why would somebody write that? Why would somebody add to someone's upset - why would someone in a position of ignorance do something like that?"
In October 2014 Sky News reporter Martin Brunt approached Brenda Leyland, who under the twitter name Sweepyface had posted comments that included: "To Kate and Gerry, you will be hated by millions for the rest of your miserable, evil, conniving lives, have a nice day!"
Days later, Ms Leyland – whose tweets, it was later ruled, had not amounted to any sort of criminal offence - took her own life.
Mr Brunt remains the subject of online abuse, with some twitter users posting about him today - even though Sky did not name Ms Leyland in the footage it broadcast or give details of where she lived.
She was later named by other news outlets. The online abuse, however, has largely been reserved for Mr Brunt, despite him telling the inquest that he had been "devastated" by Ms Leyland's death, had given her his contact details and kept her informed of Sky's plans ahead of broadcast, and had been unaware she had a history of mental illness.