Man breaks record for staying on remote islet of Rockall to raise money for Help for Heroes
Mr Hancock has been living in watertight 8ft yellow tank for 43 days
Chris Green
Thursday 17 July 2014 17:10 Comments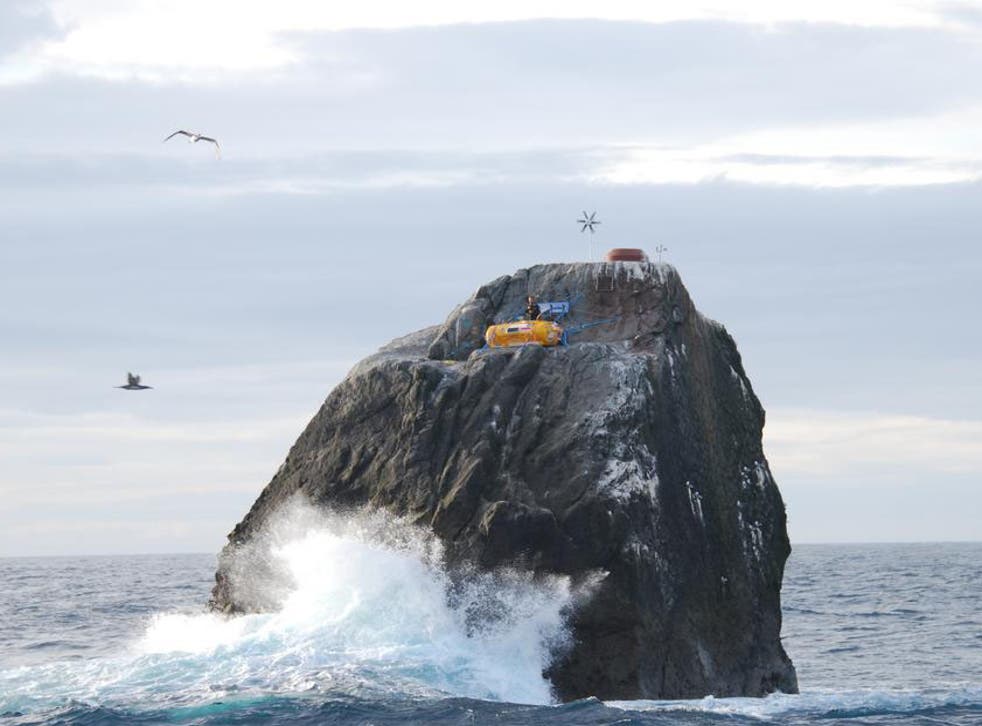 According to the late Labour peer Lord Kennet, the tiny rocky outcrop in the North Atlantic Ocean where Nick Hancock has spent the past 43 days alone is "a dreadful place…there can be no place more desolate, more despairing, more awful to see in the world".
It is no wonder, then, that one of the first things the 39-year-old chartered surveyor plans to do when he finally leaves Rockall - an extinct volcano lying about 260 miles west of Scotland's Outer Hebrides - is head to the pub for a stiff drink.
Today Mr Hancock, from Ratho near Edinburgh, defeated the previous 42-day record for continuous human occupation of the remote islet, set by three Greenpeace campaigners in 1997.
Earlier in the week he surpassed the 40-day solo occupation record set in 1985 by the SAS veteran Tom McClean, celebrating with a small bottle of champagne and a Twitter message that read: "Sorry Tom."
He had initially intended to remain on Rockall for 60 days with the aim of raising £10,000 for the Help for Heroes military charity, but was forced to cut short his stay after a "terrifying" night-time storm on 1 July caused a massive wave to sweep four barrels of his supplies and equipment off the rocky ledge where he has made his camp. To date, he has raised more than £7,500 for the cause.
On Saturday his time on the islet will finally come to an end when he is collected by a Kilda Cruises boat and taken on the 15 hour trip back to the Isle of Harris.
In expectation of his departure, he has already dismantled the wind turbine he erected to generate power during his stay and is hoping his batteries last until the boat arrives.
"I am looking forward to [leaving], having now got into the frame of mind," he told The Independent in an email conversation.
"I'm disappointed that I will not be here for the full 60 days as planned, but I have completed the main goals of the expedition which was to beat the two occupation records and raised money for Help for Heroes, which is great."
Asked what the first thing he will do once he gets home, he replied: "Probably go to bed as it will be late, but the next day I'll enjoy walking around my garden with a decent cup of coffee and then going to the pub."
Mr Hancock's home on the islet has been the "RockPod", a watertight 8ft yellow tank insulated with spray-on foam to withstand the harsh North Atlantic weather.
Surviving on army rations, he has been able to stay in contact with the mainland using a satellite phone and laptop computer, powered by the wind turbine and solar panels.
So what has been the most difficult thing about his isolation? "I would have to say that it's been missing my family, and things that my little boy has been doing for the first time," he says. "Being able to Skype…has been great for my morale, but there's no substitute for seeing people in the flesh."
He adds that in general he has "not had a clue what's been going on in the wider world" and only found out that Germany had won the World Cup when he was asked about it in an interview. But he admits being able to Tweet and speak to real human beings has made the experience far less lonely that it would otherwise have been.
While he says that watching the minke whales, gannets and other wildlife around Rockall from the safety of his pod has been an amazing experience, there is only so much live nature documentary that one man can take.
Asked if there is anything else he will miss about the islet, he says: "Certainly, there have been some lovely days and evenings here, which I've felt privileged to be experiencing on my own; but apart from that – no."
Register for free to continue reading
Registration is a free and easy way to support our truly independent journalism
By registering, you will also enjoy limited access to Premium articles, exclusive newsletters, commenting, and virtual events with our leading journalists
Already have an account? sign in
Join our new commenting forum
Join thought-provoking conversations, follow other Independent readers and see their replies