Snake enthusiast killed by 8-foot python he had owned since it 'fitted in the palm of his hand'
Dan Brandon died of asphyxiation at his home in Hampshire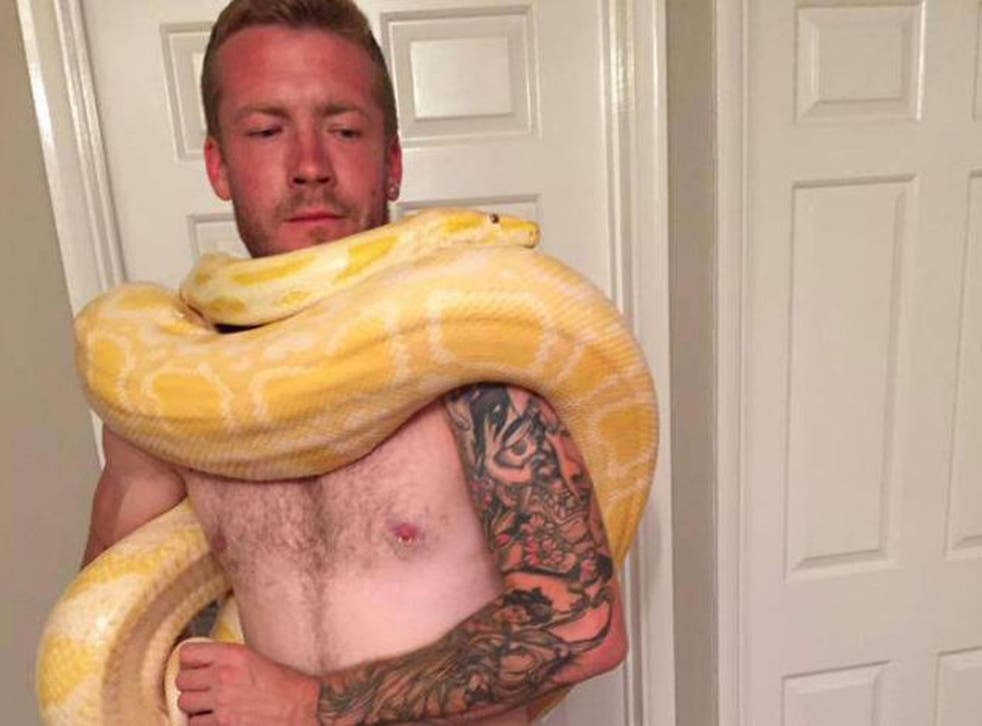 A man found dead at his home was killed by his 8-foot pet python he had kept since it was a hatchling.
The family of keen snake handler Dan Brandon, 31, referred to the animal as "his baby", an inquest heard.
Mr Brandon died of asphyxiation at his home in Church Crookham, Hampshire, on 25 August 2017, Basingstoke Coroners' Court was told.
Watch hundreds of deadly funnel-web spiders escaping egg sac
His mother told the court her son kept 10 snakes, along with 12 tarantulas at the family home.
He had owned the African rock python, named Tiny, since she was small enough to fit in the palm of his hand.
Coroner Andrew Bradley recorded a verdict of misadventure and said: "The most likely scenario is that Tiny was engaged with Dan – I have no doubt about that.
"She was coiling around him, at which point I have no idea. There was a point at which either she takes hold of him unexpectedly or trips him up or some other mechanism."
He said after Mr Brandon was killed the snake then hid, probably "because of the shock of him falling or because of his reaction".
Mr Brandon's parents, brother and sister were present at the inquest. His mother told the court the snake had loved her son and that Tiny was "his baby".
She said Mr Brandon had become aware of how strong Tiny had become.
"He was more wary of Tiny than the other snakes. He said she's very strong. He had stopped putting her round his neck because she was so strong and unpredictable."
Pathologist Dr Adman al-Badri said there were no specific signs of strangulation on Mr Brandon's neck and that his diagnosis of asphyxiation had been reached by exclusion. He said what he found included a haemorrhage behind one eye, plus burst blood vessels, and congested lungs – another sign of asphyxiation.
Dr al-Badri added that Mr Brandon had been fit and healthy at the time of his death and had "no disease whatsoever".
There were no bite marks on Mr Brandon's body, and after the snake shed its skin in November 2017, examination showed there were no scratches on the surface to indicate Mr Brandon had attempted to pull the snake off him.
On the evening of Mr Brandon's death his mother was at home. She told the court she had heard a loud bang upstairs which she thought may have been a dumbbell falling or that her son had knocked something over.
When she went upstairs she found her son face down on the floor of his bedroom and called the emergency services. She could also see that Tiny was not in her vivarium.
UK news in pictures

Show all 50
The snake was subsequently found beneath a cabinet and friends of Mr Brandon returned Tiny to her vivarium.
A statement issued after the conclusion of the inquest, read on behalf of the family by a detective investigating the case, said Mr Brandon was "one of the funniest people you could wish to meet".
"I cry every day and night and relive that evening all the time," the statement written by Ms Brandon added. "All the family wanted was answers to our questions, and I have no idea yet whether we have that or will."
PA contributed to this report
Register for free to continue reading
Registration is a free and easy way to support our truly independent journalism
By registering, you will also enjoy limited access to Premium articles, exclusive newsletters, commenting, and virtual events with our leading journalists
Already have an account? sign in
Register for free to continue reading
Registration is a free and easy way to support our truly independent journalism
By registering, you will also enjoy limited access to Premium articles, exclusive newsletters, commenting, and virtual events with our leading journalists
Already have an account? sign in
Join our new commenting forum
Join thought-provoking conversations, follow other Independent readers and see their replies