Man's car breaks after squirrel fills it with hundreds of acorns
'I feel bad - I ruined their winter and all their hard work'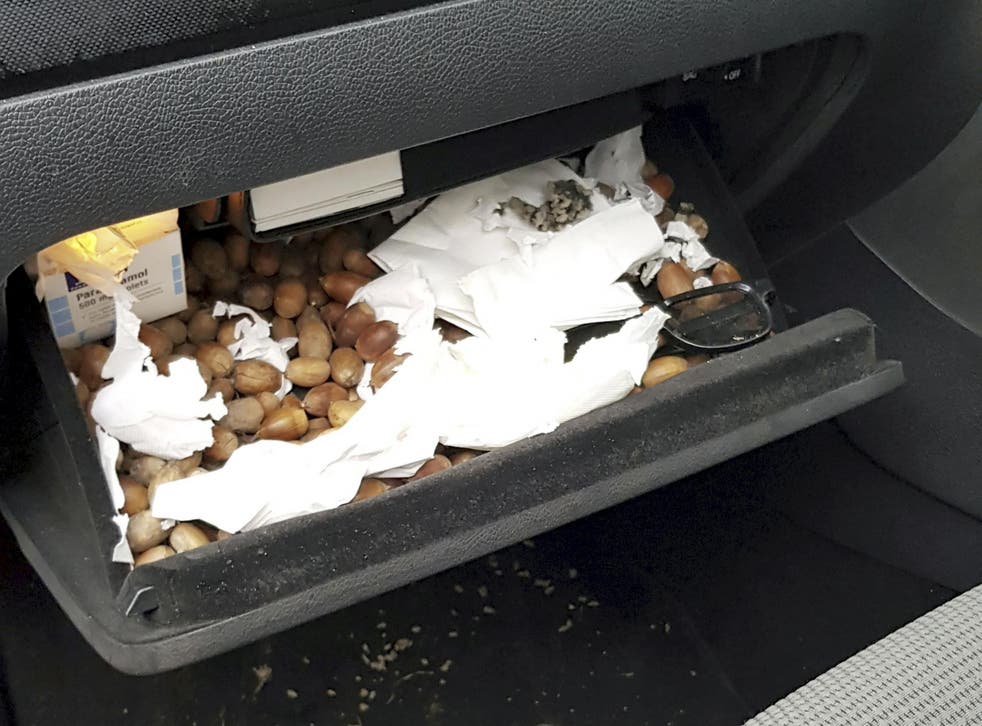 A holidaymaker returned from a break to find his car wasn't working - after a squirrel stuffed the mechanics full of hundreds of acorns.
Stunned motorist Andrew Wilkins, 25, says the rodent stashed its hoard of nuts throughout his Volkswagen Golf.
His vehicle was turned into a winter supply store by the squirrel who hid the acorns in the gearbox, the glove compartment and inside the bonnet.
The stash was only discovered when Andrew, an estate agent from Reigate in Surrey, took his car to a garage because he was unable to change gear easily.
He said: "I had some squirrel squatters for a month. I feel bad - I ruined their winter and all their hard work."
Andrew and his girlfriend, Jen, 26, a carer, flew out of the UK on 20 November to travel around Vietnam, Thailand and India for five weeks.
While they were away, Andrew left his car at Jen's father's home near Crawley in Surrey.
UK news in pictures

Show all 50
When they arrived back on 23 December, he was dismayed to find the gearstick of his car, which he paid £10,000 for in 2014, was stiff and changing gear was difficult.
On 29 December, he took the car to the PTA garage in Oxted, Surrey.
While tidying the car before handing it over to a mechanic, he opened his glove compartment and made the discovery.
He said: "I opened the glove compartment and it was brim full of acorns.
"I hadn't opened it since I had been back but I went to put a pair of sunglasses in there and when I opened it, eight acorns fell out. You can imagine my surprise.
"I told one of the mechanics to take a look and he said: 'What the ****?'
"Within 30 seconds, all ten of the garage's mechanics were gathered around the car having a laugh."
Half an hour later, Andrew received a call telling him the true extent of the damage the mischievous squirrel wreaked on his car.
He said: "I got a call an hour later saying the car was stuffed full of acorns.
"The reason I couldn't change gear properly was because they were absolutely everywhere.
"They were behind the trim - under the bonnet and inside the gearbox assembly.
"Underneath the bonnet there's sound proofing and that had been torn apart. There were probably 100 acorns. It was literally full to the brim."
Mechanics made another discovery and found a dead rat inside the car's bonnet.
Removing the acorns and the rodent took two hours of work and Andrew was charged £168 by the garage.
His invoice explained the fee: "To remove acorns from gearbox linkage housing and dead rat from sound proofing."
Andrew said he is just happy to have his car back and running again.
SWNS
Join our new commenting forum
Join thought-provoking conversations, follow other Independent readers and see their replies