Man taken to hospital after gale-force winds bring down 'feeling under the weather' hospital sign
Gale force winds pulled the heavy 15ft by 30ft NHS sign off a building and on top of the man
Heather Saul
Friday 14 February 2014 15:14 Comments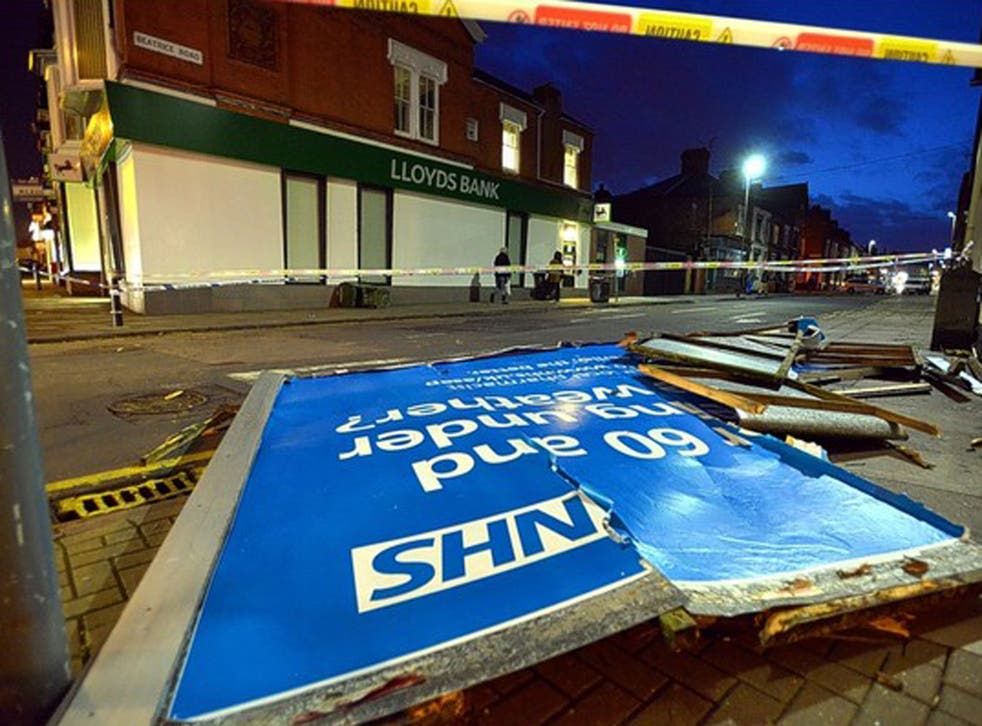 A man was taken to hospital with head injuries after an NHS sign asking people if they were "feeling under the weather" was ripped down by violent winds and came crashing on top of him.
Gale-force winds pulled the heavy 15ft by 30ft NHS sign, which advised people to see their GP if they were feeling unwell, from the top of a building in Leicester yesterday afternoon.
First aider Nick Pridden was on the scene when the solid wooden board was blown on top of the unidentified man, believed to be aged in his 40s or 50s. He told The Leicester Mercury: "He'd gone into the chemist to tell them the sign was flapping about and came out to look at it with the owner.
"As the two of them were standing there it came down and hit him – it missed her by inches. She was very shaken afterwards and very lucky, too.
"He had a nasty gash on his head and was treated by paramedics and taken to the Leicester Royal Infirmary."
The man's condition remains unknown.
The incident follows a series of freak weather events as stormy conditions continue to wreck havoc across Britain. Storms, floods and gales were followed by a slightly more unusual 'bog fire' in Borth bog, Aberystwyth this morning.
Register for free to continue reading
Registration is a free and easy way to support our truly independent journalism
By registering, you will also enjoy limited access to Premium articles, exclusive newsletters, commenting, and virtual events with our leading journalists
Already have an account? sign in
Join our new commenting forum
Join thought-provoking conversations, follow other Independent readers and see their replies