Man takes on Christian protesters at LGBT Pride march with silent protest
Dean Paton made a placard of his own to stand up to the 'bigots'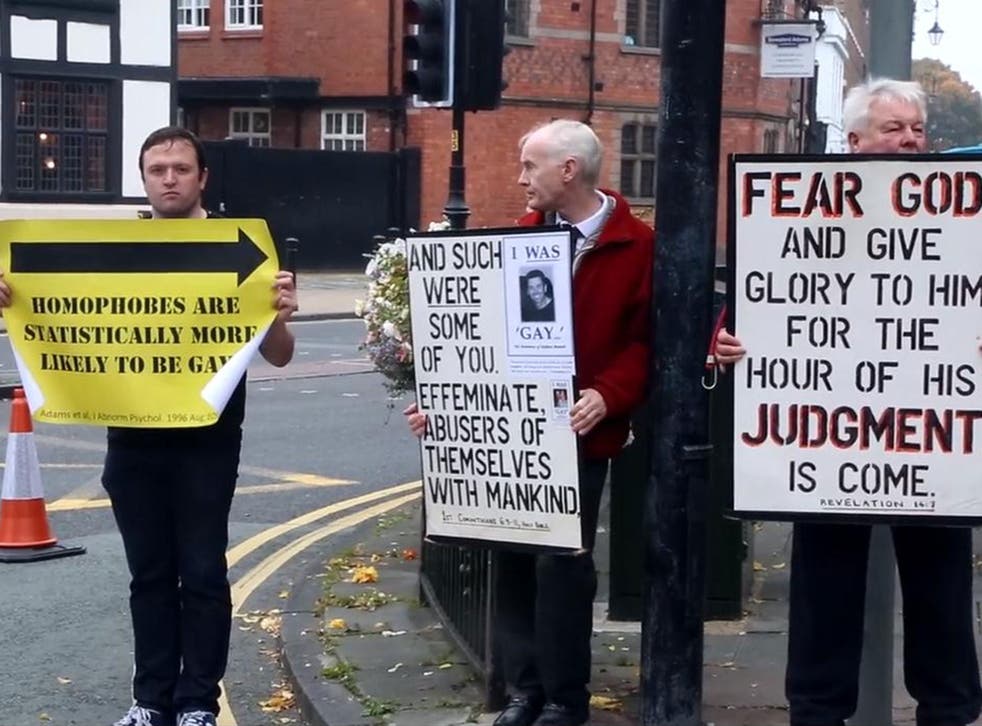 A man has come up with the perfect response to anti-gay demonstrators at a LGBT Pride march – a placard of his own.
Dean Paton filmed his protest in a video titled "how we deal with bigots in Chester".
Marching up to a group of placard and Bible-wielding protesters standing on the parade route, it he said: "So this is how you troll horrible Evangelical a***holes who think it's nice to say people burn in hell…and it's all scientifically referenced so it's completely fine."
Fab day supporting Chester Pride - decided to beat the Zion Tabernacle at their own game this year! There's no room for hate in Chester - or poor academic referencing!

Posted by Big Heritage on Saturday, 3 October 2015
He proceeded to calmly stand next to the group with a sign reading "homophobes are statistically more likely to be gay", complete with an arrow pointing to his opponents.
A 2012 study by three universities, including the University of Essex, found that homophobia was "more pronounced in individuals with an unacknowledged attraction to the same sex".
Mr Paton stood in complete silence with his bright yellow poster, next to a protester's sign calling gay men "effeminate abusers of themselves".
"Fear God," read one placard in heavy black and red writing. "And give glory to Him for the hour of His JUDGEMENT is come."
Another said: "Repent ye therefore, and be converted, that your sins may be blotted out."
The protesters appeared unmoved as the parade started and Mr Paton's placard drew laughs and cheers from performers, including drag queens and a Roman centurion in rainbow armour.
He became something of an attraction, with Pride supporters posing for selfies and a police officer even stopping to take a photo.
The video of his protest has gone viral, being viewed more than 15,000 times since it was put online on Saturday.
The organisers of Chester Pride sent Mr Paton their thanks, saying it had put their annual festival on the map for all the right reasons.
"We didn't expect it to go viral like it has, we just wanted to give the protesters a kick in the teeth really but they didn't even seem to notice we were doing it," Mr Paton told the Chester Chronicle.
"I just think people like that ruin anything good. There is no room for that type of thing in Chester."
Join our new commenting forum
Join thought-provoking conversations, follow other Independent readers and see their replies