Manchester attack: iPhone 'saves woman's life' in bomb blast stopping metal shrapnel
Mobile 'diverted and considerably slowed' metal nut sent hurtling towards 45-year-old's head by explosion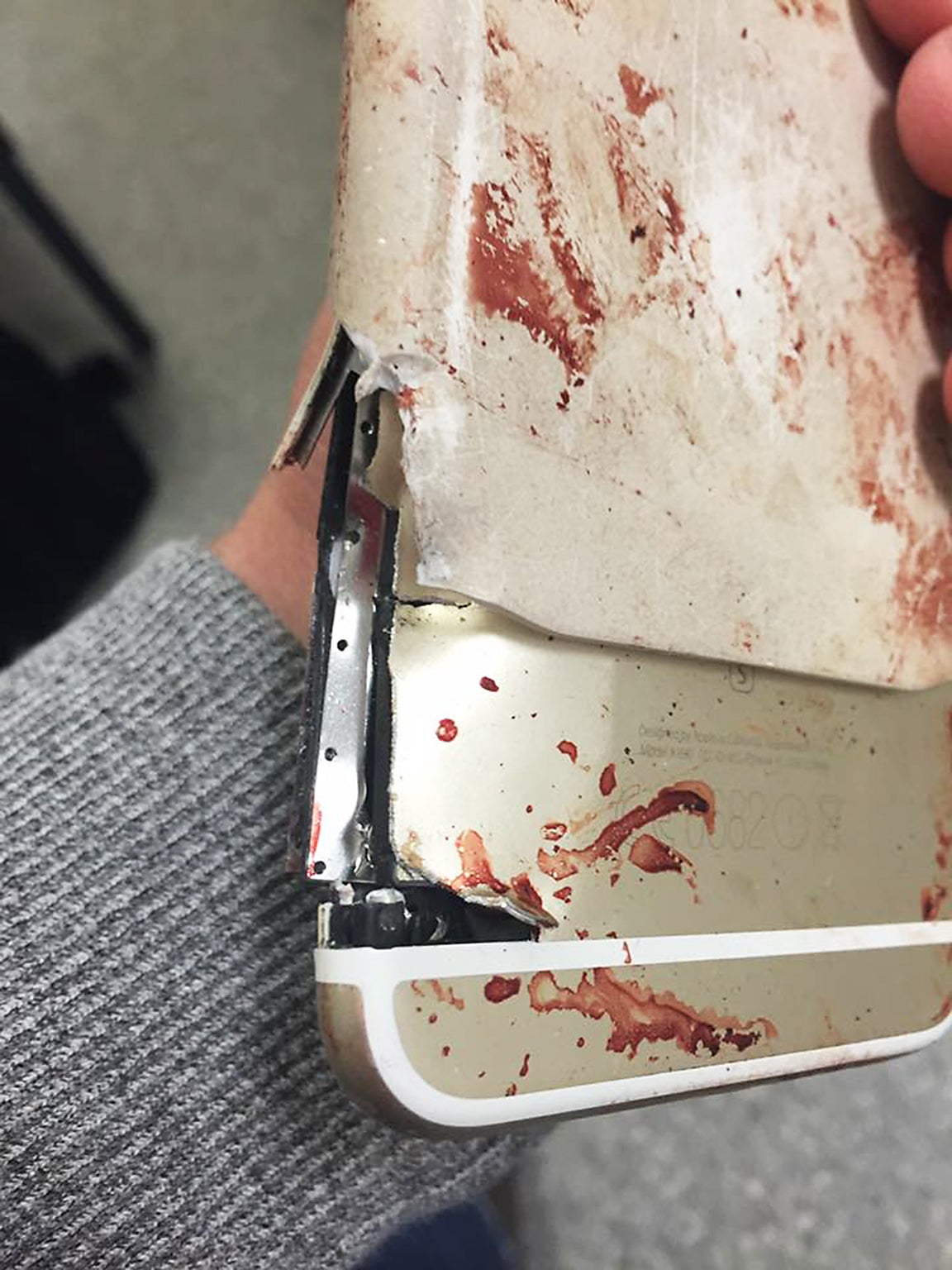 A woman is believed to have survived the Manchester attack because she was talking on her iPhone at the time.
Lisa Bridgett's husband said her mobile deflected and slowed a metal nut the bomb blast sent hurtling towards her head, in a post on Facebook.
The 45-year-old mother had gone to collect her daughter Ashleigh and a friend from the Ariana Grande concert on Monday night, when suicide bomber Salman Abedi detonated a homemade nail bomb.
Both girls are believed to have survived the attack without injuries.
According to her husband, the steel nut chopped off Ms Bridgett's middle finger before making contact with the phone, which he believes slowed and diverted the shrapnel, sending it instead through her cheek and into her nose.
Steve Bridgett, 45, said his wife "is in a positive mood and feels very lucky to be alive" despite suffering multiple injuries in the explosion.
He said that in addition to the wound on her face and severed finger, she also has a fractured ankle, and a large wound to her thigh, as well as numerous smaller cuts and bruises.
The boatyard manager from Pwllheli, North Wales, had surgery on Tuesday and was due to have another operation, he said. She remains in hospital in Manchester.
"The fact she was on her phone at the time as probably saved her life (thanks Vickie Lord)," he wrote, in a viral post shared over 7,000 times, "as the nut has hit her phone which has more than likely not only diverted it, but also slowed it down considerably."
He added: "She'll have a pot on for a few weeks and pins in her ankle so a bloody pain in the arse at airport security!! This may seem a bit graphic but at the end of the day it's a reality... she will make a full recovery although I don't think the finger will grow back!
"All of us want to thank the police for their incredible work after the incident and all the staff at both the MRI and Wythenshawe for all the work they have done and are doing," he said.
"Onwards and upwards.....she'll soon be propping the bar up again!"
The bomb attack at the Manchester Arena killed 22 people including children and injured a further 64.
Eight men are in custody following the explosion.